New Jersey may make it harder to claim religious exemptions for vaccines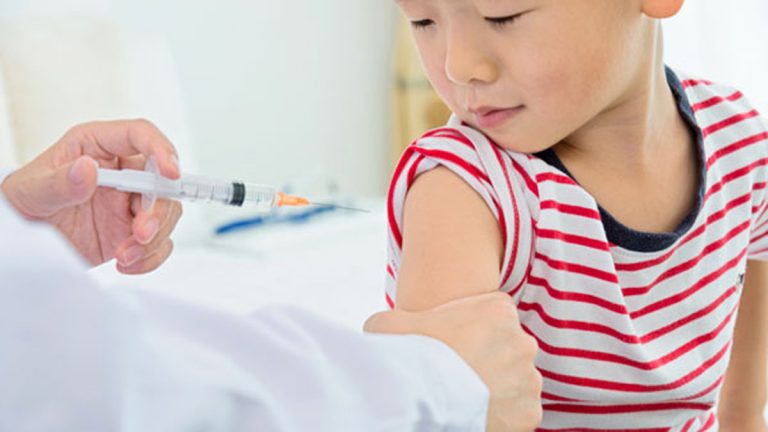 Despite a scientific consensus in favor of the mandatory vaccination of children, the procedure continues to spark heated arguments. And recently proposed legislation may not cool things off: It makes it more difficult for families to claim religious exemptions to keep their kids from getting required inoculations.
Some critics argue that the bill (S-1147/A-1931) is unconstitutional, but a group of legal experts say it's likely to withstand a court challenge.
The measure attempts to eliminate ambiguities and cinch loopholes in the current regulations, spelling out in detail who does or doesn't qualify for an exemption.
For starters, a parent or guardian is required to submit a sworn statement that vaccines violate his or her "bona fide religious tenets or practices."
Further, they must confirm that their beliefs are not based solely on their political, sociological, philosophical, or moral views, or concerns related to the safety or efficacy of vaccines.
Legislators introduced the bill in response to the continuing rise in religious exemptions, which began last decade, after state officials loosened regulations. It gained momentum after a measles outbreak in California spread among children who were exempt from vaccination.
The inoculation issue reached at least as far as the State House: Gov. Chris Christie came in for criticism when he said parents should have a "measure of choice" over vaccinations. His press office quickly added that he supports mandatory vaccinations for measles.
Sponsors of the bill are concerned that schools with a high number of religious exemptions increase the chances that an outbreak of a preventable disease could spread.
Concerns about vaccinations have grown steadily since it was alleged that there is a link between them and autism, a fear that was compounded by a 1998 article in the British medical journal The Lancet. The article was later found to be based on fraudulent data.
The federal Centers for Disease Control and Prevention says definitively that there is no link between autism and vaccinations.
But the CDC has not convinced a number of people who believe that the increase in diagnosed cases of autoimmune diseases and conditions like autism can be traced to the number and frequency of vaccinations, as well as the presence of a mercury-derived preservative used in some influenza shots given to children and adults.
Bill opponent Valerie Borek, an attorney who practices in both New Jersey and Pennsylvania, said the bill would entangle the government in people's religious beliefs in a way that's not permitted by the U.S. Constitution. For example, it would require public officials to make judgments about the nature and consistency of religious beliefs, "violating constitutional rights," she said.
Other constitutional experts disagree.
Dorit R. Reiss, a professor at the University of California Hastings School of Law in San Francisco, said the language of the New Jersey statute is similar to a New York law that was recently upheld in federal appeals court in Phillips v. City of New York.
"Parents don't have the right to endanger either the child or the community," Reiss said, referring a series of U.S. Supreme Court decisions that date to 1905.
Reiss added that courts have rejected state laws that examine the beliefs of religions or treat religions differently. Therefore, if the proposed bill is enacted, the state must ensure that officials don't ask questions about religions, but the language of the bill doesn't call for that, she noted.
Borek said it would be wrong to assume that previous federal precedents would apply to individual cases in New Jersey, since the specifics of each case will vary from the earlier decisions. She added that parents should — in consultation with their family doctor — determine whether their children are exposed to risk.
"No matter how small that chance is, we need to allow parents to make that decision," he said.
Professor Frank Askin, director of the constitutional law clinic at Rutgers School of Law-Newark, said the Legislature would be on safer constitutional ground if it completely banned religious exemptions.
"It gets tricky when they try to make people explain their religious exemption and some school official has to make a determination about whether there's a sincerely held religious belief," Askin said.
Sen. Joseph F. Vitale (D-Middlesex), a sponsor of the Senate version of the bill along with Sen. Loretta Weinberg (D-Bergen), said they were careful to craft the law so that it would pass legal muster. He said that with the rapid rise in religious exemptions may be evidence that the majority of religious exemptions aren't based on religious belief.
"We also wanted it to be respectful to someone's religious" beliefs, he said. "This bill does not remove the religious exemption, it does not remove the medical exemption, but there's a process to assure that both the medical or the religious exemption is bona fide."
The Senate was scheduled to vote on the bill on Monday, but it was held since three Democratic senators were absent. Vitale expects it to be voted on by the Senate during its next voting session, and is optimistic that it will pass. The Senate Health and Senior Services Committee has released the Assembly version.
With rare exceptions, most kids in New Jersey have gotten all of the required vaccinations right? Think again.
An analysis by NJ Spotlight shows that more than 10 percent of the state's nearly 6,000 schools and daycare centers had fewer than 94 percent of their students fully vaccinated while 111 of those facilities had even bigger vaccination gaps, with fewer than 83 percent of their students fully vaccinated.
________________________________________________
NJ Spotlight, an independent online news service on issues critical to New Jersey, makes its in-depth reporting available to NewsWorks.
WHYY is your source for fact-based, in-depth journalism and information. As a nonprofit organization, we rely on financial support from readers like you. Please give today.