New film follows the steps of Andrew Wyeth
'Wyeth,' a new PBS film about Andrew Wyeth, walks in the artists' footsteps.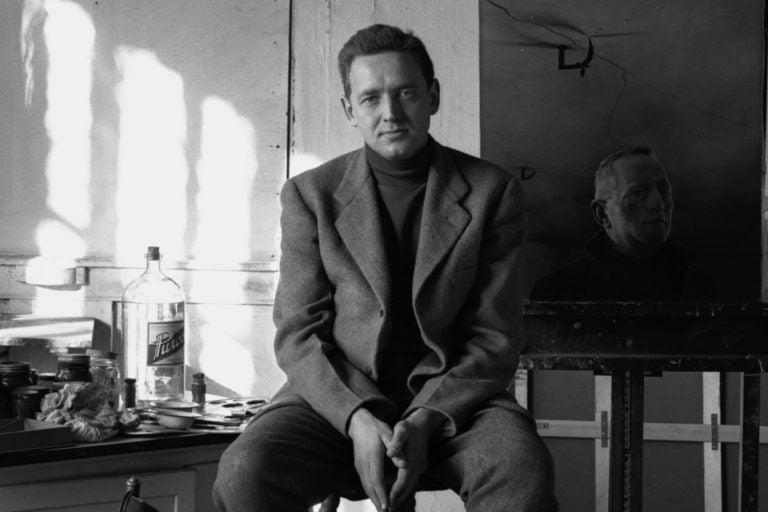 A new documentary about the artist Andrew Wyeth will premiere on PBS' "American Masters" on WHYY Channel 12 Friday evening.
"Wyeth" was made by Philadelphia-based filmmaker Glenn Holsten, who literally walked in Wyeth's footsteps to make a portrait of the extremely popular but often misunderstood artist.
Holsten tried to match the aesthetic of the artist by shooting in the same landscapes that inspired Wyeth over  his entire career. The film's stunning cinematography is simultaneously illustrative of the artist's methods and a meditation on nature.
"They're there! I didn't make them up. The hills look like that," said Holsten. "When I first went to Andrew Wyeth's studio, driving through Chadds Ford and the road that goes right up to his studio, I was, like, this is like driving into a painting."
Wyeth lived and worked his entire life without hardly moving. For some 70 years, he painted the people and landscapes of exactly two places: Chadds Ford, Pennsylvania, and Cushing, Maine. Both are relatively isolated and rural.
Even as the New York Museum of Modern Art paid huge sums for his "Christina's World," and he graced the cover of Time magazine, he was inextricably rooted in the place he was born.
"He was successful early on, so there was a financial stability there in his life," said Holsten. "It was his job to go out and experience the world. I think he chose to experience Chadds Ford and Maine – I think those were so interesting to him that he didn't need other places."
During the midcentury heyday of abstract expressionism and pop art, Andrew Wyeth's somber and gritty images of wooden barns and grassy fields seemed like a different planet, but he was among the most popular and controversial artists of the day.
The film suggests both his admirers and his critics did not fully appreciate how complex his pictures were. Wyeth did not paint from life, rather he worked and reworked an image until it was distilled down to a slurry of emotion and memory.
Wyeth spent a lot of time painting the homestead of his neighbors, the Kuerners. One painting started as a portrait of Mrs. Kuerner and the family dog waiting for Mr. Kuerner to come home. He made scores of sketches, working out what the picture was essentially about.
In the end, he eliminated everyone from the image. "Groundhog Day" is a stark table set for one, with only a knife for a utensil. Outside, the sunlight window is a rough-cut log with jagged splinters.
There are stories buried in his work, sometimes too deeply to be read. Wyeth thought like a modernist, sometimes turning a painting upside down to be able to test the image as an abstract composition.
"I think what's so interesting about his work is that we don't have to know what he's putting into the paintings. What we know is what we take out of them," said Holsten. "He always said simple is really, really hard. I love that as a lesson for me: simple is hard. He would paint things and take things out and take things out and take things out."
Andrew Wyeth died in 2009 at age 91. For most of his life he had a difficult relationship with critics, many of whom responded negatively to his popularity and bleak, earth-toned farmyards. In the last decade of his life, he saw a renewed interest in his work.
WHYY is your source for fact-based, in-depth journalism and information. As a nonprofit organization, we rely on financial support from readers like you. Please give today.