New ad for Kenney; Doc to endorse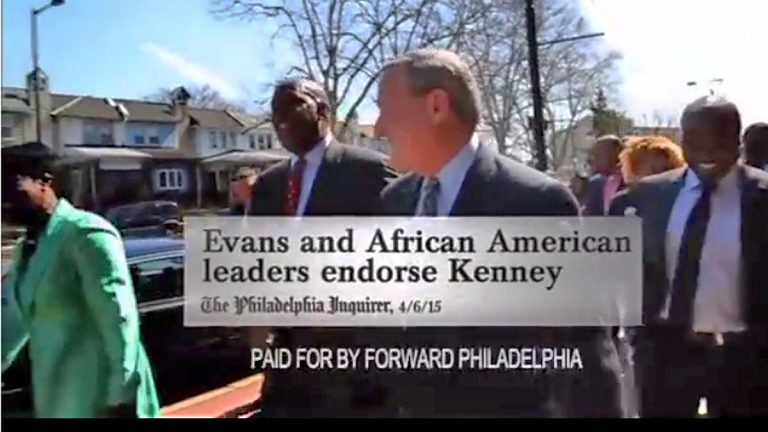 Forward Philadelphia, the independent expenditure group backing former City Councilman Jim Kenney's mayoral bid is running a new ad (above) touting Kenney's endorsement last week by a group of African American elected officials.
"Why are Dwight Evans, Marian Tasco, and so many other leaders backing Jim Kenney for mayor? Because he's the one they trust," an announcer says as the five leaders who endorsed Kenney last week appear on the screen.
The 30-second spot also shows Kenney, who is white, walking with the black elected officials along a street, which means Forward Philadelphia heard about the endorsement event last week and got a video crew there. The ad also notes that Kenney's been endorsed by the Philadelphia AFL-CIO Council.
The only known contributor to the newly-formed committee, which can raise and spend unlimited funds as long as it does not coordinate with the Kenney campaign, is the American Federation of Teachers.
The rest of the group's donors should be revealed in a required filing 11 days before the May 19 primary election.
Political media sources tell me Forward Philadelphia is spending around $70,000 a week on its ad buys. That's enough to have an impact, but far less than the roughly $500,000 a week that another group, American Cities is spending to support State Sen. Anthony Hardy Williams.
Johnny Doc goes public
In other news, Local 98 of the International Brotherhood of Electrical Workers plans an event Wednesday to formally endorse Kenney for mayor.
The union runs the biggest-spending political committee in Pennsylvania, and its business manager, John Dougherty, is by far the most politically-influential labor leader in Philadelphia.
While it's no surprise that Local 98 will endorse Kenney, Dougherty hasn't been particularly vocal about Kenney's candidacy. I've wondered whether Kenney is just as happy not to be publicly associated with "Johnny Doc," since Dougherty sometimes stirs controversy and might undermine Kenney's claim to be an independent progressive.
Kenney does plan to attend the event, which will strike some as a little odd since Local 98 is likely spending tens of thousands of dollars on the independent expenditure campaign Build a Better Pa is running in support of Kenney.
Groups running an independent expenditure campaign aren't allowed to coordinate spending with the campaign they support, and obviously some level of communication between Local 98 and the Kenney campaign was necessary to arrange Kenney's attendance.
As I read the city Ethics Board's regulations, there's no problem as long as the union's costs for the event don't exceed $11,500, the maximum any political committee can donate to a candidate.
I don't know how lavish a spread the union will offer its members Wednesday, but Kenney campaign spokeswoman Lauren Hitt tells me the event is legally in the clear, and that Kenney's going to spend time with members of a union supporting him, as he often does. She noted that it's not a media event, but a closed gathering for union members.
By the way, I said earlier that Local 98 is "likely spending" on that independent expenditure campaign, because we don't know for sure. The Super PAC Build a Better Pa that's running ads supporting Kenney got about 65 percent of it's funding from Local 98 in 2014, when it was involved in a local Congressional primary.
But that was last year. Build a Better Pa doesn't have to reveal its donors for 2015 until May 8.
Diaz gets support from the island
Meanwhile candidate Nelson Diaz has announced the endorsement of several elected officials in Puerto Rico, including Governor Alejandro Garcia Padilla. You can see the entire list here.