Neighbors helping Neighbors: East Parkside and Strawberry Mansion learn from each other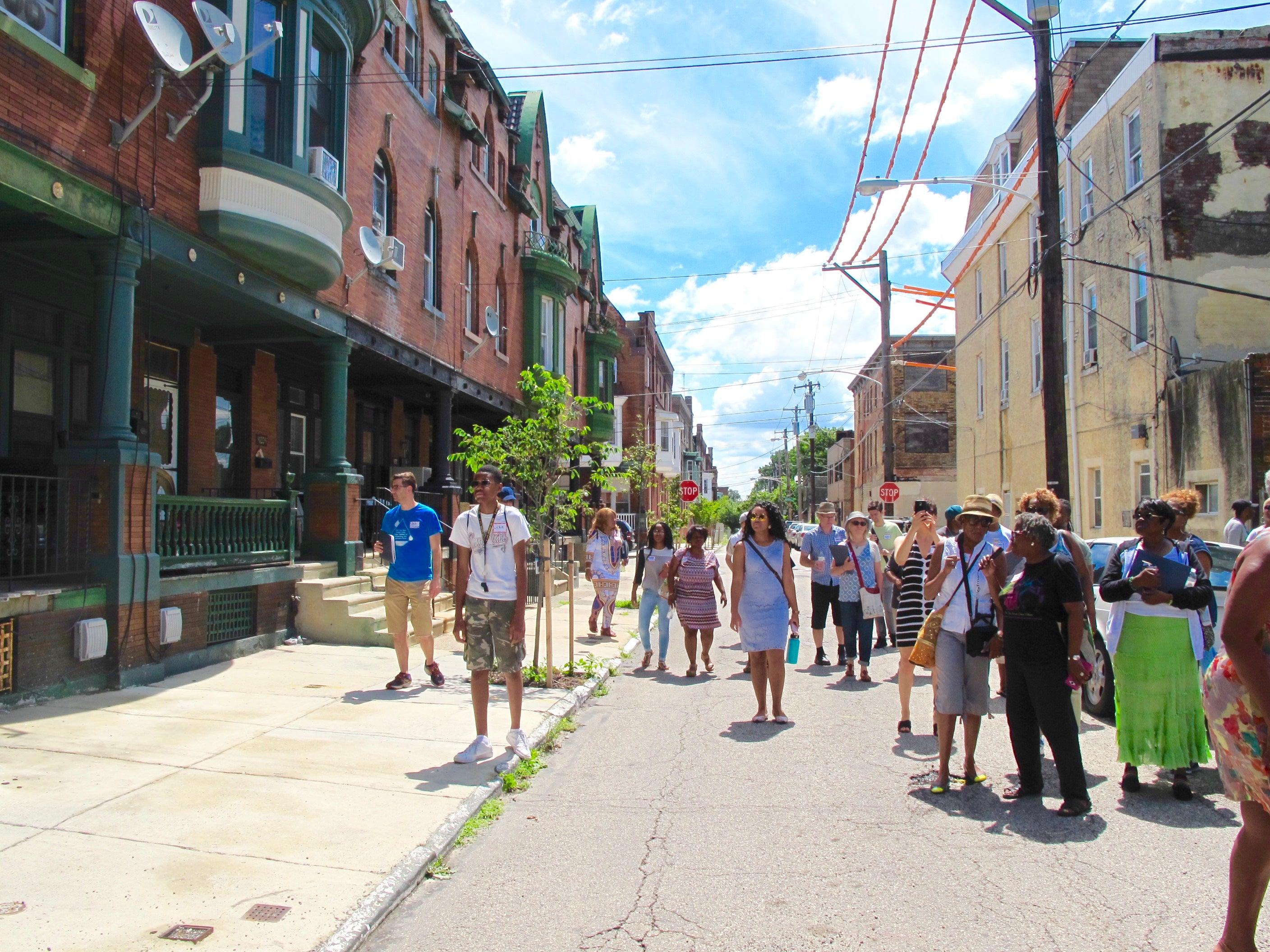 Every neighborhood has its sparkplug advocates, the do-ers who move mountains to improve their corners of the city, who doggedly find resources to benefit their neighbors, and who occasionally take on city hall. Most of the time these leaders toil away in their own corners of the city, largely unsung. They're rarely afforded the chance to learn from one another across neighborhood boundaries even when an issue Frankford faces might be similar to one in Germantown, or a solution that worked in Hunting Park could also be tried in Mayfair.
That's a big reason why the Citizens Planning Institute (CPI) released a Citizens Toolkit this year. Far from being a textbook filled with wonky ideas from talking heads, the toolkit delivers practical advice drawn from work of 15 seasoned neighborhood leaders. As so many Philadelphia neighborhoods change, the toolkit offers a way to leverage the expertise of these residents, who've long been hard at work improving their communities. How do we stop talking past one another? How can new residents learn from the experiences of earlier generation of community leaders? The lessons range in complexity. How do you knock on doors? How can groups collaborate with community institutions? How do you work productively with developers? It's all about neighbors helping neighbors.
Last weekend, the toolkit came to life through the first "neighborhood exchange," organized by CPI and supported by the Knight Foundation. It brought together about two dozen Strawberry Mansion and East Parkside residents young and old, some with formal roles in community groups and others just active neighbors. The idea was to tour both neighborhoods and to see what could be learned from each other.
So on a clear, bright Saturday morning the group gathered in a church hall at 41st and Parkside. Conversation was easy as the morning breeze as people from the two neighborhoods started to mingle.
"We have more in common than we think," said Andrew Goodman, a planner who works at New Kensington CDC and who co-authored the Citizens Toolkit as a volunteer. He told the group that the exchange, like the toolkit, is an "opportunity to learn how we're tackling the same challenges."
Common ground was easy to find among those assembled, and though there were a few jocular jabs about which neighborhood was better residents quickly started comparing notes. Both Strawberry Mansion and East Parkside have historic housing stock, and both neighborhoods face the intertwined challenges of vacant or abandoned property, real estate speculation, and homeowners struggling to keep and keep up their homes. Parkside Avenue and 33rd Street are both wide streets at neighborhood edges with big houses facing vast expanses of Fairmount Park where there are Civic Commons sites, representing major investments in civic assets. And in the Citizens Toolkit, lessons from these neighborhoods both relate to fixing up historic homes.
(Ashley Hahn / PlanPhilly)

(Ashley Hahn / PlanPhilly)

(Ashley Hahn / PlanPhilly)

(Ashley Hahn / PlanPhilly )

(Ashley Hahn / PlanPhilly)

(Ashley Hahn / PlanPhilly)

(Ashley Hahn / PlanPhilly)

(Ashley Hahn / PlanPhilly)
East Parkside neighbors, mostly drawn from Viola Street, led a short walk along Parkside Avenue's majestic 19th century mansions and shared the story of their revival thanks partly to historic preservation tax credits. Sean Solomon, a 19-year resident of Viola Street specializes in restoration work and outlined what historic preservation efforts have meant for the neighborhood's stabilization, from staving off demolitions to repair resources, as well as being a source of community pride.
Some blocks are stronger than others in this corner of East Parkside, Solomon said, but "historic designation has made a difference." While some blocks are still struggling, he stressed, their historic buildings are still standing and they're ripe for repair.
For Charles Lanier, a board member of Strawberry Mansion NAC, preservation is as much a question about finding ways to keep people in their homes. "Our folks are survivors," he said, noting that people try to hold onto their homes by any means they can. Sometimes there are "inconsistencies" or even "illegalities" which can make things like repair loans challenging to secure.
As we walked, residents of both neighborhoods shared how properties that stay in the same families are important for stability, but can also present tough challenges when the ownership isn't clear and title is tangled – and just how private that struggle can be. Strawberry Mansion CDC's president Tonnetta Graham and Viola Street's Lorraine Gomez shared stories about outreach and housing counseling resources. To Gomez the question boils down to this: "Is your home worth fighting for?"
As the group turned down two blocks of Viola Street, Joyce Smith, co-founder of Viola Street Residents Association, shared her toolkit lesson: How Viola Street worked with Habitat for Humanity to do a batch of exterior repairs – from small to large – on more than a dozen historic homes for free or at a steeply discounted rate.
Since then there have been a handful of more rehabs. People are taking notice of the good work and taking on their own projects. "We used to have flight out, now it's flight back in," said Gomez.
Gayle Garrett, a Strawberry Mansion NAC board member and former teacher, told me she was especially curious to learn how East Parkside has dealt with the pressures that come as your neighbors change. How do you bridge the gaps between old and new residents?
One way Viola Street has created space for that kind of community building is through greening, from vacant lots planted to feel more like pocket parks to tending a 42-year-old community garden. Both spaces are about turning underused properties into common space for neighbors to come together.
By lunchtime, East Parkside and Strawberry Mansion community leaders were already discussing ways they might like to work together to advocate for home repair resources. Joyce Smith and Tonnetta Graham brainstormed ideas together. What if there could be a program to help finance facade and roof repairs on old homes?
(Ashley Hahn / PlanPhilly)

(Ashley Hahn / PlanPhilly)

(Ashley Hahn / PlanPhilly)

(Ashley Hahn / PlanPhilly)
The field trip continued that afternoon as East Parkside joined Strawberry Mansion for a tour of that neighborhood. As we crossed over the river to Strawberry Mansion on a bus, Tonnetta Graham took over as tour guide, rattling off similarities between what we'd just seen in East Parkside and her community – historic buildings in a park-facing neighborhood where major investments are underway, challenges that accompany vacancy and rapidly-appreciating nearby neighborhoods, and the desire for new development to be mixed-income.
Walking through the neighborhood, Graham shared her toolkit lesson about Strawberry Mansion CDC's "Help a Neighbor Day", when neighbors volunteer to help make small exterior fixes, like painting a porch, at homes of a few longtime residents. These fixes in turn have helped inspire other residents to do minor work to their own buildings.
"Philadelphia will not look like the have and have nots," Graham proclaimed as her mission.
One win she highlighted for Strawberry Mansion CDC was the recently rebuilt 33rd and Dauphin bus loop. The group had to pressure SEPTA that the neighborhood's old trolley barn was worth a preservation-minded approach, and engaged elected officials to do the same.
The tour finished off at the Strawberry Mansion Green Resource Center, a large community garden at 32nd and Ridge Avenue. It's an intergenerational space that's also organized enough to have classes on Tuesdays and a farm stand on Wednesdays. Gardeners from both neighborhoods traded tips.
Though the neighborhood welcomes growth, Graham said, the garden is proof that "not every space in your community needs to be developed" in order to be productive.
Snacking at picnic tables, in the shade of tall trees at the garden, East Parkside and Strawberry Mansion residents batted ideas for collaboration back and forth. Nearly everyone expressed high hopes that the four hours spent together so far were a prelude to serious collaboration. Maybe fundraising, definitely issue-oriented advocacy. The mood was empowered and reflective.
Strawberry Mansion NAC's Charles Lanier said he hoped it was only the beginning of ways the two groups work together, to make each neighborhood greater. "They're already great," he added.
"We have to collaborate with Strawberry Mansion… We're talking," said Viola Street's Joyce Smith. "We're doing the same things and we didn't know it."
Graham echoed that sentiment completely, and said she hopes to find ways the neighborhoods could work together to advance ways to manage development and change. "That neighborhood planning piece is so key," she said. "Together we can make a stronger voice."
WHYY is your source for fact-based, in-depth journalism and information. As a nonprofit organization, we rely on financial support from readers like you. Please give today.