Near a Center City Wawa, humans protect a bike lane, to make a larger point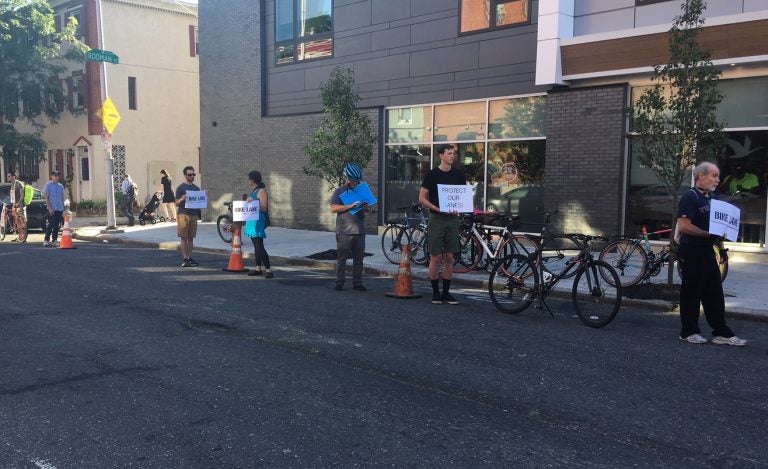 This article originally appeared on PlanPhilly.
—
A line, 25 deep, stretched out in front of the Wawa on the corner of 22nd and South streets Tuesday morning.
It wasn't the scent of freshly made, hot Sizzlis that drew this crowd, but bicycle safety. They lined up in the middle of 22nd Street to form a "human-protected" bike lane, standing along the extremely faded lines currently there to call for better bicycle infrastructure.
Ron Ashworth, 60, stood at the front, holding a sign that read, "Bike protest," and directing cyclists to use the bike lane. "The lane's all clear, have a good ride!"
"I've been hit numerous times," said the South Philly resident. "There was a girl that was hit here last week because she had to avoid the people in [the bike lane] and got hit by a car in the traffic lane. So, that's pretty much why we're here: to protect the lane, let the city know, let the people know, let the businesses know."
Since the Wawa opened a few months ago, more cars have been stopping in the lane, said protest organizer James Gitto, a South Philly resident who uses 22nd Street whenever he goes to Center City or West Philly.
"People are going to stop in and get hoagies — it's a quick stop, i understand that," said Gitto. "There needs to be a loading zone on the other side of the street so people who are cycling are safe."
"Long term," Gitto said, "we would like this lane protected. I think that it's necessary, I think it definitely needs new paint. Just looking at it, if you are a car, it's really hard to tell that this is even a bike lane."
Short term, he wants more enforcement against the cars that stop illegally in the lane.
"The police department isn't ticketing, the PPA isn't coming out and ticketing," said Gitto, "no matter how many times we request that they actually do something, and some cases, [they] are actually the people who are parked in the bike lane."
According to data compiled by the Bicycle Coalition, during the first five months of 2018, Philadelphia issued 2,116 tickets for stopping in a bike lane. If that trend continues, the PPA and the police department will issue more than 4,200 blocked-bike-lane tickets in 2018. That's about how many parking tickets the PPA issues on a single busy day.
Around 22nd and Lombard streets, the PPA issued 75 blocked bike lane tickets, and the PPD wrote another two.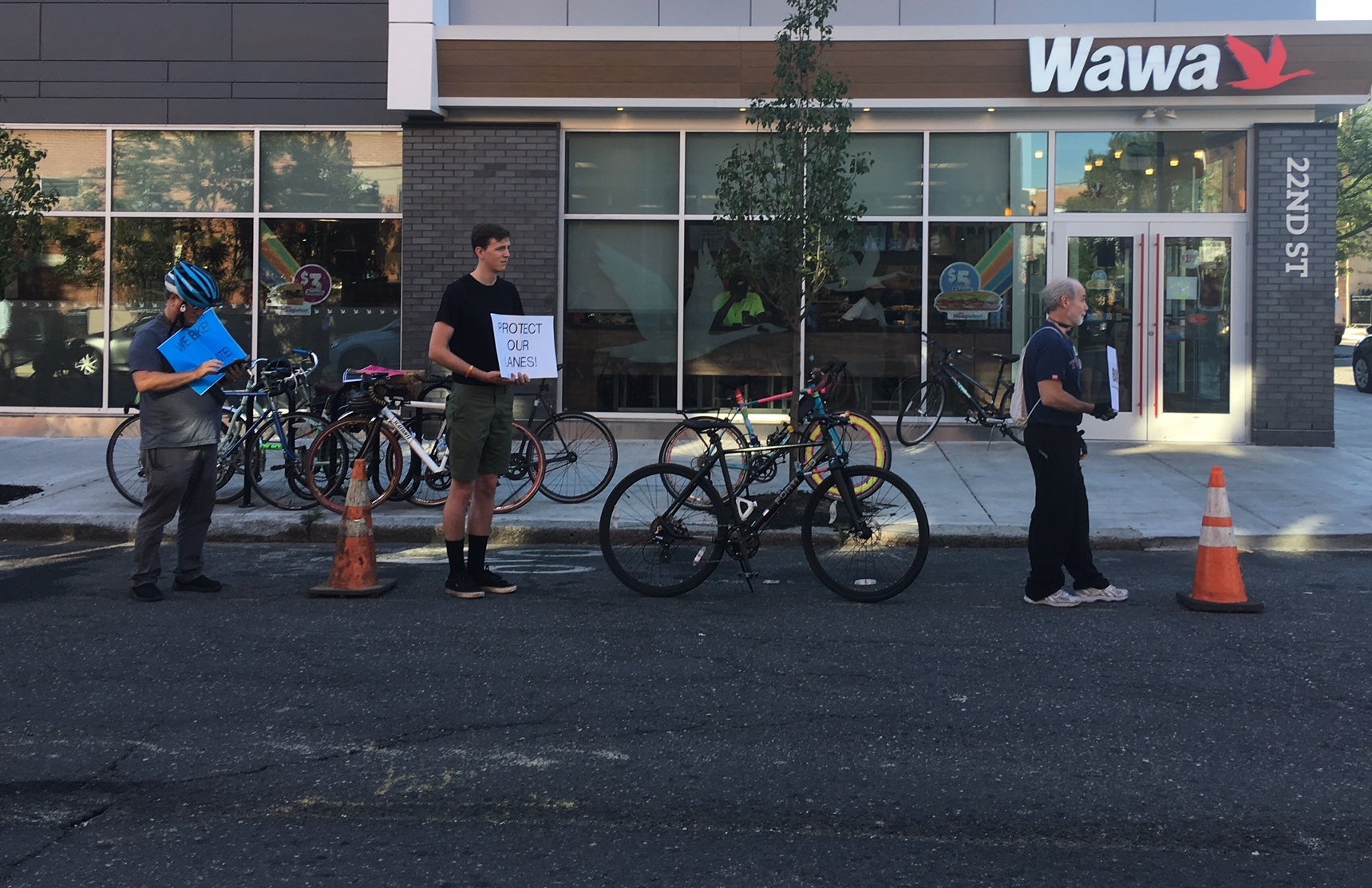 Repainting the existing lane and adding bollards are steps that Mayor Jim Kenney could take unilaterally, without seeking City Council's authorization. As a candidate, Kenney called for building 30 miles of protected bike lanes. So far, Philadelphia has only 3.5 miles of bike lanes demarcated by delineator posts or parked cars.
Kelly Cofrancisco, a spokeswoman for the mayor, said, "OTIS and [the] Streets [Department] are working on future plans to repave and restripe 22nd Street. Changes to the markings or additional elements related to the bike lanes will be made through the city's normal process of close coordination with Council and local stakeholders."
In recent years, city planners in the Office of Transportation and Infrastructure Systems have preferred to locate bike lanes on the left side of a road; it's the same side drivers sit on, meaning there's better visibility, plus it separates bikes from buses that pull over to pick up and drop off passengers. Shifting the bike lanes' location like this, however, would require City Council's approval. The council has been slow approving new lanes, responding to local community groups that often oppose them because they reduce the amount of parking spaces available.
Contacted Tuesday, Councilman Kenyatta Johnson said, "We will continue to work with the Kenney administration and bicycle advocates to improve street safety in the Second District. Conversations about improving street safety on the 22nd Street corridor are ongoing with OTIS, but will include street reconfiguration to move the bike lane to the left side of the street — as was recently approved for Spruce and Pine Streets, and the possibility of adding a protected bike lane to the 22nd Street Corridor."
Human-protected bike lanes have become a popular protest method among cyclists of late. In the last year, two have been assembled along Spruce Street — one after a 24-year-old cyclist was struck and killed, and another just before a community meeting about overhauling the bike lanes on Spruce and Pine streets.
A human-protected bike lane protest in front of the new Fairfield Inn on 13th Street was called off after the hotel placed bollards and placards telling guests not to stop in the bike lane there. Fairfield moved its valet parking to a loading zone across the street after attorney Stuart Leon filed a lawsuit against it.
About 10 cyclists a year are struck and killed by cars in the Philadelphia region.
This article was updated to add comments from the mayor's office and Councilman Johnson.
WHYY is your source for fact-based, in-depth journalism and information. As a nonprofit organization, we rely on financial support from readers like you. Please give today.