'It's not just hair, it's identity:' For people of color, going natural can be a source of stress, empowerment
Following the "humiliating" South Jersey wrestling haircut incident, a look at how people of color's natural hair can also be a source of empowerment.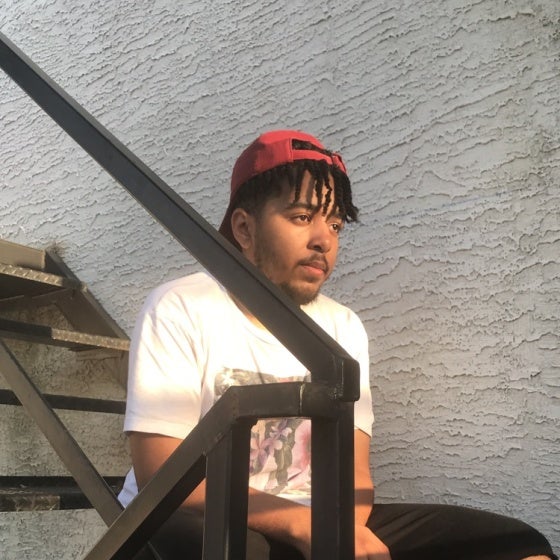 Demetrius Coachman, 21, has had his dreadlocks for more than two years. He's wanted them for more than 6, but his parents — who live in the suburbs of Detroit in an area that Coachman describes as 97 percent white — worried the hairstyle would make the world, particularly white people, see their black son as aggressive and dangerous, so he didn't start growing his hair out until he was in college.
Coachman loves his hair — he says his dreads make him feel free — but he's had a few encounters with people of other races who didn't respect it. He was reminded of these incidents when news broke recently of a black South Jersey teenager who was forced to make a decision to cut off his locs or forfeit a wrestling match.
The white referee said the wrestler, Andrew Johnson, was not wearing the proper cap over his long dreadlocks. At some point, he started a 90-second injury clock during which Johnson had to choose to keep his hair or to wrestle. He chose to wrestle.
The incident, which was captured on video, has sparked outrage online and in the community where it took place with many people calling it "humiliating," "racist," and "cruel."
"That ref, Alan Maloney, was out of hand for making Johnson decide between wrestling and his hair in the first place," Coachman said. "Second, having the time restraint of when to cut his hair so it doesn't even look good and the demoralizing fact that his hair was cut as a spectacle in front of everyone in the auditorium.
"It made my stomach turn and my heart goes out to Andrew Johnson."
Coachman thinks back to his time in Michigan when he worked as a camp counselor and his group was on a field trip. Coachman was sitting with another counselor, a white man one year younger than he was. With his back to him, he could feel someone touching one of his dreads.
"I turn around and they're like in my hair and ask me, 'You can feel that?' " Coachman said. "I told him, 'These are locs. It's simple. You should know better.' "
But the other counselor continued to touch his locs during the trip.
"I remember being heated and so angry, but still cognizant that I didn't want to be seen as an aggressive black man to him or the 4- and 5-years-olds we were watching," he said.
For many people of color with natural, not chemically-straightened hair, these stories are common.
That helped fuel the public outcry over the wrestling haircut incident, said Lori Tharps, a journalism professor at Temple University.
"It's not just hair, it's identity," said Tharps, who is one of the authors of the book "Hair Story: Untangling the Roots of Black Hair in America."
"There's history," she said. "Slave traders would cut off Africans' hair before loading them on the slave ships. That was the equivalent of hacking off their identity because hairstyles were used to indicate a person's family, tribal affiliation, status in society, et cetera. Without one's hair, one becomes anonymous and unrecognizable. It was done on purpose so that the Africans wouldn't be able to recognize one another."
While she admits she is not an expert in high school wrestling rules, Tharps is convinced that forcing Johnson, a junior at Buena Regional High School in Atlantic County, to make an on-the-spot decision during a match was not the only option available.
"If it was a rule, it should have been addressed way before he was in the match," said Tharps, who wrote about the controversy in a recent blog post.
'It became my identity'
The decision to go natural is a feat in itself. It often involves a lot of research since many people of color haven't seen their natural hair pattern since their childhood.
And it can take a long time to transition to dreads. For most, including Coachman, it starts with growing out their hair, twisting individual strands, and then allowing those strands to dread on their own. Most people have to retwist their roots every few weeks.
It means coming to terms that not everyone they encounter will be accepting — but it can also be an empowering and communal experience.
Maryum Fields, a child therapist living in Philadelphia, has worn her hair natural for 6 years and is now transitioning to dreadlocks because of its low maintenance. Fields considered dreadlocks for a long time because she had been relaxing her hair since she was a child and her hair was constantly breaking off.
She describes her decision to cut off all her hair and start fresh, commonly referred to as the "big chop."
"I told my friend, 'Hey, shave my hair' and she was like 'No, you'll regret it in the morning,' " Fields said. "So I grabbed the clippers and just cut a chunk of my hair in the front and said 'There's no going back now,' and my friend was so in shock, but had to cut off the rest so that's how that happened."
Fields woke up the next morning and began to embrace her new self.
"I had to re-learn what my natural hair even felt like," Fields said. "That was a whole experience. As it was growing and the curls were coming back in, I remember just playing with it like, 'Oh this is what it feels like, this is really interesting.' "
She began loving her kinks and how coarse her hair was. She would frequently be stopped by other black people, men and women, who complimented her look and shared how they loved that she was accepting her hair in its natural form. To Fields, being natural is not just about hair — it's a cathartic experience, and gives her a sense of community.
"I'm a '90s baby, so all I saw growing up was silky, straight hair and light women," she explained. "I never saw a dark girl with coarse hair, so being both those things, it became my identity."
Like Tharps, Fields admits she doesn't know much about wrestling regulations, but she says that doesn't negate the fact a child was humiliated.
"Natural styles that might not have have been acceptable or considered beautiful in the past are being worn now by some as a way to express their culture and their identity," Fields said. "The situation was disrespectful and disregarded his identity."
Coping with perceptions
Evan Laws, a senior at Temple University, always wanted to grow his hair out, but like Demetrius Coachman's, his parents were also worried about how he would be perceived as a young black man. Two years ago, he let his afro grow.
"Learning about my hair was stressful, but I loved it," Laws said.
During that time, he has learned how to moisturize his hair, how to wash it, twist it, and braid it. Both Laws and Fields said YouTube videos have helped them immensely during their first stages of going natural.
But Laws' new look hasn't entirely won over his father and older brother.
"My brother told me, 'It's alright now, but you can't go into the world like that. You look unprofessional.' And my pops was like that, too," he said.
Laws isn't upset by those comments — it's a part of reality, he said.
Many black people constantly worry their hair could be perceived as "too wild" or "untamed" for the workplace — a feeling that centers on making the world, particularly white people, feel more comfortable.
"Historically, black people are told that we have to straighten it, that our hair isn't acceptable or professional," Tharps said.
Ultimately, Laws decided to cut his hair earlier this week.
He said he wanted something new, but that getting a job after graduation was also a factor in his decision to cut his afro. However, he says he would grow it back out again.
"I don't want my future daughter thinking she needs to change her curls," Laws said. "I would want her to understand to love her hair and I don't want her to feel like she needs to change it in order for people to accept it."
WHYY is your source for fact-based, in-depth journalism and information. As a nonprofit organization, we rely on financial support from readers like you. Please give today.