Mumps outbreak sends Temple students, staff lining up for free MMR vaccines
Updated 1:30 p.m.
—
Temple University student Jewel Myers left Mitten Hall Wednesday morning feeling a little less stressed. A mumps outbreak on campus was making the sophomore leery of going to class. Now, she was vaccinated against the virus, thanks to a free clinic set up by the school.
"I'm not scared [anymore]. I don't think I'm gonna get it," said Myers.
More than a hundred students have come down with the mumps over the last month. In response, Temple is hosting two walk-in clinics this week so students, staff and faculty can get an MMR — measles, mumps and rubella — vaccination.
The second clinic is scheduled for Friday. Both run from 9 a.m. to 4 p.m.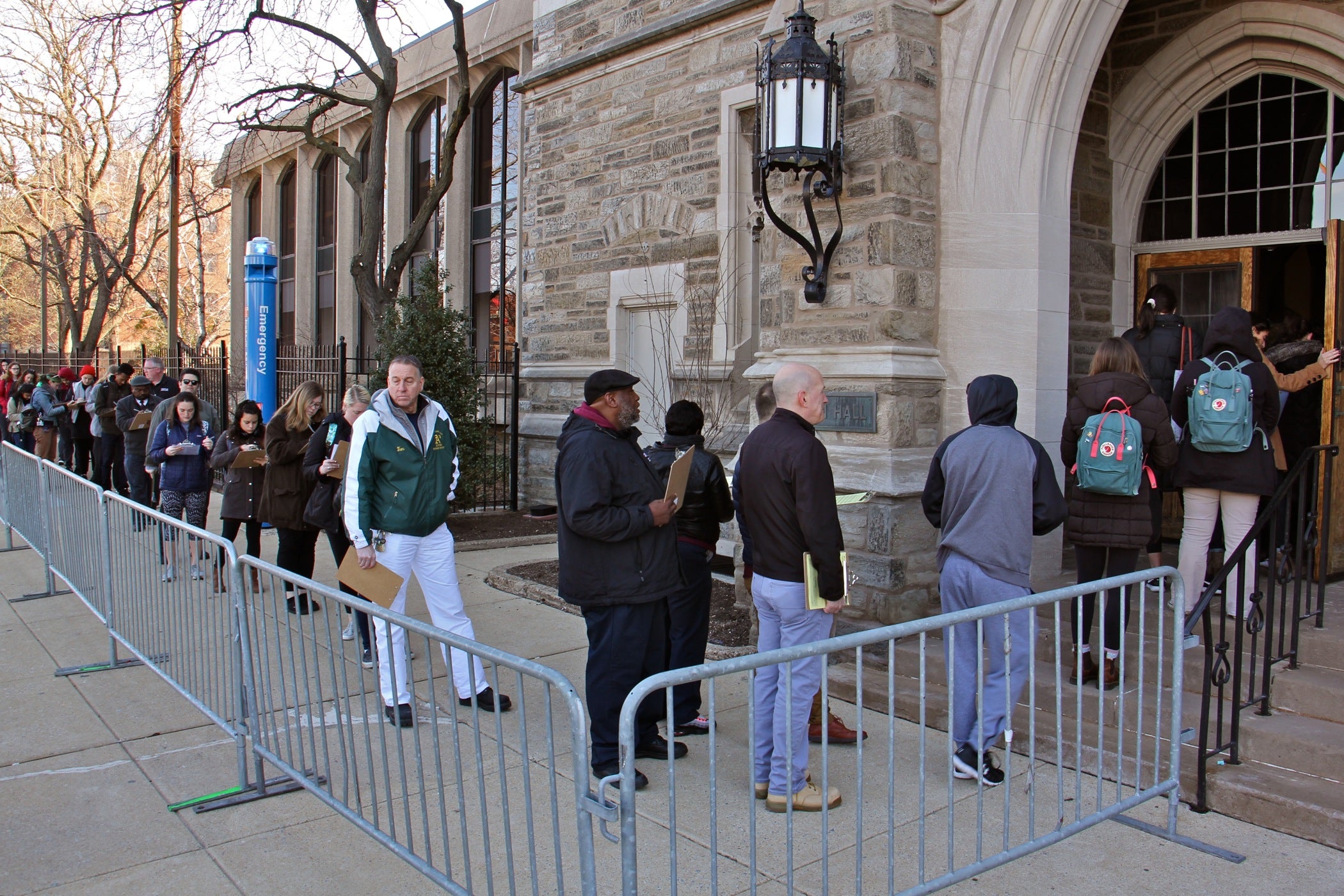 Wednesday's clinic started the day with roughly 1,800 doses on hand, a Temple representative said, but it can get more if there's demand. Judging from the lines that stretched down the block, that might be necessary.
Michelle Harmon, a juvenile-justice researcher, got the shot just to be safe.
"I work closely with students. And while I had my vaccines when I was a kid, I thought it was good to get a booster," said Harmon.
Children typically get the MMR vaccination at 12 months and again when they turn 6. Disease-control experts say the vaccine's protection starts to wear off after a decade. In an outbreak setting, the Centers for Disease Control and Prevention recommends a booster shot.
That recommendation — and a phone call with her mom — pushed freshman Camille Cawsette to stop by Mitten Hall between classes, though she never thought she'd have to worry about mumps before starting college.
"I thought there'd be more colds in my life because of living in a dorm, but I didn't think mumps would be a problem," Cawsette said, laughing.
The mumps virus can be transmitted only through direct contact with someone who is infected, whether that happens through a cough or a sneeze, or from sharing a water bottle.
University spokesman Ray Betzner said this is the first time Temple has contended with a mumps outbreak. The school will now require incoming students to get an MMR booster vaccine before they can attend, he noted.
Editor's Note: A previous version of this story misnamed Mitten Hall.