MOTU is piloting a buffered bike lane on Rittenhouse Square West
Yesterday in the Greater Philadelphia Planners, Urbanists, and Designers Facebook group (which you should all join), my friend Jake Liefer tipped us off that a new buffered bike lane had unexpectedly popped up Saturday afternoon on Rittenhouse Square West.
Jake only saw it briefly while driving, and the thin layer of what looks almost like spraypaint made him wonder whether some vigilante tactical urbanist hadn't painted it without authorization. But in the comments, Katie Monroe from the Bicycle Coalition pointed us to the perpetrator's calling card:
The Mayor's Office of Transportation and Utilities striped the lane as a pilot project, which, according to the sign, will be tested throughout the spring and summer.
They've added a buffered bike lane next to the western parking lane, restriped the crosswalks to be more visible, and added a paint bumpout to narrow the travel lane as it curves around the southwest side of the park. The lane buffer is interrupted where there are driveways. I went over on Sunday afternoon to snap some photos:
(Jon Geeting)

(Jon Geeting)

(Jon Geeting)

(Jon Geeting)

(Jon Geeting)

(Jon Geeting)
MOTU is framing the move as part of a push to keep cyclists off the sidewalk around Rittenhouse, pointing to research that shows cyclists are more likely to ride on the sidewalk when they don't feel comfortable riding on the street.
That's especially pertinent since the Indego bike share program will roll out this Thursday, putting hundreds of new "interested but concerned" cyclists on the streets. MOTU thinks the addition of the bike lane will help slow car traffic around the Square and make all street users' behavior more predictable.
This pilot takes a different tack than previous Nutter administration bike lane pilots, resembling the more rapid "build, test, learn" process that the Bill Peduto administration in Pittsburgh and some of our other peer cities have been using to build street safety infrastructure faster without sacrificing community engagement.
Instead of putting the community outreach phase of the project at the beginning, and asking the community to take a chance on the unknown, a temporary construction phase comes at the beginning of the process, so people can see how it works in reality and then offer more constructive feedback.
In this case, the paint the Streets Department used is plainly not intended to be as durable as the plastic-like coating they use when striping lanes for the long term. This way, the first draft can be changed fairly easily in response to feedback, and a second or third draft can be tested before any lasting changes are made.
One suggestion for the second draft raised in the Planners group, from my friend Geoff Kees Thompson of This Old City, was to place the bike lane parkside instead of next to the parking lane, so that drivers have to make a harder left turn from Walnut Street and slow down even more. Geoff has been shopping his own plan for Rittenhouse, with a red-tinted asphalt bike lane encircling the park, and cobblestones replacing the asphalt car lanes for traffic calming and added historic aesthetic: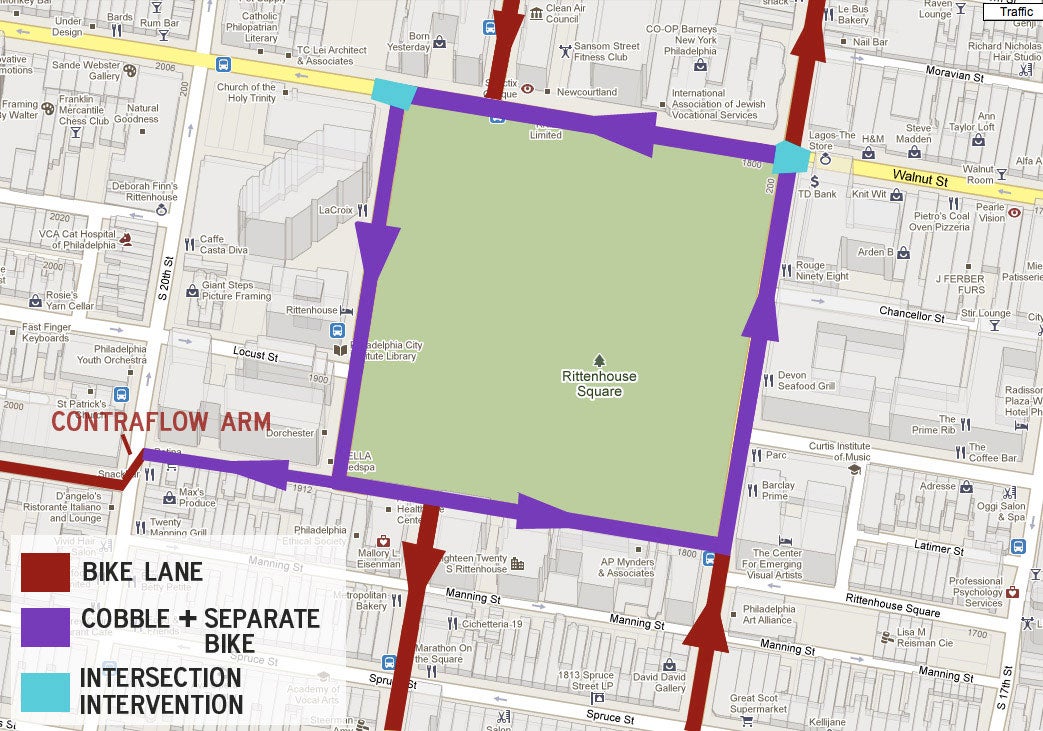 Go check out the street changes for yourself and send your feedback to the project planners at bikelanepilot@phila.gov.
UPDATE: Andrew Stober from the Mayor's Office of Transportation and Utilities reached out with a few points of clarification. The most significant point is that MOTU does not consider this a lane removal.
"The configuration before was functioning as 18 feet of undefined space and a parking lane. So what we've done is put in a 15-foot travel lane–a nice comfortable lane for motor vehicles, an 8-foot parking, loading, and bus pick-up lane, and a 2-foot stripe between the bike lane and the car lane. I think it's probably an overly generous description to call it a buffer.
In Stober's initial observations from over the weekend, traffic seems to be flowing in a more orderly fashion around the square because space is divided up in a clearer way.
"As you're going into a turn, you're going into a space that's defined, and doesn't look like a space to hit the gas," he said in a phone conversation this morning.
WHYY is your source for fact-based, in-depth journalism and information. As a nonprofit organization, we rely on financial support from readers like you. Please give today.