More titles for Attack Mode boxing club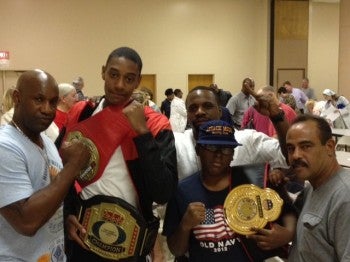 Attack Mode boxing club is once again victorious.
Formerly known as Heavy Hittas, the Lawncrest-based youth boxing club was represented at the neighborhood's Tuesday night Community Association meeting by founders Lonnie Haile and Rick Terrell, new coach Ricky Diaz and a handful of proud fighters.
The club was recently invited to fight for South Jersey in a North vs. South state championship, and Attack Mode's Kieran "Hitman" Hooks came out on top. Hooks proudly showed off his new belt to an applauding LCA membership. In May 2011, Hooks went before the LCA to celebrate his regional Junior Olympics Tournament title and his win at the Golden Gloves Tournament in Pittsburgh.
After a successful showing last summer, Attack Mode once again plans to set up a ring outside its base at Lawncrest Rec Center to host a series of matches during the neighborhood's Fourth of July festivities.