More than 100 water rescues at N.J. beaches over the weekend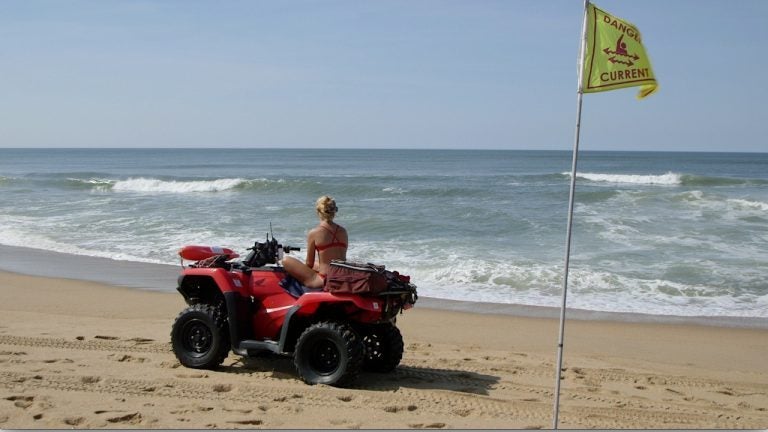 Hot weather and the beginning of a long holiday week sent hordes to New Jersey's beaches over the weekend.
Many sought relief from the sweltering heat — tempered during the afternoons by a light sea breeze — in the cool ocean, which registered temperatures in the lower 60s.
And that kept lifeguards, just recently back to full-time patrolling, busy.
In Monmouth County's Sea Girt, the beach patrol reported 40 rescues and assists on Saturday, spiking to 60 on Sunday, due to layers of sandbars and inshore holes.
Upwards of 60 rescues and assists today and 40 yesterday due to sandbars and inshore holes. Great job this weekend by our LGs preventing but also having to react & respond to rescues. Here's a shot of a 545pm 2 person rescue and thanks to @ManasquanOEM #marine27 for the back up pic.twitter.com/Pg0NFawGL3

— Sea Girt Lifeguards (@SGLifeguards) July 1, 2018
A Harvey Cedars Beach Patrol says spokesperson says ocean conditions off the small Long Beach Island municipality in Ocean County were the most treacherous on Friday.
Lifeguards there said there were multiple water rescues and a heat related medical emergency on Friday, a "handful" of rescues on Saturday, and quiet conditions to end the weekend.
In Long Beach Township, which spans multiple communities on Long Beach Island, a beach patrol spokesperson says lifeguards were "zeroed in" over the weekend.
"We responded to dozens of ocean rescues, many involving multiple victims, and in some fairly challenging conditions," a Facebook posting said.
With the hot, hazy, and humid conditions to keep beaches busy during this holiday week, lifeguards say to not swim during off-duty hours.
How to identify a rip current:
A channel of churning, choppy water.
An area having a notable difference in water color.
A line of foam, seaweed, or debris moving steadily seaward.
A break in the incoming wave pattern.
Rip current speeds vary, with an average pull of 1-2 feet per second, but some can move as fast as 8 feet per second, which is faster than an Olympic swimmer.
If caught in a rip current, NOAA advises:
Stay calm.
Don't fight the current.
Escape the current by swimming in a direction following the shoreline. When free of the current, swim at an angle—away from the current—toward shore.
If you are unable to escape by swimming, float or tread water. When the current weakens, swim at an angle away from the current toward shore.
If at any time you feel you will be unable to reach shore, draw attention to yourself: face the shore, call or wave for help.