Strollers pose safety problems for Philly families riding SEPTA
When a mother fell down the stairs and died in the New York subway last month, parents in Philadelphia reacted with a combination of horror and recognition.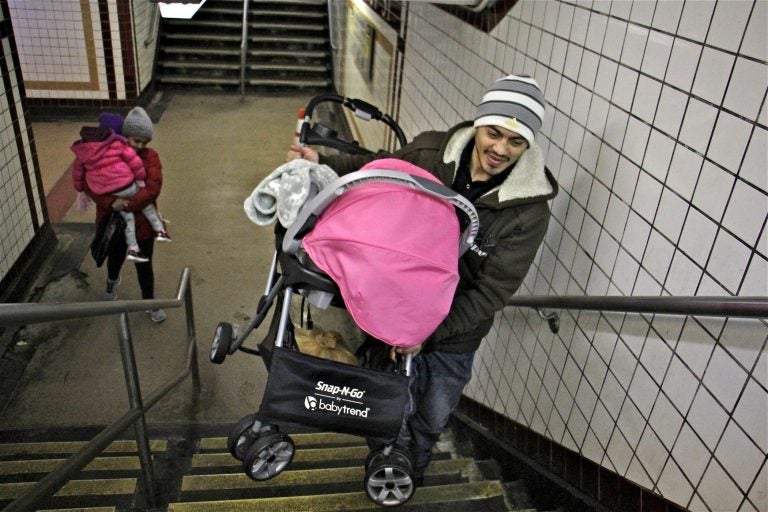 This article originally appeared on PlanPhilly.
—
When a mother fell down the stairs and died in the New York subway two weeks ago, parents in Philadelphia reacted with a combination of horror and recognition.
Malaysia Goodson's fall while she was carrying a stroller and her year-old daughter reminded them of their own struggles navigating SEPTA train stations.
Gretchen Dahlkemper of Point Breeze said she immediately thought of a scare she had several years ago, after she got off a train at 2nd and Market streets and found that the station's elevator was broken. She was pregnant at the time and was pushing her 18-month-old son in a stroller.
"So I folded up the stroller and picked up my child and walked up those slippery stairs, and I fell. I just remember sobbing. I was tired and I was cranky, and he was cranky, and nobody was helping us," she said. "It was dangerous and it was unsafe, and it has really stuck with me, thinking about the accessibility on the subways here in Philadelphia."
Dahlkemper prefers to use mass transit when possible. She lives a couple blocks from the Tasker-Morris stop on the Broad Street Line, so it's convenient, and environmentally friendly, too. But after that fall on the stairs, the mother of three said she switched to walking, driving, or taking an Uber when she traveled with her children.
"Honestly, I didn't really take the subway much when my kids were little because of the stroller issues," she said.
Many Philadelphia parents don't have that luxury. Every day, thousands of parents toting children rely on buses, trains and trolleys to reach work and childcare, medical appointments and other necessary destinations. Women struggling with bulky strollers on the narrow, dark steps that take riders up from the Broad Street Line at City Hall station are a daily sight at the crowded transit hub.
---
PlanPhilly editor Ariella Cohen and reporter Meir Rinde explain why public transit systems weren't designed for everyone from the start and how SEPTA is doing at catching up on Wednesday's episode of WHYY's The Why. Listen now and subscribe on Apple Podcasts or Stitcher.
---
Both New York and Philadelphia have subway systems built generations before the Americans with Disability Act (ADA) became law in 1990.
The federal regulation mandates that government agencies, businesses and other organizations that serve the public must provide accommodations for people with disabilities — like the elevators used by people in wheelchairs and those with strollers. In the nearly 30 years since the law's passage, both transportation agencies have spent hundreds of millions of dollars adding lifts, ramps and other features to bring  stations up to code. But neither system is fully compliant.
Philadelphia's subway is smaller than New York's, and that has made progress easier than in the Big Apple, where only one quarter of the Metropolitan Transit Authority's subway stations have elevators. In Philadelphia, elevators operate in 35 of 52 stations — 67 percent. Elevators at two other subway stops — 15th Street and Arrott Transportation Center — will come online in the next few months.
The subway elevator numbers represent considerable improvement, yet challenges remain across SEPTA's system. Five out of the six trolley lines are completely inaccessible to people in wheelchairs, while fewer than half of the Regional Rail stations meet ADA accessibility requirements. Some only have wheelchair accessible platforms for one of two tracks.
Even in the subways significant gaps remain. The Market-Frankford Line has elevators at almost every station, but on the Broad Street Line there are two stretches of four stations in a row that do not have elevators. There are also no elevators to that line at City Hall, a major transfer station at the heart of the system.
SEPTA officials say installing elevators and complying with the Americans with Disability Act is a top priority. The agency consults with an advisory committee of disability advocates that tells them where they should focus improvements. The goal is 100 percent accessibility.
But upgrading stations in a more than century-old system is very expensive, costing millions of dollars per station, and competes with other funding demands.
"When you open up the ground there, you have 100 to 150-year-old sewer lines, water mains, PECO, all the communication lines, everything you don't see that's underground, and we have to try to squeeze in an elevator shaft between all those underground utilities," said Bob Lund, SEPTA assistant general manager. "There's a significant amount of utility relocation, and coordination, and cost and time associated with doing all that."
Lund, who oversees engineering, maintenance, and construction, said SEPTA's capital program is underfunded compared to New York's MTA, NJ Transit, and systems in Boston, Chicago, and other cities.
The agency has a billion-dollar proposal to replace its aging trolleys and build new platforms that comply with the Americans with Disabilities Act, but it's still looking for funding for the plan.
'A form of segregation'
German Parodi uses a wheelchair and relies on public transportation. He said that during the recent cold snap he encountered two different broken elevators during a trip home to Juniata Park from Center City. A malfunction at 8th and Market meant he couldn't get on the train there and had to roll his wheelchair a few blocks to 5th Street. When he got off at Erie-Torresdale at around 9:30 p.m., another broken elevator left him no choice but to wait on the freezing outdoor platform.
"That's my only option. I can't take the steps, you know?" Parodi said. "I had to wait for another train, go to the next station, which was Church, and roll back for a half hour on the street, at that temperature."
Parodi works with a nonprofit organization, Disabled in Action of Pennsylvania, and was involved in reviewing renovation plans for SEPTA's City Hall station and Dilworth Park before the city added three elevators there. Sixteen percent of Philadelphia residents have disabilities, or about 246,000 people, and Parodi estimated that more than half of them use public transportation.
By not providing more elevators and keeping them in working order, and by not sufficiently maintaining bus ramps and other equipment, the transportation system is essentially hostile to disabled people, parents with strollers, and many others, he argues.
"It's discriminatory," Parodi said. "I don't want to diminish the meaning of the word, but it's a form of gentrification. It's a form of segregation. 'There's no access for you to come into the city. Stay out.' "
Among other steps, SEPTA should do a better job of notifying riders of broken elevators, he said. That could include posting placards more quickly or reading announcements on trains and in stations.
Those simple fixes could help improve safety. The woman who fell in New York and Dahlkemper in Philadelphia both fell on the stairs when elevators at their respective stations were out of service. Advance warnings might have at least kept them on their trains until they reached the next elevator-equipped station.
SEPTA officials defend their elevator program, which they described as a national model among transit systems. Lund says that elevators are inspected twice a day and cleaned twice a day. Outages are announced on a website, a phone hotline, and on announcement boards in stations, and signs are supposed to be posted on broken elevators. SEPTA also has a 26-person elevator repair staff that responds quickly after a problem is called in by a customer or station cashier, he said.
"Accessibility goes beyond just the initial construction. We have to maintain it, keep it safe and operational at all times, and so it's a continuous effort at all levels, from start of design through keeping it accessible every day," Lund said.
"Yes, there are challenges, frankly they can get abused — everything that you can imagine out there — so it's a challenge we are aware of and we try to stay on top of it," he said.
Accessibility projects are underway across the system. On the Regional Rail, they are under construction at Levittown, Paoli, Secane and Wynnefield stations, and work is slated to begin at Ardmore in the near future. Plans to add ADA access at Conshohocken, Jenkintown, Noble, and Willow Grove stations are in the design phase.
Installation of an elevator at Tasker-Morris, near Dahlkemper's house in South Philadelphia, is slated to get started next year as part of $9.8 million station upgrade. SEPTA will also begin the next phase of a multi-year, $150 million project to improve 15th Street and City Hall stations, where commuters transfer among the two train lines and several trolley lines. Five more elevators are being added now and a later stage will put in another four elevators, for a planned total of 12 in the transit complex.
Yet the agency knows that the subway still does not work for everyone. People using wheelchairs or pushing strollers should take SEPTA buses, which are accessible via ramps that drivers lower to the sidewalk, said Cassandra West, a SEPTA manager who oversees accessibility programs. She urged parents not to risk the stairs in subway stations that don't have elevators.
"I would strongly recommend that people rely on buses. Being a mom with three small kids and a double stroller, I certainly wouldn't carry that up and down stairs, just for my own safety and the safety of my little ones," West said. "Our buses mirror those routes. It's so much easier and safer to get on a bus."
"It really comes down to making safe choices. Safety is, above all, SEPTA's biggest concern in everything we do, and we need our customers to feel the same way," she said.
WHYY is your source for fact-based, in-depth journalism and information. As a nonprofit organization, we rely on financial support from readers like you. Please give today.