Carmelo LaMantia stops by Mi Casa Su Casa, a breakfast and lunch cafe in downtown Reading, quite a bit. Exactly how often is in dispute. 
"He comes every day," said the waitress as she handed him an iced coffee with a splash of cream on a recent Wednesday morning. 
"She's exaggerating a bit, but several times a week, yeah," said LaMantia, laughing. 
LaMantia, 60, is here for the community as much as he is for the coffee. Like a lot of people in this post-industrial city of about 90,000, LaMantia is a New York City transplant. He moved to Reading in 2012 for a love interest. That didn't work out, but he stuck around, enticed by the lower cost of living. The cafe, he said, played a big part in making him feel like he belongs. 
"Mi Casa Su Casa, that pretty much explains it all, that means 'My house is your house,'" he said. "You pretty much feel at home here." 
That's a common sentiment among regulars at the cafe, and there are a lot of them. It's the rare space that bridges the city's decades-long transformation from a stronghold of the white working class to a destination for Latinx people, often from the New York-area, seeking a quieter life. 
Reading — named the poorest city in America in 2011— still struggles with high poverty and unemployment. But boosters see a brighter horizon, pointing to the election of the city's first Latinx mayor last November, and major expansions by area universities.  As Reading attempts to redefine itself, many of the conversations about what exactly it will be play out in the cafe over steaming cups of coffee and plates of mofongo and scrambled eggs.
People walk past Mi Casa Su Casa cafe on Penn Street in Reading, Pennsylvania. (Matt Smith for Keystone Crossroads)

Cafe co-owner and Reading City Council Member Johanny Cepeda-Freytiz, left, speaks as Rudy Estrada, right, with the Reading Codes Department. (Matt Smith for Keystone Crossroads)

Iris Batista, left, of Mount Penn, talks while seated next to James Porter, right, at Mi Casa Su Casa in Reading, Pennsylvania. (Matt Smith for Keystone Crossroads)
Reporters often head to diners in election years in search of a certain perspective: white, rural, and deeply-rooted in a small-town way of life.
Spend a morning at Mi Casa Su Casa and you'll find something else — a cross-section of diverse residents working together to put down a new set of shared roots. 
Cafe regulars don't hesitate when asked the reason: co-owner Johanny Cepeda-Freytiz.
"Sometimes I feel like our restaurant is like a 411 stop," Cepeda-Freytiz said during a mid-morning lull. "When people are talking about their experiences, I try and let them know where things are. 'Here let me connect you, here you should call here, or get involved there, or there's church around your corner go visit.' You know, so they can start feeling a part of home."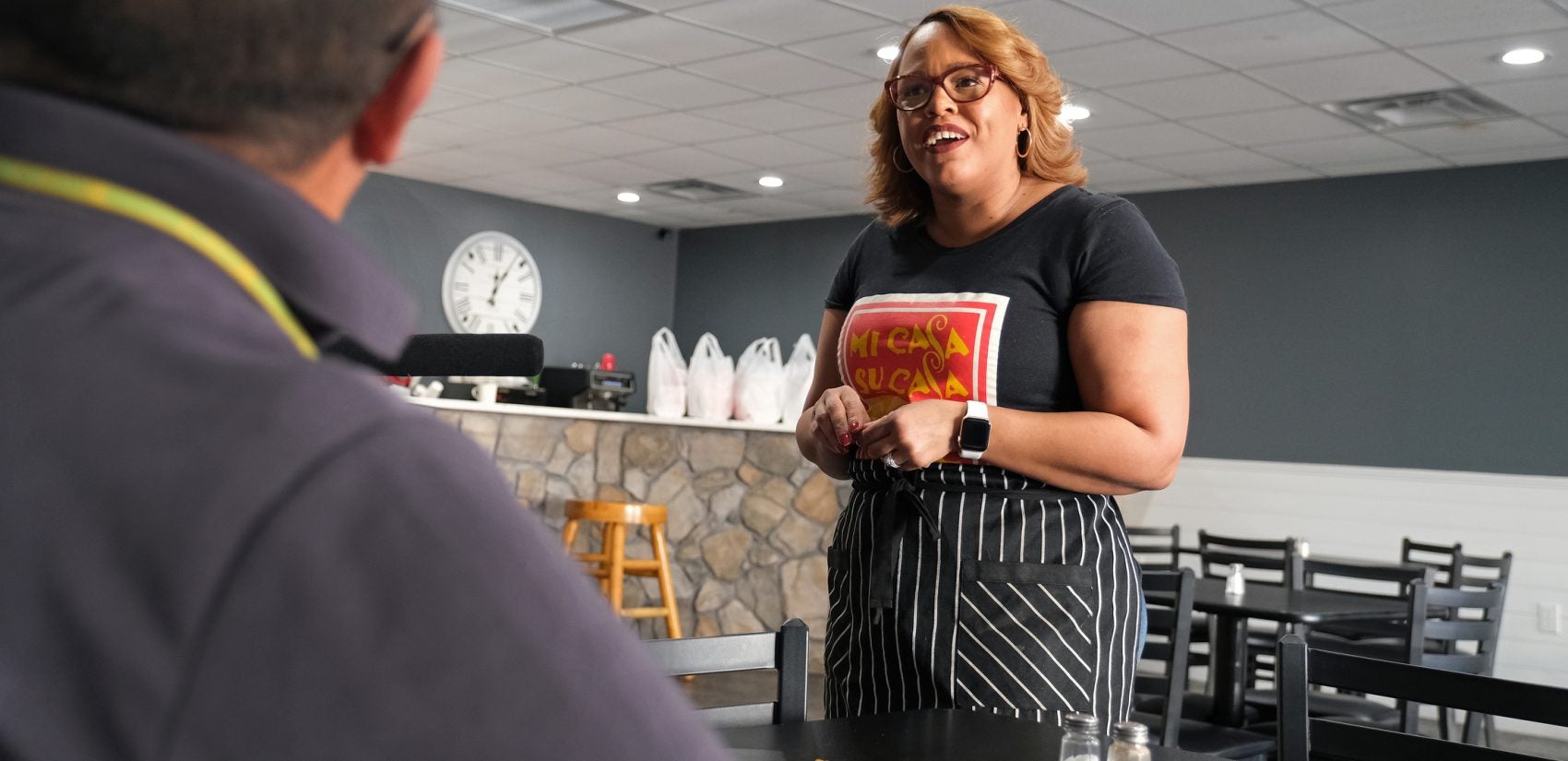 Cepeda-Freytiz, 46, is a blur of energy, moving on an endless circuit between the kitchen, the cash register, and the tables.
She knows everyone, and everyone wants to say hello. It's been that way nearly since Mi Casa Su Casa first opened its doors in 2007, but Cepeda-Freytiz has been in even greater demand since she was appointed to a seat on Reading's City Council in January 2019.
"Johanny, for the Latino community — or just for the community in general — she opens the space for us," said Anthony Orozco, a former Latino beat reporter for the Reading Eagle. 
"When I was reporting for the Reading Eagle and having a slow week I would just pop into here and undoubtedly find a story," he said. "Hear the scuttlebutt."
Genesis Munoz, 19, moved to Reading from the Bronx when she was 12. Now she waitresses at Mi Casa Su Casa in between her classes at Penn State Berks. Munoz said Johanny pushed her to engage with people she might not otherwise: a senior citizen who comes every day for breakfast, a cousin of Johanny's on the police force and other long-time Reading residents.
"Sometimes I guess I am surprised by how much white people come by," Munoz said. 
Darrell Kauffman, 59, is one of those white people. The city worker, who comes to the cafe every day for coffee or a bite to eat, grew up in rural Lebanon County and moved to Reading in the early 1970s, during its industrial heyday.
He said that, at times, Reading's demographic changes have felt overwhelming. 
"I want to know what they say because I don't know the Spanish," Kauffman said. "I'm straight-up English."
He says spending time at the cafe — as well as working alongside Dominican colleagues — has helped him learn about the Latinx cultures that have changed the city.
Richard Schwetz, 46, a payroll consultant, visits Mi Casa Su Casa regularly as well. It's more pleasant than city hall. 
"Anytime I have an issue or a concern of any sorts, whether it's the sidewalk on South 5th street, or whether it's the heroin addicts hanging all over south 6th, I can come inside this shop…and find a person who knows who I gotta talk to," Schwetz said after grabbing a coffee. "Johanny was always the catalyst behind it."
Unlike most people in this heavily Democratic city, Schwetz is a Republican, a committed supporter of President Donald Trump. He said that Mi Casa Su Casa is a rare place where he has civil debates with those who don't share his politics. 
"If the rest of the world could do what we can do here, this country would be in so much better shape," he said. 
In fact, these cafe chats have even led him to occasionally change his mind. Schwetz recalled talking with some Latinx patrons during the debate over whether the census should include a question asking the respondent if they are a U.S. citizen.
"Honestly I was determined on the fact that if you are a citizen of this country, you should be filling out that citizenship question," Schwetz said.  "And then to hear it from the other end of it: 'What happens if I fill out that question? Do we get kicked out? Do we lose our benefits? Can we no longer afford to live in this country anymore?' That really had me stop for a second and think like 'Wow, what am I pushing for here?'"
Cafe regular Richard Schwetz, who works in payroll solutions, is a strong supporter of President Trump — which can be a rarity at the cafe. (Matt Smith for Keystone Crossroads)

Employee and student Genesis Munoz at the counter of Mi Casa Su Casa in Reading, Pennsylvania. (Matt Smith for Keystone Crossroads)

Former Reading Eagle beat reporter Anthony Orozco at Mi Casa Su Casa. (Matt Smith for Keystone Crossroads)
Cepeda-Freytiz encourages these kinds of cross-cultural, cross-partisan conversations. She had a lot of them after growing up in Manhattan and the Dominican Republic and then attending college in rural upstate New York. 
Cepeda-Freytiz's parents left New York for Reading in the early 1990s: their American dream realized when they purchased a house near downtown in all cash.
She followed in 2007, leaving New York and a job at a non-profit for a chance to fulfill a childhood fantasy of owning a cafe. 
Cepeda-Freytiz said her interest in politics was sparked by living in Reading through the Great Recession.
"I said, 'Gosh, if I am struggling — and I am an educated professional, I speak, I understand the language — how are my neighbors doing, the ones who don't speak a lick of English?'" Cepeda-Freytiz said. "'Are they complaining, do they know how to complain?' And so that's why I had to step up."
In 2015, Cepeda-Freytiz launched a long-shot primary challenge against  Democratic City Councilman Jeff Waltman, an established incumbent. 
To have a chance, Cepeda-Freytiz said, she focused on reaching people who voted occasionally, or not at all: a sizable population in Reading, where the turnout rate of voting-eligible residents in an off-year tends to be below 20 percent. 
"I was just knocking on doors, 'Are you registered to vote?' I would walk around with a stack of voter registration cards and have them register to vote on the spot," she said. 
Cepeda-Freytiz lost that election by 78 votes, out of about 800 cast. Still, turnout was up roughly 50 percent from the previous primary, when Waltman ran unopposed. 
Last November, Cepeda-Freytiz handily won her city council election. Her list of priorities spans sixteen bullet points, neatly written in a notebook in black and red ink: develop a block captain program, create bilingual city programming and materials; improve relationships and communications between the community and the city. 
Behind it all is a goal that Cepeda-Freytiz has been working towards since she first opened her cafe doors: to make every neighbor and friend feel like Reading is their home, and that they have a stake in it. 
"Making them understand that they are very much a part of the same table," Cepeda-Freytiz said. "And that their voice needs to be heard." 
WHYY is your source for fact-based, in-depth journalism and information. As a nonprofit organization, we rely on financial support from readers like you. Please give today.