Members of fledgling Health Corps help at vaccine clinics, target disparities in Delaware
New Castle County is using $675,000 of its federal coronavirus relief funds to pay for the pilot program that it hopes to expand.
Listen
2:23
Ask us about COVID-19: What questions do you have about the coronavirus and vaccines?
Aliyah Gwathney holds a clipboard and fires off a series of questions to the people who enter the Westside Family Healthcare clinic in Wilmington for coronavirus vaccinations.
Have they had fevers or other COVID-19 symptoms in recent days?
Are they feeling sick?
Which vaccine do they want — Moderna or Pfizer?
The 21-year-old Gwathney is going into the occupational health field, but for now she's part of the 10-member National Health Corps Delaware.
It's a pilot program for northern Delaware that aims to assist with reducing longstanding health disparities among low-income people, including issues exacerbated by the pandemic. The Health Corps, part of AmericaCorps, also operates in Philadelphia, Pittsburgh, New York, Chicago, Florida, and San Francisco.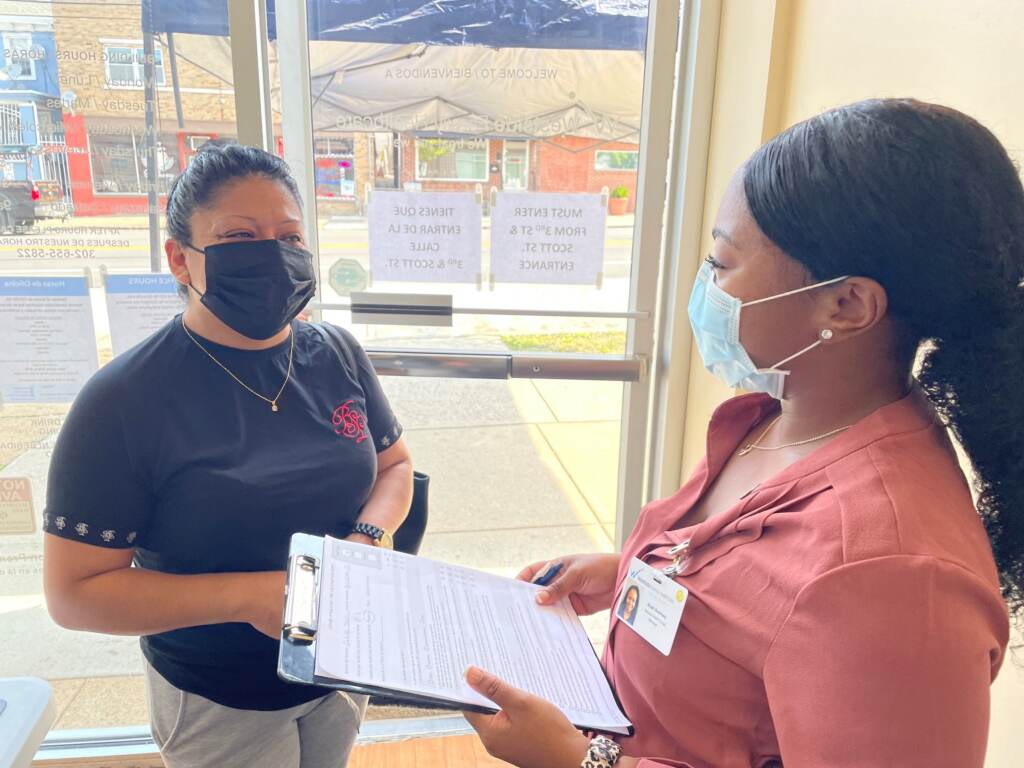 Delaware's members, who get paid $15 an hour from New Castle County's federal coronavirus relief funds, are assigned to Westside, the ChristianaCare health system, and Lutheran Community Services. They provide translation services at vaccination sites, assist with social media campaigns, participate in community outreach efforts, conduct research, and more.
Gwathney works at Westside, which serves a mostly Latino population at its west Wilmington office. The area has a below-average vaccination rate.
Beyond screening and filling out paperwork, Gwathney is a sounding board for the 200 to 300 patients who descend on Westside once a week to be served by it's so-called "vaccine strike team."
"I also provide patient education,'' Gwathney told a WHYY reporter this week during a brief lull in the steady parade of patients. "So if they have any questions about the difference in vaccines and just any concerns, I'm there to help them with that as well."
She also alleviates last-second reluctance.
"I've had a couple of people that were hesitant,'' Gwathney said. "They'll ask me if I'm vaccinated, and then they will ask me, you know, 'Which one's better? What is the effectiveness rate?'"
If Gwathney can't answer, she refers them to fellow Health Corps member Veronica Villalobos, who has an information packet that addresses most issues that arise.
Villalobos is studying exercise science at the University of Delaware, but at Westside she greets patients after Gwanthey quizzes them and reviews their forms.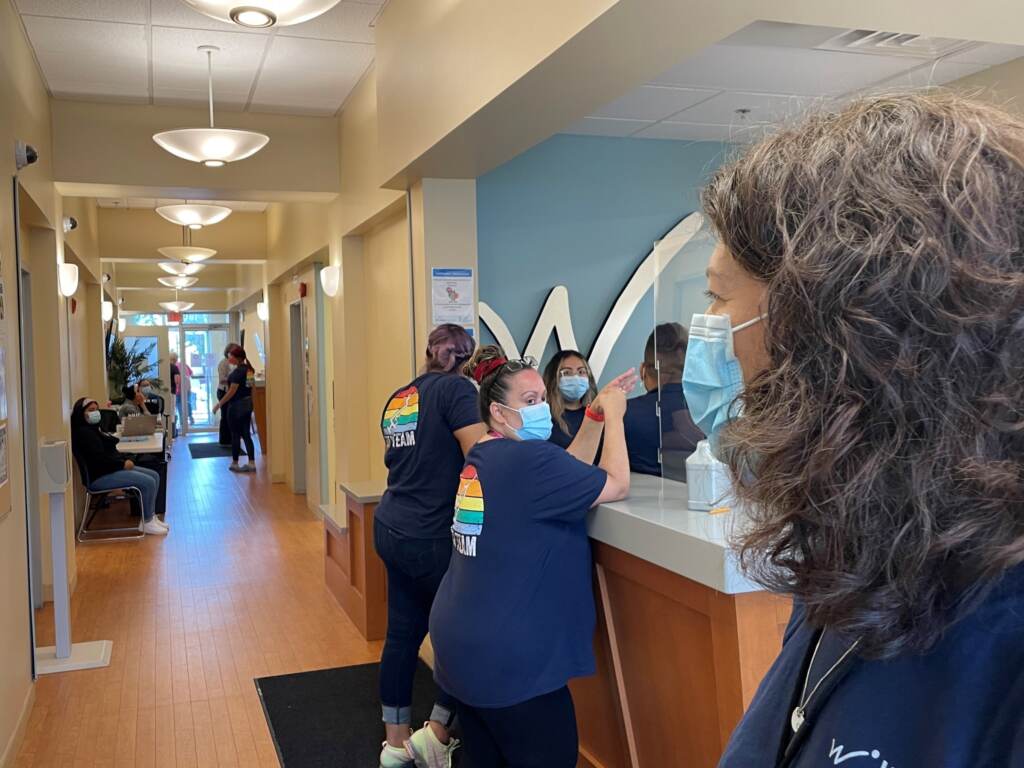 She also speaks Spanish, which comes in handy when teenagers Samantha and Fernanda Del Angel show up for their second Pfizer shots. They need a translator and have some questions.
"If they need help filling out their form because they can't write or something then, yeah, I'll walk them through all the questions and help them fill it out,'' Villalobos said.
Dr. Megan Werner calls the two Health Corps members a key cog in Westside's team because they help free up the medical personnel to work solely on treating the patients and the administrative staff to focus on their own jobs.
"So it's nice to be able to just do the education part,'' Werner said. "People come in with questions. 'Can I get the vaccine?' 'Can I not get the vaccine?' 'Should I get the vaccine?' So it's been really helpful."
Joining the National Health Corps is another innovative use of COVID-19 relief money by County Executive Matt Meyer and the County Council. The biggest was buying a swank but struggling hotel and turning it into a transition center for people experiencing homelessness.
Meyer, who credited fellow Democrat and U.S. Sen. Chris Coons of Delaware for the idea, said the health corps is costing $675,000 this year. He said it "was created to address sort of long-term health equity issues such as, 'How do we make sure that people in lower-income communities, people of color who traditionally don't have access to the highest-quality diabetes meds, are necessarily taking their medicine on time?'"
But with the pandemic "health emergency" still prevalent, Meyer said that helping "hidden heroes" such as Westside with vaccine administration is paramount.
"We're making sure they have an extra pair of hands, both to plan and execute vaccination sites, and particularly to get out to communities of color, to areas that are not necessarily being serviced,'' he said.
A few more corps members will likely be hired soon, and at year's end the county will study whether the money was well spent and whether the program should be continued, even expanded, Meyer said.
That's what he is aiming for, with hopes to use money from the American Rescue Plan passed under President Joe Biden.
"Hopefully," Meyer said, "we will scale this up to 40, 50 corps members per year."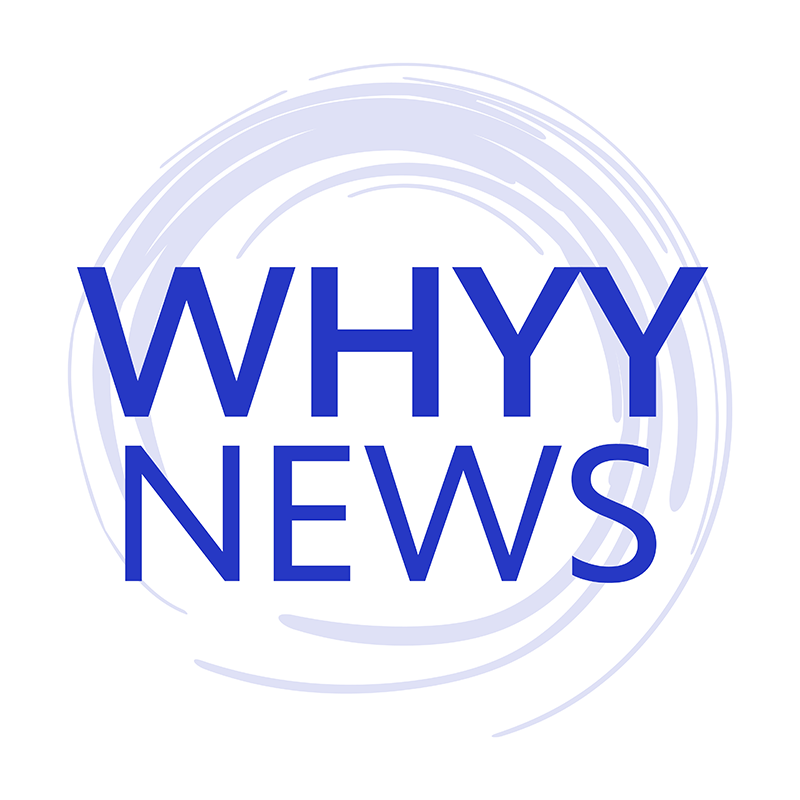 Get daily updates from WHYY News!
WHYY is your source for fact-based, in-depth journalism and information. As a nonprofit organization, we rely on financial support from readers like you. Please give today.