Meet the 'crazy' moms saying one of Pa.'s top-rated school districts can't teach reading
Is it a case of suburban anxiety run amok? Or a window into how enlightened parents can undermine the reputation of a reputedly great school district?
Listen
5:26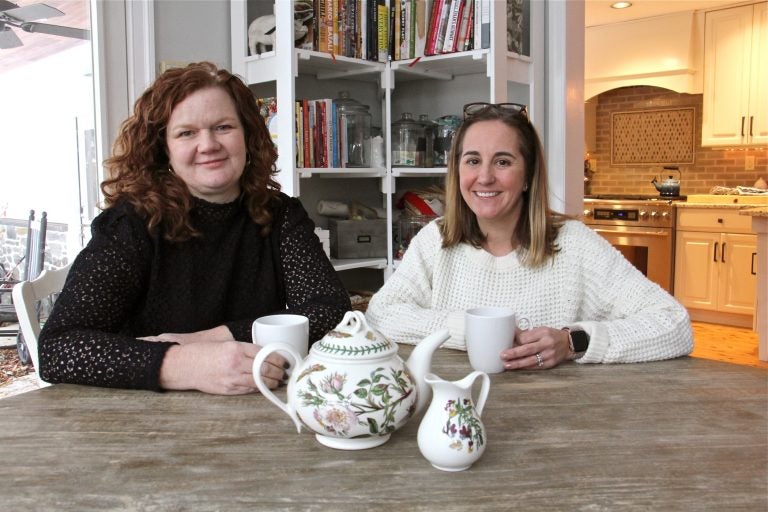 The small parent rebellion forming in one of Pennsylvania's wealthiest school districts began at a Starbucks in suburban Chester County.
Over coffee, three moms — Kate Mayer, Jamie Lynch, and Wendy Brooks — swapped stories about how their kids struggled to read as they moved through the Tredyffrin/Easttown school district, located about 30 minutes west of Philadelphia on the Main Line.
They decided to start a local awareness campaign, beginning with an event where they passed out flyers and donuts to teachers. It seemed as benign as a bake sale.
That was a little less than two years ago.
Today, their group, "Everyone Reads T/E," pushes a more subversive idea: that their acclaimed district doesn't know how to teach reading. They've rallied a growing group of parents around this notion, and joined a national effort.
This could be a case of suburban anxiety run amok. Or it could be a window into how enlightened parents challenge district orthodoxy and undermine the reputation of a reputedly great school district.
Either way, these moms — and they are almost entirely moms — represent a potentially powerful force. They believe the way we teach reading in this country must change. And they're determined to make it happen from the ground up.
Dyslexia's moment
"Everyone Reads T/E" began as a support and awareness group for parents with dyslexic children. Dyslexia, it turns out, has become a common entry point for parents who come to question the district's reading practices.
A 2018 federal law defines dyslexia as "an unexpected difficulty in reading for an individual who has the intelligence to be a much better reader, most commonly caused by a difficulty in the phonological processing."
In broad strokes, dyslexic students struggle to match the letter combinations of written language with the oral sounds of spoken language.
Scientists first identified the disorder at the end of the 19th century, but dyslexia is having a cultural moment right now.
Between 2013 and 2018, the number of states with dyslexia-related laws jumped from 22 to 42. Some mandate screening for dyslexia. Others call for teachers to get special training. There are documentaries on the topic, and burgeoning parent groups, like the one in Tredyffrin/Easttown, dedicated to raising awareness.
This push dovetails with broader skepticism about the way public schools teach kids to read. Some academics — and a growing chorus of parents — believe schools don't sufficiently focus on the mechanics of reading, what we might generally call phonics. They believe this negligence disproportionately hurts students with dyslexia — those who need extra help deciphering the code of written language.
It's a potent idea, and it has taken root in a community that seems, from the outside, to be public education nirvana.
The perfect district?
Tredyffrin/Easttown is one of the poshest and most desirable school districts in Pennsylvania. Median household income is about $122,000. The district's highly rated high school offers 30 AP courses. Twenty seven members of the most recent graduating class attended Ivy League schools. Nearly every student graduates high school in four years.
Tredyffrin/Easttown's profile either makes it one of the best or worst places to have this debate about reading.
Everyone admits it's a competitive school district. One could imagine parents overreacting when their kids slip behind in reading. Perhaps, they're looking for someone to blame, and some explanation for why their children aren't excelling in a district where so many others shine.
But there's a more charitable way to view what's happening in Tredyffrin/Easttown.
Research suggests nearly every child has the latent ability to read.
Of course, life circumstances can keep children from reaching their learning potential: poverty, trauma, family instability. But kids growing up in Tredyffrin/Easttown rarely face these hurdles.
It's almost like a controlled experiment — with all the mitigating variables muffled.
If a Tredyffrin/Easttown student can't read, doesn't that suggest there's something wrong with how we teach reading?
"Yeah, it's a rich person's problem," said parent Kate Mayer. "But we have the information about our kids and when you talk to the parents who have come to us, who are supporting us, they are saying: I moved to the number one school district in the state. I spent all this money. I want them to teach my kid to read the right way."
---
Reporter Avi Wolfman-Arent explains what's at stake in this national debate over how to teach children to read on Wednesday's episode of WHYY's The Why. Listen now and subscribe on Apple Podcasts or Stitcher.
---
 'I trusted the school'
The parents behind "Everyone Reads T/E" tell a largely similar story.
Some time between Kindergarten and 2nd grade the school district said their child needed extra reading help. They trusted that extra help would yoke their kid back up to grade level. The help came. The improvement never did.
The parents hired private tutors. They read more to their kids. They tussled with district officials over special-education plans, growing more cynical in the process.
"I trusted the school was gonna teach my daughter," said Nancy Coradi, who says her fifth-grader is reading at a fourth-grade level. "They were gonna fix it. They didn't fix it."
Their children became increasingly aware of their academic deficits as they aged, and it bred frustration.
Lucie Liebler, 13, first remembers feeling the stigma in fifth grade, when the school placed her in a class with English Language Learners, according to her mom, Kym. Lucie would squeeze and tug on her ear in class to release anxiety.
"She would come home and be like, 'I've gotta get out of there, I've never felt so stupid in my life,'" recalled Kym Liebler.
Her inability to read seeped into other subjects. Science was a particular challenge, full of words she'd never seen and letter combinations she still couldn't dissect.
By sixth grade, she shook uncontrollably before tests. When her mom floated the idea of returning to Tredyffrin/Easttown for her seventh-grade year, she sobbed and threatened to hurt herself.
"The thought of going back scared me and haunted me — like it gave me nightmares," said Liebler, who now attends a private school for children with learning differences.
Declan Arnott, now a high-school senior, loved school in the early grades. He was a boisterous kid, perhaps a little overactive, said his mom, Jennifer. But he made friends easily and seemed to relish the social side of school.
Homework was a different story. In kindergarten, the school assigned something called "funwork," which involved memorizing the letter sounds of the alphabet. Declan hated it, but his mom wasn't concerned.
"I didn't have alarms going off and a huge worry," said Jennifer Arnott. "I knew that boys developed at a little bit of a different pace than girls."
Things got worse as Declan got older. His boisterousness turned to tantrums. In seventh grade, he flipped desks and once threatened to toss a chair out a classroom window.
Declan doesn't think this was typical teenage angst. He believes it stemmed from his inability to read, and the embarrassment those failures caused.
"I knew I could do things in other subjects," said Arnott, who switched to a private school in eighth grade and is now headed for college. "But then when it came to reading and writing it felt like the world was ending."
Declan knew he was falling behind his peers. In a community where higher education feels like the default, he thought: "Is college even a thing for me?"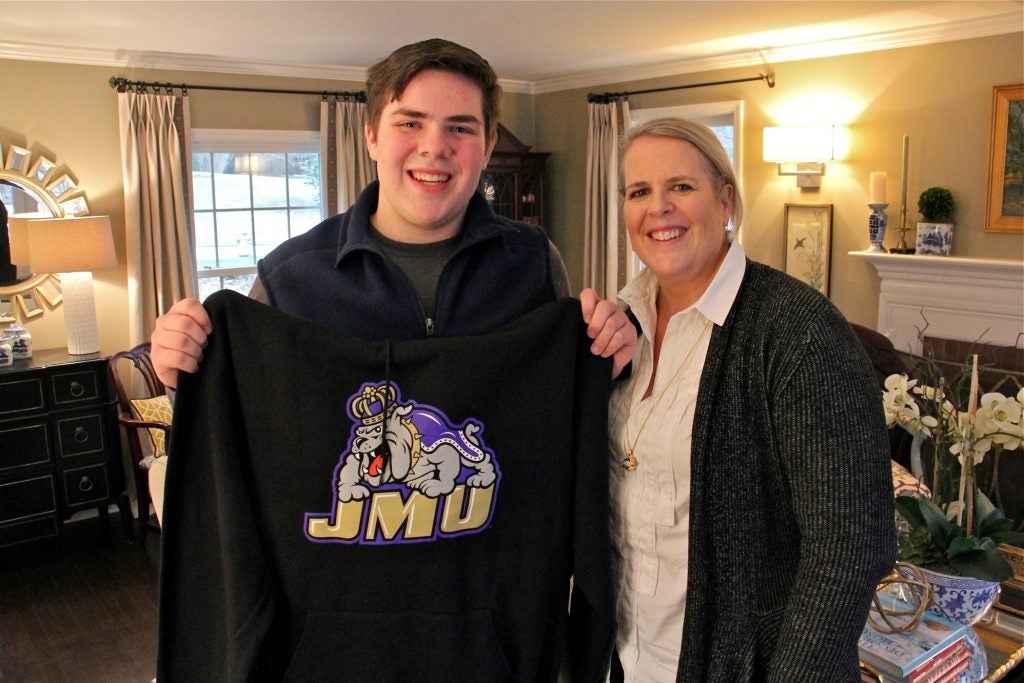 Jennifer Arnott felt Tredyffrin/Easttown didn't have whatever antidote her son needed. Before his eighth-grade year she placed him at a special private school for kids with reading disabilities. On one of his entrance exams, Declan tested below the first percentile in "sound-symbol" knowledge among his age group, and third percentile in "fundamental reading."
Many parents, including the Arnotts, eventually hired independent neuropsychologists to evaluate Declan, which can cost thousands of dollars. The evaluators often said their kids had dyslexia or a dyslexic profile.
Most parents say this diagnosis was a moment of clarity. It took a painful, ill-defined academic struggle and turned it into a word. It connected them to a community of people struggling with the same thing, and gave them access to a trove of online resources. Some of those resources listed successful people who'd overcome dyslexia.
"It created an identity with an entire population of people that are incredibly successful and incredibly bright," said Jennifer Arnott. "It was just a real light-bulb moment for us."
As Kate Mayer put it, "[It's] the idea that, hey, I'm not freaking stupid."
In many cases, though, the dyslexia diagnosis also solidified their discontent. The school district, they said, never uttered the word dyslexia. They wondered why not. And they wondered if the district really knew how to help their kids.
They'd already felt something was off. Now they were convinced the district failed them. Many of them sought Kate Mayer and Jamie Lynch for help.
"I thought [Jamie] was the crazy mom," said Nancy Coradi. "Turns out she was the right mom. I trusted the school was gonna teach my daughter. They were gonna fix it. They didn't fix it."
Today, the women say they get three-to-five calls a week from district parents with questions.
"It felt like a flood of people," said Mayer. "It's still a flood."
'Reading war'
After launching their dyslexia awareness campaign over coffee, Lynch and Mayer became go-to resources for other parents. They've built an e-mail list with about 400 names. They've formally advised three dozen families during their special education meetings with the district.
"You think you are crazy when you start asking these questions," said Jamie Lynch. "But when you dig deeper and you're confident in your knowledge, it's a different story."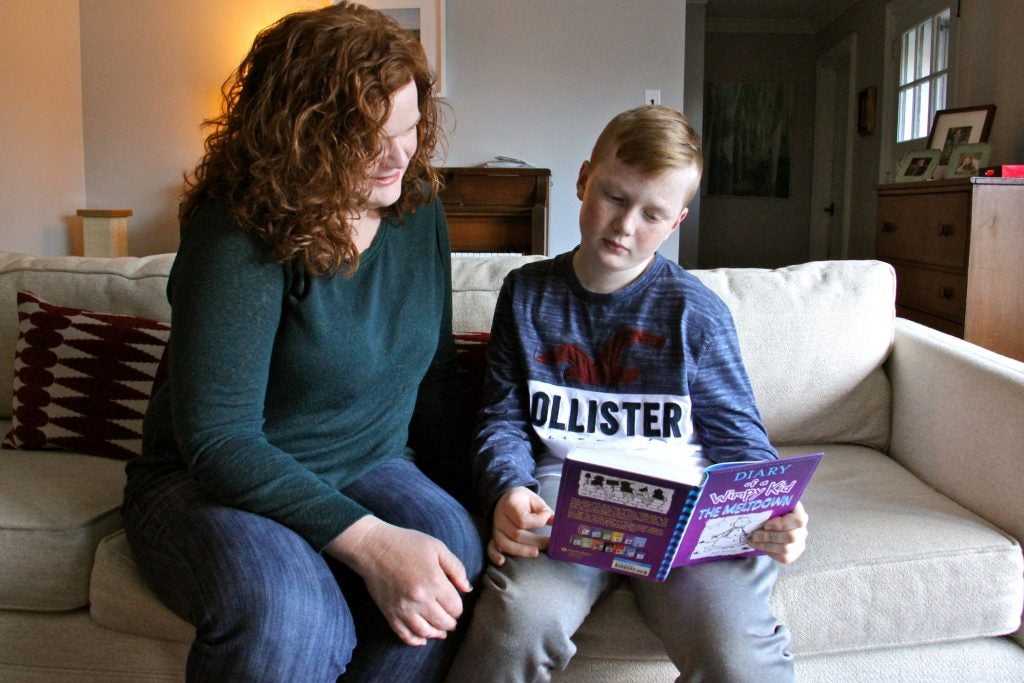 The dyslexia awareness campaign morphed into a larger critique of how Tredyffrin/Easttown teaches reading, with the parents advocating specifically for a greater focus on phonics. Members of "Everyone Reads T/E" show up at board meetings and demand time with district officials. They claim the district hasn't released sufficient data on its support program for kids who struggle to read.
They aren't the only ones making this case.
In the 1980s and 90s, a "reading war" broke out among academics.
Proponents of "structured literacy" said students need more direct instruction in how to read — how to take the sound combinations of oral language and translate them into the written word.
Reading isn't like oral language, they argued. It isn't a human instinct. It must be taught, building block by building block — in other words, phonics.
Opponents called for a "whole language" approach, saying kids learned best when surrounded by print. Teachers needed to inspire a love of reading in their students.
The academic consensus seems to now favor "structured literacy," but some researchers and parents believe school districts haven't internalized the science. A recent series of radio documentaries by American Public Media amplified those claims. One of the documentaries profiled a parent group in Ohio that confronted the whole-language orthodoxy of their district officials and prompted a sea change in reading instruction.
"Many times I think parents are right, said Louise Spear-Swerling, professor emerita at Southern Connecticut State University and an expert on literacy development. "There's a lot of room for improvement in how reading is taught. Often the scientific research base that we have is not being recognized."
Academics often point out that nearly two-thirds of fourth-graders don't read on grade level, according to a prominent national exam.
"If you really look closely at what's being done, it's lack of explicit, systematic instruction," Spear-Swerling said.
What's happening in Tredyffrin/Easttown isn't as cut and dry.
District officials say they do embrace phonics, especially in the younger grades. They've sent their reading specialists to train in Orton-Gillingham, an instructional method favored by many dyslexia advocates.
And the district says it does use the term "dyslexic" in special education meetings, just perhaps not as often as parents want. Administrators combine observation with data gleaned from up to five exams when determining if students have what they call a dyslexic profile.
"I don't believe we have any reluctance at all to use that term," said Chris Groppe, who spearheads special education for Tredyffrin/Easttown.
Administrators barely acknowledge a disagreement with parent advocates.
"We are very lucky in this district to have many parent groups that are involved to support their students' interests," said Groppe.
The data doesn't conclusively prove whether Tredyffrin/Easttown suffers from a reading malaise.
Overall, the district scores exceptionally well on the state's standardized test for reading and writing. Nearly nine in ten students are proficient or advanced, the tenth-best rate in the state.
Skeptics though, say scores would be lower without parents of struggling students paying for tutors or, in some cases, opting out of the district entirely.
Pennsylvania also measures student growth from year to year on standardized exams. And although some high-performing districts tread water or even score well on this measure, Tredyffrin/Easttown doesn't. It has the seventh-worst "average growth index" in Pennsylvania for English Language Arts.
Groppe says growth data "can be more challenging to interpret" for high-achieving districts. Some of the state's other suburban powerhouses — Lower Merion, Radnor Township, Haverford Township — also rank near the bottom.
Earlier this year, the district released a limited snapshot showing most students getting extra reading help made what the district calls "expected progress" on internal benchmarks exams.
The parents in "Everyone Reads T/E" want more detailed data. And the district will present another review to the school board's education committee in March.
A parent push
Beyond the particulars of this one battle in this one district, there is a larger picture.
What happens if the grassroots fervor behind "Everyone Reads T/E" spreads further?
It's already changing the way states talks about dyslexia in their laws, and that discourse might trickle down to the way school districts perceive the disability.
Experts estimate somewhere between five and 20 percent of people have dyslexia, but school districts likely diagnose dyslexia at much lower rates. Dyslexia isn't a breakaway category under the federal special education law, but instead a subgroup under the "specific learning disability" category. Less than five percent of public school students in America have a "specific learning disability."
Dyslexia awareness could deliver a psychic jolt to students who once considered themselves "stupid." It could also ensure students receive the type of focused phonics instruction that dyslexic students need.
"You always wanna say your kids have dyslexia," said Mayer. "You wanna use the word dyslexia. And the reason that you wanna use that is because it drives the kind of instruction they get."
But Mayer's point hints at a potential downside.
Many parents in Tredyffrin/Easttown dyslexia movement prefer a few specific instructional approaches, even though some experts say there aren't silver-bullet solutions. These approaches are painstakingly systematic. A student who mistakenly gets an overdose of phonics could miss out on things like vocabulary and comprehension, the knowledge that attaches meaning to those translated sounds.
This scenario may seem light years off, but there's precedent. Attention Deficit Hyperactivity Disorder leapt from obscurity to over-diagnosis, aided by parental anxiety and savvy drug marketers.
"My fear is that some of the things that are recommended for dyslexia may not actually help every kid that's given that label if they are misdiagnosed or if they're swept up in the spectrum idea of overdiagnosis," said Rachael Gabriel, associate professor of literacy at the University of Connecticut.
But the biggest implications extend beyond the reading debate.
Almost every metric paints Tredyffrin/Easttown as an exemplary school district. It's hard to square that with the rhetoric of "Everyone Reads T/E." The dissonance does make Mayer and Lynch seem, to borrow their word, 'crazy.'
If they're not crazy, though, it challenges the typical way we think about school quality.
What began as a donut day planned over coffee has sparked a chain reaction of skepticism. People who paid large sums of money to live in a "great" school district find themselves seriously questioning its greatness.
And it's not because of some catastrophe. It's because a few ferociously well-read moms convinced some of their peers to abandon their assumptions.
That's no small feat. And it's why when Mayer meets a new mom, she often begins by addressing the doubt written across her face.
"They'll look at me with a look and I'll say, 'You're not crazy,'" she said. "'I promise, you're not crazy.'"
WHYY is your source for fact-based, in-depth journalism and information. As a nonprofit organization, we rely on financial support from readers like you. Please give today.