The Mechanical Marvels of sculptor Eric Schultz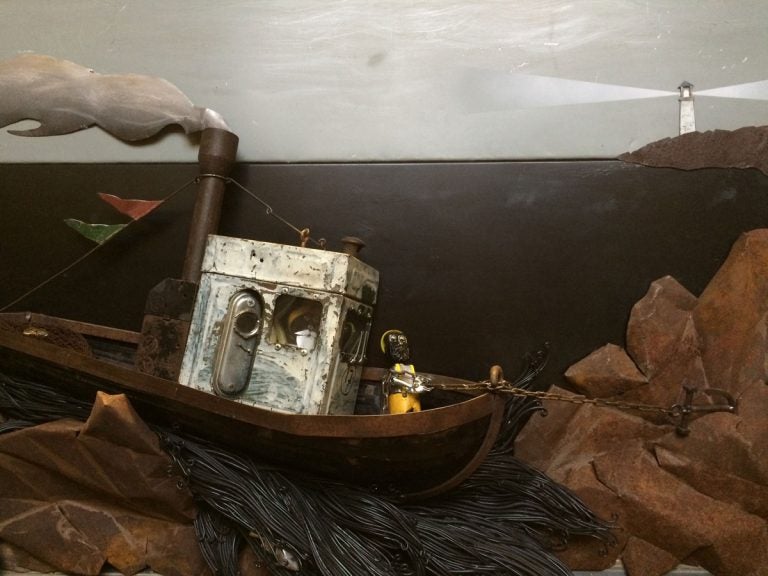 The sculpted characters of Eric Schultz, made from old rusted parts and other detritus, exude whimsy and humor. So it is surprising to hear the artist say he is stressed out. What could stress him? "Being an artist," he says good naturedly, "the lack of money… life."
There was some stress in the summer. A public art project Schultz had worked on—a collaboration between Grounds For Sculpture, HomeFront kids and Isles—was taken down 20 hours after it was installed in a vacant city-owned lot at the corner of Perry and Montgomery streets in Trenton. The sculpture—shaped in shiny stainless steel like a giant hand giving the OK symbol—raised concerns that it resembled a gang symbol. After gang members posed with it, Trenton Mayor Eric Jackson said he wanted to be careful about the message the sculpture sent to city residents, and that it would need to be relocated off city property.
"Our intent was completely innocent," maintains Schultz, who was hired to teach a class to kids through HomeFront. "In eight classes, they learned to use tools to build something and had a great time. We went through different hand signs and they chose the 'OK' sign because it's universal. Little did I know it means other things.
"It was the right place at the wrong time," continues Schultz, pointing out that it happened around the same time as the clash in Charlottesville over the removal of Confederate sculpture. "It was at a time when our country was questioning public art. People were angry that we had to take it down."
Grounds For Sculpture is now seeking private landowners for the sculpture, says Schultz. "The kids' work deserves to be seen."
Sculptures by Eric Schultz were recently on view at Morpeth Contemporary Gallery in Hopewell. The exhibit included "Eating Green in the Garden State," a green-colored conductor with watch fob at his waist on a lunch break. He is biting into a ciabatta sandwich fabricated from a snow shovel folded in half. The torso was once an old green toolbox. When you view the conductor, you don't see several hundred pounds of scavenged metal, but rather a worker who's put in his time and is really savoring that bite.
"It's taken me years to make the micro-macro shift, where you see the image and not the parts," says Schultz, 41, whose studio is in the Motor Exhibits Building at Grounds For Sculpture. Grounds For Sculpture partnered with Schultz for the 2010 Artist in Residence program, during which he worked alongside community volunteers to create a sculpture, titled "Sleeping Giant," made of donated found objects.
Schultz, who was born in Trenton and lives in Hopewell with his partner, Lindsay Young Lockett, the registrar at Grounds For Sculpture, has a carefully organized system for the parts he scavenges. There are bins for tools, chains, washers, screws. "For what I do I have to have organization," he says. Objects are sorted by size and color and put into appropriate bins. He used to Dumpster dive for parts, but now that his reputation has grown, people give him all the rusty scraps he needs.
He often uses the parts just as they come to him. "I'll scrub it if it's gross but I don't have an aversion to dirt." Indeed patterns of rust and aging are what give the metal its patina. What's important to Schultz in putting together, say, a scorpion from chain saw blades— the tongue is aluminum flashing—is that all the parts have the same tone of rust, the same degree of aging.
In his 41 years, Schultz estimates he's moved 40 times. His parents divorced when he was 2. "I got my mechanical skills from my father. I would mess with him in the garage. He's a fix-it guy. I also get my anxiety from Dad."
Schultz's mother—Margaret Dacres wrote songs and played guitar in the Trenton area—provided him with spirit, he says. She worked extra shifts as a nurse to put him in art classes—private lessons in drawing, painting and art fundamentals. He attended Governors School of Arts in Erie, Pennsylvania, and earned a bachelor's of fine arts from Tyler School of the Arts in Philadelphia.
For his senior thesis he made a spaceship with smoke machines and music that he surrupticiously installed on a campus field at night.
In 2006, Schultz created a large scale outdoor work using a VW Bug for the Garden State Discovery Museum that was permanently installed atop its main entrance.
Spending time with Schultz is like being back in school with the kid who was fun to make mischief with. "I was a bender of rules on occasion but not a rebel. I would rather make someone laugh than be shocked."