May 26: Planning Commission backs Foster + Partners hospital tower | ZBA approves Wharton St homes | Nine-story West Philly project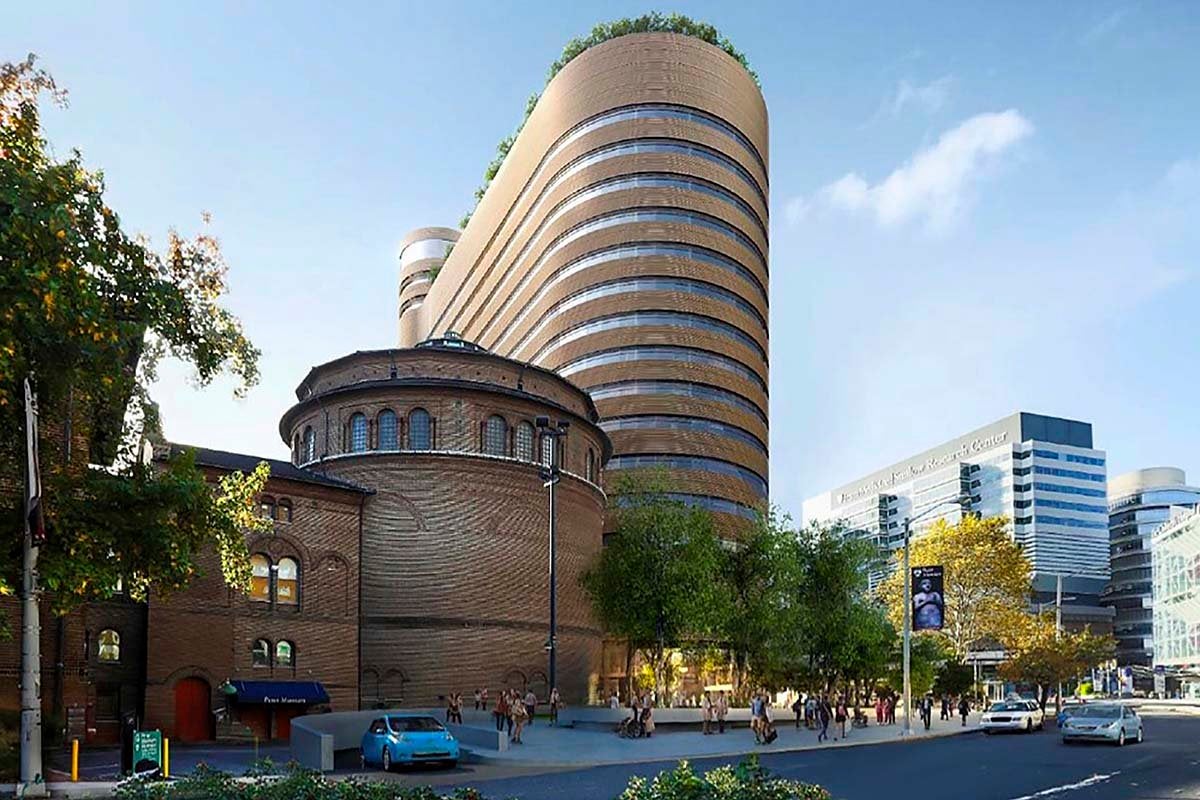 The introduction of Councilwoman Blondell Reynolds-Brown's container tax proposal into the mix in City Council seems to have thoroughly scrambled the politics of the soda tax. Jared Brey reports Council President Darrell Clarke appears to favor the container tax, while Majority Leader Bobby Henon is sticking with the soda tax. Billy Penn has a helpful rundown of where each Councilmember stands, at least as of this morning. The broader Pre-K debate is outside our wheelhouse at PlanPhilly, but we're watching this funding fight because, as you may recall, this was also supposed to be the revenue stream for Jim Kenney's blockbuster plan for library, park, and recreation center upgrades.
The ZBA approved OCF Realty's variance request for 46 homes at 2012 Wharton Street, on the site of a former warehouse, Naked Philly reports. The project was one of the more hotly-contested development proposals in Point Breeze in recent memory, with local anti-gentrification activists memorably calling Planning Commissioners racist for recommending the project's approval.
The Planning Commission approved Foster + Partners' plans for a new tower replacing Penn Health Systems' Penn Tower near 34th and Civic Center Blvd, reports Jacob Adelman. "The roughly 343-foot-high, 1.1 million-square-foot New Patient Pavilion will include about 500 inpatient rooms, 50 operating rooms, and an emergency section, as well as a 650-space underground parking garage…"
There's a nine-story mixed-use building proposal for 49th and Spruce in West Philly, Dan Sigmans reports. The building would include 160 units with 44 parking spaces, and replace an underused parking lot.
Mark Dent rates Old City District executive director Job Itzkowitz's claim that Old City has mellowed out from it's wilder days as a destination for clubbers Mostly True. "We found at least 10 clubby establishments that have closed in the last several years, and going by different interpretations of "club" Old City has somewhere between one and four clubs."
Councilwoman Maria Quinones-Sanchez introduced a bill exempting community gardens from stormwater management fees, reports Haywood Brewster. "This legislation marks the culmination of the Water Department's own efforts to reform the way self-sustaining gardens are billed, and parallels the Department's similar exemption for residential sideyards. Both exemptions require applicants to submit an application every four years establishing ownership of the parcel as well as the permeability of its surface."