Map: Here are all of Philly's residential permit parking streets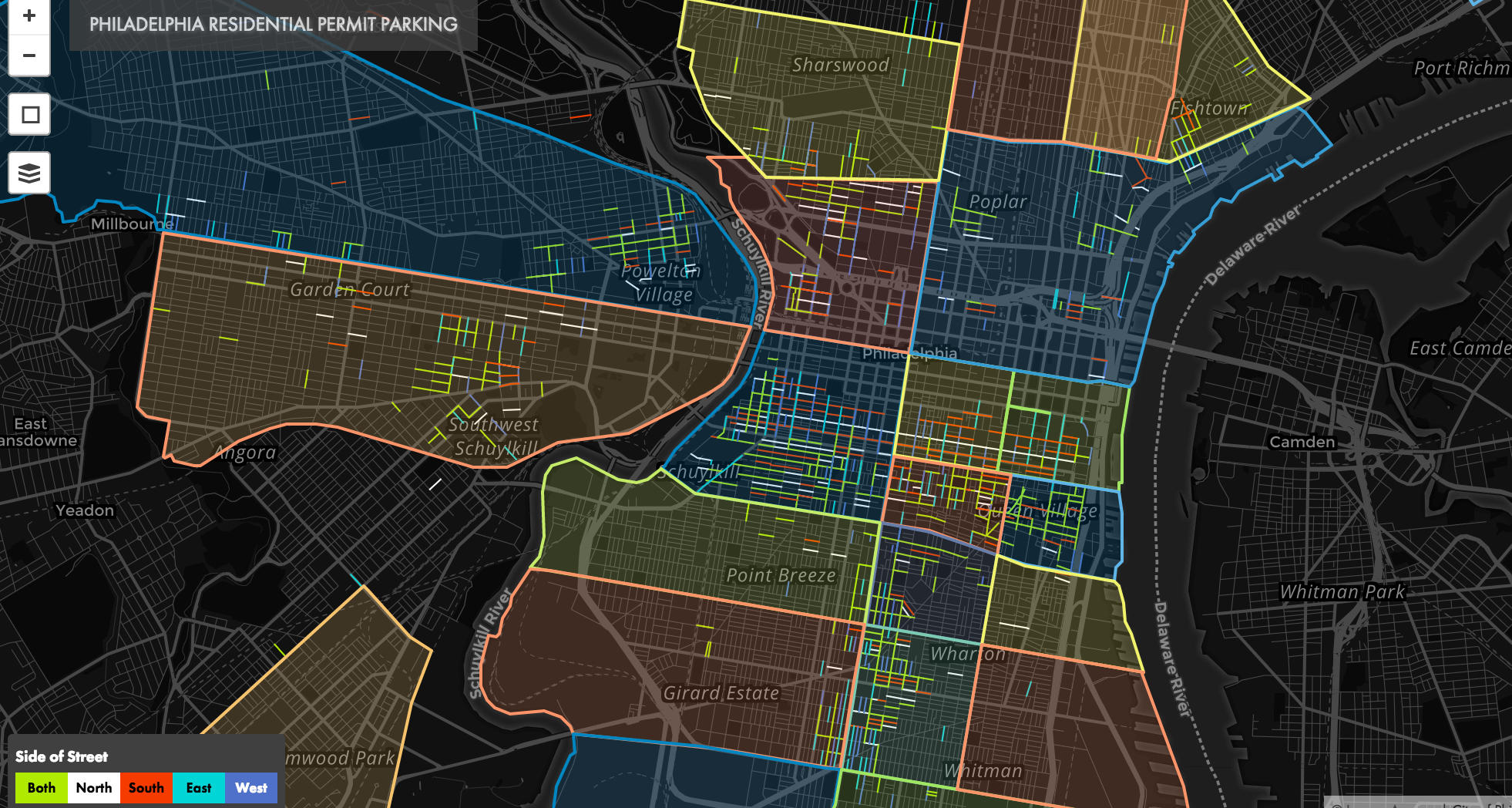 Almost exactly a year ago, Ancona's map of parking permit districts dazzled the Philly planning Internet, and this new map takes things to a new level by showing the actual streets where permits apply. She cautions that she is still verifying all of the data, so if you catch something that doesn't look quite right, leave a note in the comments.
As permit holders know, curb parking turnover on many streets within each district goes unmanaged, and lots of spaces remain available to people who haven't bought permits for long-term car storage.
In the most central districts (1, 4, 5, 7, and 22) a much higher percentage of streets are managed, though as you can see, there are still a number of unmanaged streets, particularly toward the southern end of districts 7 and 22 east of Broad. North of Walnut Street, much more of the curb parking is metered, and the residential permits can't be used for metered spaces.
We'd need to see the metered blocks and the No Parking streets on here too if we want to know the true state of curb parking management in Philadelphia in 2015, but what's striking about this map is how small a fraction of the curb parking supply is actually being managed.
For all the parking drama you hear about in South Philly, there are almost no permit streets east of E. Passyunk Avenue in district 23 (about half the land area in that permit zone!) and there are only four permit blocks in all of Pennsport.
Also, in the lower River Wards in Northern Liberties and Fishtown, the setting of so many parking battles, only a very small fraction of streets are permit streets.
It would be tough to argue with a straight face that the ultra-cheap $35 a year parking permit is a serious deterrent to car ownership for neighborhood residents, but it's still one of the only tools available for alleviating the curb parking crunch, and one thing it does a good job at is keeping out people who don't live in the neighborhood.
Anecdotally, you sometimes hear about people from outside of Philly driving in from I-95, parking near rail hubs, and taking transit the rest of the way to work. I'm not aware of a good way to measure that phenomenon, but to the extent that it's happening, converting unmanaged streets to permit streets puts a quick stop to that since the permits have to be tied to an address in the zone.
Unwise as it is to look for any logical consistency in Philly parking debates, it's still fascinating that so few of the places where parking is a major source of political strife are choosing to avail themselves of one of the primary relief valves the Parking Authority has made available for managing it.
What does the parking permit situation look like near where you live? Have any of your neighbors ever tried to convert your street to a permit street? Tell us your parking permit stories in the comments.