Madcap 'Fully Committed' gets big laughs at Delaware Theatre Co.
"Fully Committed," Becky Mode's 1999 madcap take on the dark side of stop-gap employment, is producing lots of laughs at the Delaware Theatre Company in Wilmington.
Philadelphia actor Kraig Swartz revisits the role he played in 2002 at Act II Playhouse. It's a perfect match for the talented Swartz, who very capably portrays 40 characters over the course of a 90-minute monologue.
The principal character is Sam, a hapless, struggling actor who takes a job as a reservation clerk at a pretentious Manhattan restaurant to make ends meet. Mode does an excellent job of satirizing the foodie culture: The Chef specializes in "molecular gastronomy," meals cost about $300 a head, and the reservation list is not merely "sold out" but "fully committed" for the next two months. Everyone who's anyone in New York and Hollywood is desperate to get in during the pre-Christmas crush — not so much for the menu but to see and be seen.
Sam's co-worker on the phone bank calls in to say his car broke down, leaving Sam to clean up the mess left behind (in more ways than one). The calls flood in as Sam prays for a call-back for a Lincoln Center acting job and copes with a heart-wrenching family crisis.
The callers range from Sam's sweet and melancholy dad to the pompous Chef to the most obnoxious woman on the planet (described by Jean-Claude, the snooty maître d' as having a "face like a dog"). Others include an acting "frenemy" named Jerry and a senior citizen more than a little put out because the posh restaurant would not honor her AARP discount.
Mode takes a swipe at pop culture with Bryce, personal assistant to Gwyneth Paltrow. The actor is demanding a vegan taste-testing for a party of 15, a round table and adjustments to the lighting décor so that she does not have to look at those "ugly" sconces.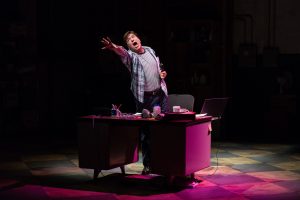 Swartz must play all the callers in this one-man show, and he's more than up to the task, giving the dozens of very different characters distinct voices and gestures.
Mode supplies a subplot with secondary characters, including Sam's brother, father and talent agent, giving the show the feeling of a full-length play. There's also a trajectory to the action, a climax where expected and a resolution that satisfies an audience rooting for the very likable Sam.
One gaffe in the script: Mode makes reference to Time Warner Cable which passed out of existence in 2016. And it is highly unlikely that Sam would be called upon to perform the menial task he is ordered to perform even in his menial role.
Director Kathryn MacMillan calms the chaos by providing welcome respites for Sam and the audience to catch their collective breaths. Dirk Durosett has designed a set that gives Sam a phone with multiple lines and a red wall unit that connects directly to the Chef upstairs. Sam also has a cell phone that plays a key role in the action. Costume designer Janus Stefanowicz aids audiences as they keep track of 40 characters, while Lilly Fossner's lighting design and Toby Pettit's sound design put subtle finishing touches on the frenetic activity.
"Fully Committed" is fully committed to making audiences laugh, cry and believe that maybe, just maybe, nice guys can make it through the rain to finish first.
"Fully Committed" runs through Nov. 4 at the Delaware Theatre Company, 200 Water St., Wilmington. For more information on show times and dates or to purchase tickets, visit www.delawaretheatre.org or call the box office at 302-594-1100.