Lower taxes, school choice, local control: GOP field for Pa. governor makes its pitch
The event delved into such topics as school choice, energy production, election conspiracies, and how to make homemade backyard biodiesel.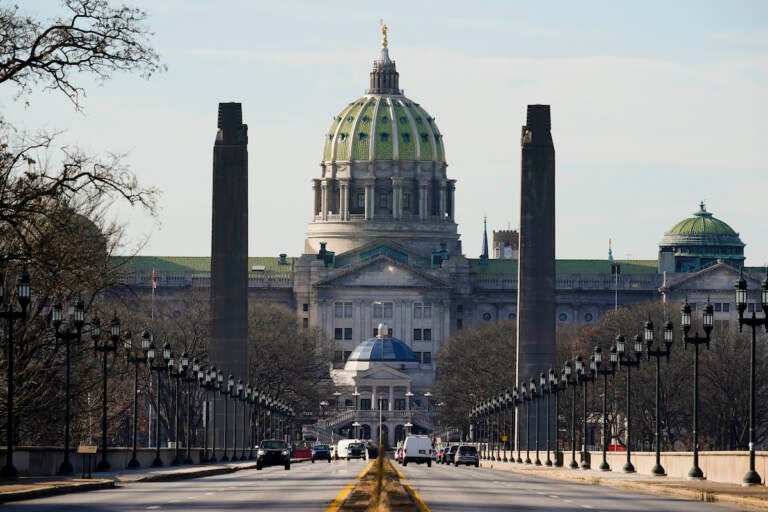 A sprawling cast of Republican candidates for Pennsylvania governor met for the first debate of the 2022 election season Wednesday night, delving into such topics as school choice, energy production, election conspiracies, and how to make homemade backyard biofuel.
The debate, hosted at Dickinson College in Carlisle and sponsored and moderated by several conservative Pennsylvania groups, featured thirteen candidates — a few who are expected to be formidable in the GOP primary, and many who are considered longshots.
In order of their appearance in the debate, they are:
–   John Ventre, a former UPS executive and UFO researcher from Westmoreland County.
–   Charlie Gerow, a longtime Republican strategist, and frequent commentator from Harrisburg.
–   Bill McSwain, the former Trump-appointed U.S. Attorney for Pennsylvania's eastern district.
–   Nche Zama, an accomplished Poconos-based heart surgeon born in Cameroon.
–   Jason Richey, an Allegheny County attorney with massive law firm K&L Gates.
–   Dave White, owner of a large Delaware County plumbing and HVAC company and member of the Steamfitters Local 420.
–   Jason Monn, who owns the pizza restaurant Fat Monn's Grub in Erie County.
–   Guy Ciarrocchi, the recently-departed CEO Chester County Chamber of Business and Industry.
–   Joe Gale, a Montgomery County commissioner.
–   Melissa Hart, the Allegheny County-based former congresswoman and state senator.
–   Scott Martin, who represents Lancaster's 13th District in the state Senate, and was previously a county commissioner.
–   Shawn Berger, who owns an industrial cleaning company and a seafood restaurant in Monroe and Northampton Counties, respectively.
–   Jake Corman, who as Senate President Pro Tempore is currently Pennsylvania's most powerful Republican, and who has represented Centre County in the chamber since 1999.
Former Pa. Congressman Lou Barletta, who has also announced a run for governor, declined to participate, saying he didn't plan to debate until candidates had qualified for the ballot.
Another likely candidate, State Sen. Doug Mastriano, hasn't officially announced his campaign yet, but has said he plans to do so later this week.
The debate's moderators were former Chester County GOP State Rep. Becky Corbin, Allison Coccia of the Pa. Chamber of Business and Industry, and Terry Tracy, who heads the news and commentary outlet Broad + Liberty.
Among all the candidates participating in Wednesday's debate, a few beliefs were taken as given: that Democratic Gov. Tom Wolf bungled the commonwealth's COVID-19 response by imposing business closures and mask mandates, that Pennsylvania needs to reduce regulations on businesses, and that natural gas drilling must be a centerpiece of the economy.
Other broadly popular proposals included local control when it comes to COVID-19 mitigation measures — though many candidates also said they opposed school districts' decisions not to open due to the omicron surge — and lower corporate net income, personal income, and gasoline taxes.
A few candidates tried to take pragmatic approaches. Hart, for instance, noted that she has previously been elected in Democratic-majority districts and touted her ability to "reach across party lines." Zama urged his fellow Republicans not to take overly extreme positions because "the eagle only flies if it has two wings."
In the main though, the candidates tried to chart courses that appear informed by the issues on which former President Donald Trump did well: pledges to "put Pennsylvania first," to deregulate the commonwealth, and to bring in more energy jobs.
The more establishment politicians, like Corman, leaned on their records. Corman cited his stewardship of constitutional amendments that stripped the office of the governor of much of its power to unilaterally declare and maintain states of emergency. He noted that he'd been part of a lawsuit that overturned Wolf's mask mandate, and said he intends to remove Pennsylvania from the Regional Greenhouse Gas Initiative if Wolf successfully adds the commonwealth to it.
Two candidates, Gale and Ventre, appeared to be pushing themselves as the most conservative names in the field.
Gale pledged to fight not just Democrats in Harrisburg as governor, but to call out Republicans who stray from his party line, and shame them publicly by name. At one point, he intentionally deadnamed former Pennsylvania Health Secretary Rachel Levine, who now serves as the U.S. assistant secretary for health. None of the other candidates or debate moderators acknowledged it.
Nor did anyone acknowledge Ventre's false assertion that "the global warming story is not true" and that therefore Pennsylvania should "drill baby drill."
Several of the candidates stressed their outsider bona fides, from restaurant owners Monn and Berger — the latter of which said his proposals included a centralized job posting website, and showing people how to make biofuel with vegetable oil —  and McSwain, who said he believes safe cities are the key to a strong Pennsylvania economy.
During his time as U.S. Attorney, McSwain was best known for his vocal opposition to self-identified "sanctuary cities" like Philadelphia, as well as for the taxpayer-funded billboards he erected around the city bearing pictures of his face, promising "Gun crime = fed time, no parole, every time."
"Liberty was born in Pennsylvania," he said during the debate. "It won't die on my watch."
Other candidates, like Gerow, had offbeat strategies for standing out in the crowd. At one point he shared his personal cell phone number, saying that candidates for governor should be accessible to their potential constituents. He asked the other candidates for a show of hands if they thought Attorney General Josh Shapiro, the almost-certain Democratic nominee for governor, should resign as he seeks higher office. Most played along.
Ciarrocchi opted to bring an array of blown up photographs as visual aids, which he held up in order to illustrate various points, like his commitment to charter schools.
This slate of candidates represents a very early iteration of the GOP field.
Next month, candidates will begin circulating nomination petitions, and by mid-March the primary ballot will be finalized and, likely, smaller. The primary is scheduled for May 17.
The field looks extremely different on the other side of the aisle. Shapiro, a former state representative, and Montgomery County commissioner who has been active in Pennsylvania politics for two decades, is considered the only major candidate for the nomination.
Republicans are already planning another debate next month, this time hosted by the state party.
Get more Pennsylvania stories that matter
WHYY is your source for fact-based, in-depth journalism and information. As a nonprofit organization, we rely on financial support from readers like you. Please give today.