Look Up! The Art Deco Palace of Mt. Airy
"Look Up" is a PlanPhilly feature that encourages appreciation of our architectural and historical environment. Each week, the photo essay will focus on a different Philadelphia area neighborhood and its distinctive building styles and details, all of which make up the physical fabric of the city and region.
Travel along Germantown Avenue long enough and you'll pass each stage of Philadelphia's history, with remarkable examples of pre-Revolutionary settlement, 19th century grandeur, and 20th century commercialism. There's even a small pocket of Art Deco phantasmagoria on the main drag in Mt. Airy.
The Sedgwick Theatre at 7137 Germantown is a jaw-dropping example of the Art Deco movie house, created by one of the local masters of the style, William Harold Lee. Among the survivors of the era are Lee's Anthony Wayne Theatre in Wayne, the Bryn Mawr Theatre in Bryn Mawr, the Lansdowne Theater in Lansdowne, and the Hiway Theatre in Jenkintown. He also designed the interior of the long-shuttered Royal on South Street in Philadelphia.
Lee created the Sedgwick in 1927-28 as an Art Deco cinema cathedral with Georgian wings. The buff brick and terra cotta cornices and trim that remain above the street level give the building a beautiful glow. Unfortunately, the first story was "atrociously altered," laments the historic resource survey in the Philadelphia Historical Commission files, in the mid-20th century. The building retains its artistic purpose, as an art gallery and home of the Quintessence Theatre Group.
A couple of neighboring retail buildings, at 7145 and 7200 Germantown Ave., echo the Art Deco influence in subtler ways than Lee's theatrical Sedgwick.
Contact the writer at ajaffe@planphilly.com.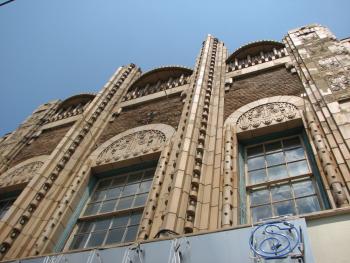 You have to look up to appreciate the Art Deco façade of the Sedgwick Theatre.
The first story of the theater has been changed considerably since the 1920s, but its towering terra cotta majesty lives on.
The Sedgwick's influences are a little French, a little Aztec.
The wings of the Sedgwick lean toward the Georgian style, with Deco details.
Across the street from the Sedgwick, retail businesses feel safe in a concrete Deco fortress.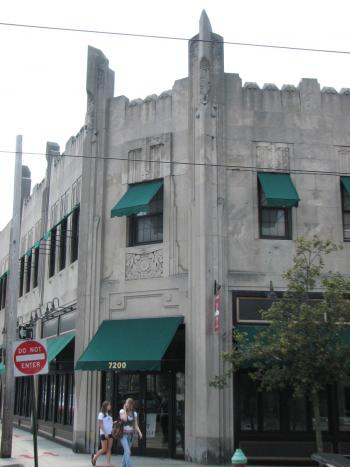 An Art Deco angle at 7200 Germantown Ave.
Art Deco detail at 7200 Germantown.
The Sedgwick's neighbor at 7145 Germantown was built in an elegant Art Deco mode.