Life in the slow lane: The bureaucratic nightmare of building a bike network
This story originally appeared on PlanPhilly.
—
How long does it take to build a bike lane?
Upwards of five years — if not longer — thanks to the all the red tape stuck to the state and federal grants that Philadelphia relies on to fund the expansion of its bike lane network.
In recent weeks, a growing chorus of online agitators have taken to Twitter to repeatedly inquire about the status of a$300,000 Transportation Alternatives Program grant Philadelphia won in 2016. The money was supposed to support a city program called Safe Space for Cyclist that proposed about a dozen protected bike lanes across Philadelphia. While some of the advertised upgrades have been built — about 3.5 miles of the 30 miles of protected bike lanes Mayor Jim Kenney promised as a candidate — most remain unrealized two years later.  The $300,000 grant was just one in a series of federal and state awards given to the city. In total, the Office of Transportation and Infrastructure Systems has won, but not yet spent, $41 million to build out its bike network and make other safety upgrades to the streetscape.
"The lack of big vision coming from the city more than two years in is really disheartening and disappointing," said Oren Eisenberg, a Fishtown resident and vocal critic. "I feel like the city doesn't prioritize investment in cycling infrastructure like many other major cities do."
More than two years since funds were awarded, we are evidently no further to installing the 27 miles of protected bike lanes than when we started. @PhillyMayor where are the plans? Where are our lanes? #connectphl #visionzerophl

— Oren Eisenberg (@OrenCEisenberg) October 3, 2018
Red tape slowing process
The riders' ire has been fueled in part by the widely-publicized announcements for these grants, which have given some the idea that city transportation officials are sitting on millions of dollars earmarked for infrastructure upgrades that they're reluctant to spend.
"People probably have an image that we're getting handed a check when they hear that we're being awarded something and then we put that check in the bank and then we draw down on that, but that's not what happens," said Mike Carroll, deputy managing director of OTIS.
This false impression may be driven, in part, by the made-for-TV press conferences where city officials receive oversized checks from the grant-making agency.
But Carroll said that when agencies like Pennsylvania Department of Transportation or the Delaware Valley Regional Planning Commission (DVRPC) say Philadelphia has been "awarded" funds for a particular project, they are using the term in a technical sense.
"When we're 'awarded' money, what it means is essentially that our application has been selected in order to enter a process," said Carroll.
After the award, the city has to enter a grant agreement that specifies all of the project's details. After the agreement comes the work, itself often a multistage process involving environmental impact studies, engineering and design, community outreach, and then, finally, construction. After all that, the city can then invoice for reimbursement — that is, actually deposit the grant money in the city treasury.
Environmental impact studies alone can take one or two years; the same goes for preliminary engineering and final design work.  Even though there are national design guidelines for protected bike lanes, which aren't exactly the most complicated structures to build, the work can require seemingly endless rounds of approvals.
Inevitably, the process involves a lot of paperwork, and the bureaucracy increases exponentially as more agencies get involved, Carroll said.
"When you get federal money, you have to play by federal rules," he said. "When you go through the state to get federal money you have to play by federal rules and the state rules. When the money goes through the regional MPO [Metropolitan Planning Organization], in this case, the DVRPC, you have to go through the federal rules, the state rules, the MPO rules, and, of course, the city has their own rules."
That's the case even when the project is relatively simple. "From the federal government's perspective, they don't make very big distinctions between us putting a bike lane in or us building a freeway ramp," Carroll said.
To illustrate the slow-moving complexity of these projects, a city spokeswoman pointed to PennDOT Publication 540, a brochure that advertised Publication 740, a 369-page guide for local project managers trying to navigate state and federal bureaucracy.
Neither publication addresses the transportation program funding the city's bike lane expansion. Instead, they encourage municipal workers overseeing TAP-funded projects to seek bespoke guidance from their nearby PennDOT district office, suggesting an even more convoluted process.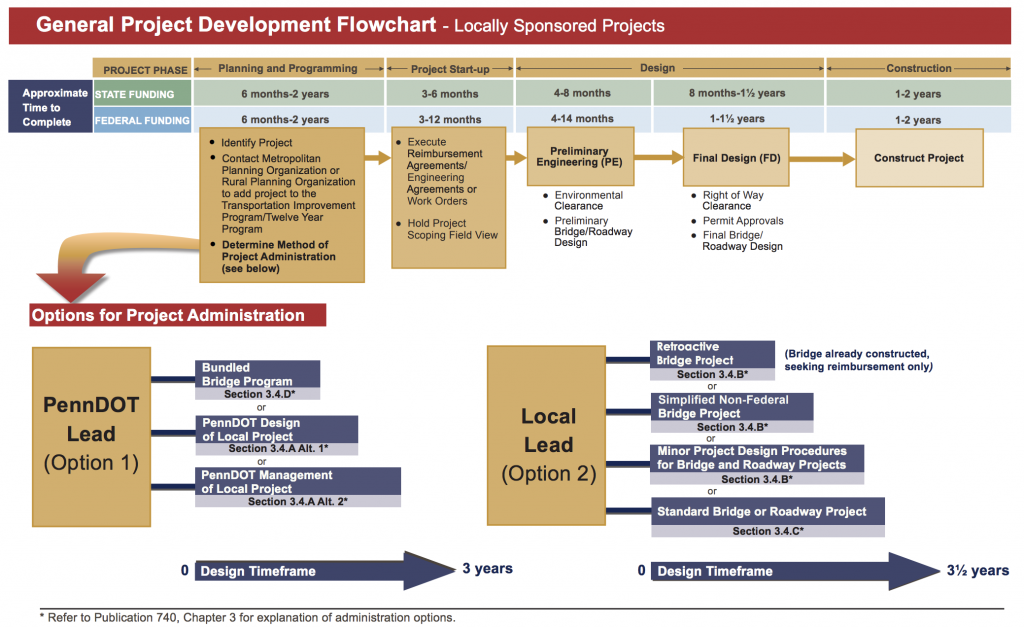 Eisenberg said he doesn't doubt that it can take a long time to jump through the bureaucratic hoops attached to federal and state grants. But that answer didn't mollify his exasperation.
"That's all well and good, but you need a plan for where those funds are going to go," said Eisenberg. He wants the city to lay out a clear roadmap of where it will install protected bike lanes and when, with the goal of quickly creating a fully-connected network of lanes.
Philadelphia has developed some broad visions for its bicycle network,  most notably in the 2012 Pedestrian and Bike Plan, which was updated in 2015. The plan envisions what the city's bike lane network will look like once it's completed, but doesn't say when any individual piece of that network should be built, other than to list some streets as higher priority than others.
OTIS officials argued that trying to come up with a rigid to-do list would be counterproductive, as they aren't the only office with a stake in the streetscape.
If PennDOT decides to work on an intersection with city streets, or if SEPTA changes a bus route, or a dozen other things happen, then it makes sense to shift when and where bike network upgrades are installed, said Kelley Yemen, complete streets coordinator at OTIS.
There is often "a lot of shifting back and forth as certain streets pop up on a paving program," said Yemen. "That's a way to let that paving project take care of putting in a better bike facility, so we don't have to use these precious grant dollars for that."
Other cities have been able to move more quickly to install bike lanes, Carroll said, because they haven't had to rely as much on federal and state grants. Philadelphia can't afford to work that way. Only this year did the city restore a second street paving crew that had been cut following the 2008 recession.
The grants may  slow the pace of progress, but the federal dollars ultimately mean more projects get done, Carroll argued. He urged patience.
"If people are patient, I think that 20-80 match, that 30-70 match, that 50-50 match is a great deal for the city."
Carroll also dismissed the notion the Kenney administration is hesitating to push projects forward for fear of offending neighborhood associations, which often oppose bike lanes and have the ear of City Council.
"That's a red herring," Carroll said. "There's a political conversation — I think that's been going on around the city for the better part of a decade or more in terms of this stuff."
"But," he added, "when we make commitments to do things, we're following through when and where we can."
It's the money — and the many, knotty strings attached to most federal and state grants — that's really constraining the speed of the city's bike network buildout, he said
When asked if infrastructure improvements would take as much time if some generous benefactor donated all the necessary funds, Carroll was quick to say no.
"No, it wouldn't," he said. "If you get that kind of money — what we call 'local money' — you can do a lot more of what you want a lot faster with a lot fewer strings attached, there's no doubt about it."
Carroll admitted his agency often offered bullish predictions of when a project might start construction.
"We're very enthusiastic about this work, and so when we talk to people and they ask us when is this going to happen, they might get the most optimistic answer from us," Carroll said. "We haven't always been great in managing that disconnect between what's said and what's heard, and we need to do a much much better job of doing that."
When the public hears a government official say "we hope to begin construction next year," they can often internalize that as "we promise to begin construction next year." But Carroll said that taking the opposite tack with time estimates had its own downsides.
"People aren't going to want to hear from the beginning [of a project] that it's going to take four or five years, and we want to keep people with us in this conversation," he said.
As for the Safe Spaces for Cycling grant, Yemen said that OTIS is now reviewing designs for protected bike lanes on the streets in question and finishing up some of the federally-required environmental and traffic studies.
"Now that we're just getting our hands around our preliminary designs, that's the moment where we start to go have neighborhood conversations," said Yemen. "We want to be sure of all the impacts and tradeoffs that any one proposal might have before we go out and talk to the public."
"We look forward to having neighborhood conversations in the next few months on a lot of these," she added.
When those conversations come, they're sure to be contentious, no matter how well-designed the lanes are. Few infrastructure proposals inflame passions quite so hotly as bike lanes. While opponents fear slowed traffic and lost parking spaces, supporters are already incensed that plans to fully protect the bike lanes on Spruce and Pine Streets have been scrapped in favor of moving the lanes to the left-hand side of the road and adding some posts at intersections.
If other proposals see similar downgrades in their scope, the mayor can expect to see more angry tweets and likely, fewer Kenney buttons in the bike lane come 2019.
WHYY is your source for fact-based, in-depth journalism and information. As a nonprofit organization, we rely on financial support from readers like you. Please give today.