Letter to the Editor: Boyle applauds city's action regarding negligent property owners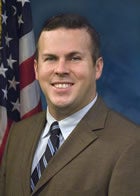 As the State Representative for the 172nd Legislative District in Northeast Philadelphia, I've had the opportunity to work with various city departments on a variety of issues. An issue of extreme importance in my district and our city is blighted properties and negligent out-of-town property owners. These disregarded homes not only denigrate the quality of life, but force hard working families to move.
I am elated that License and Inspections Commissioner Fran Burns has taken bold steps to help combat this plague. According to a Philadelphia Daily News article on Oct. 26, Commissioner Burns state she would, "Extradite out-of-town owners and usher them into the city's new blight court." It is encouraging to know that the city is willing to take the necessary actions to address these cancers that have affected neighborhoods.
While the issue of abandoned properties and negligent out-of-town property owners is city wide it is especially toxic in the Northeast. Earlier this year, my office began to track down these out-of-town property owners and quickly realized how pandemic the issue is. A firm commitment at the municipal level was paramount and today, under Commissioner Burns' leadership, it was delivered. I hope that Commissioner Burns takes the necessary steps to also track down and haul in these negligent out-of-town property owners that rent these blighted properties, collect an income and refuse to address the blight of their properties or pay city fines.
I will continue to fight against these properties, track down their owners and hold them accountable for their blighted properties. It is imperative that we keep our neighborhoods strong and not allow blighted properties to diminish our neighborhoods. By bridging the State and City governments, we will be able to hold property owners accountable and prevent neglected properties from forcing our neighbors to move.
Thank you,
Kevin J. Boyle, Member Pennsylvania House of Representatives 172nd Legislative District
Kevin Boyle represents the 172ndlegislative district that includes portions of Mayfair, Fox Chase and Holmesburg. Representative Boyle holds a Master's Degree from Harvard University in Education Policy.