Krasner routs Grossman, coasting to victory in Philly DA race
The Democrat, who has no prosecutorial experience, will lead an office with a $38 million budget and 600 lawyers who prosecute more than 40,000 crimes every year.
Updated 11:28 pm.
Larry Krasner, a civil rights attorney who has spent his career resisting prosecutors and police, won the general election Tuesday to become Philadelphia's next district attorney.
The widely anticipated win by Krasner has the potential to deliver a major jolt to the culture and priorities of an office still reeling from controversy set in motion by its former leader, Seth Williams, who is serving a federal prison sentence after pleading guilty to bribery.
"If you, like us, believe it's time to end the death penalty," Krasner told a cheering crowd at the William Way LGBT Community Center in Philadelphia. "If you think it's time to end mass incarceration. If you think it's time to stop making prisoners of poor people by using cash bail. If you are sick and tired of government stealing grandma's house when she didn't do anything wrong. And if you have no intention of helping Trump's immigration agenda," Krasner said. "We hope to hear from you."
Krasner, who has no prosecutorial experience, now inherits an office with a $38 million budget and 600 lawyers who prosecute more than 40,000 crimes every year.
"This movement is not going away," Krasner told a crowd of supporters in Center City.
He promised "transformational change" in the district attorney's office aimed at reversing "a system that has systemically picked up black and brown people."
The crowd erupted in applause before chanting "this is what democracy looks like," followed by "this is what a movement looks like."
John Pfaff, a professor at Fordham University's School of Law, said Krasner's win shows that Philadelphia voters want prosecutors who understand that "winning at all costs" is not the only thing seeking justice is about.
Rather, voters increasingly desire "prosecutors who pay close attention not only to the costs of crime but to the often-significant human and social costs that aggressive punishment impose as well," Pfaff said.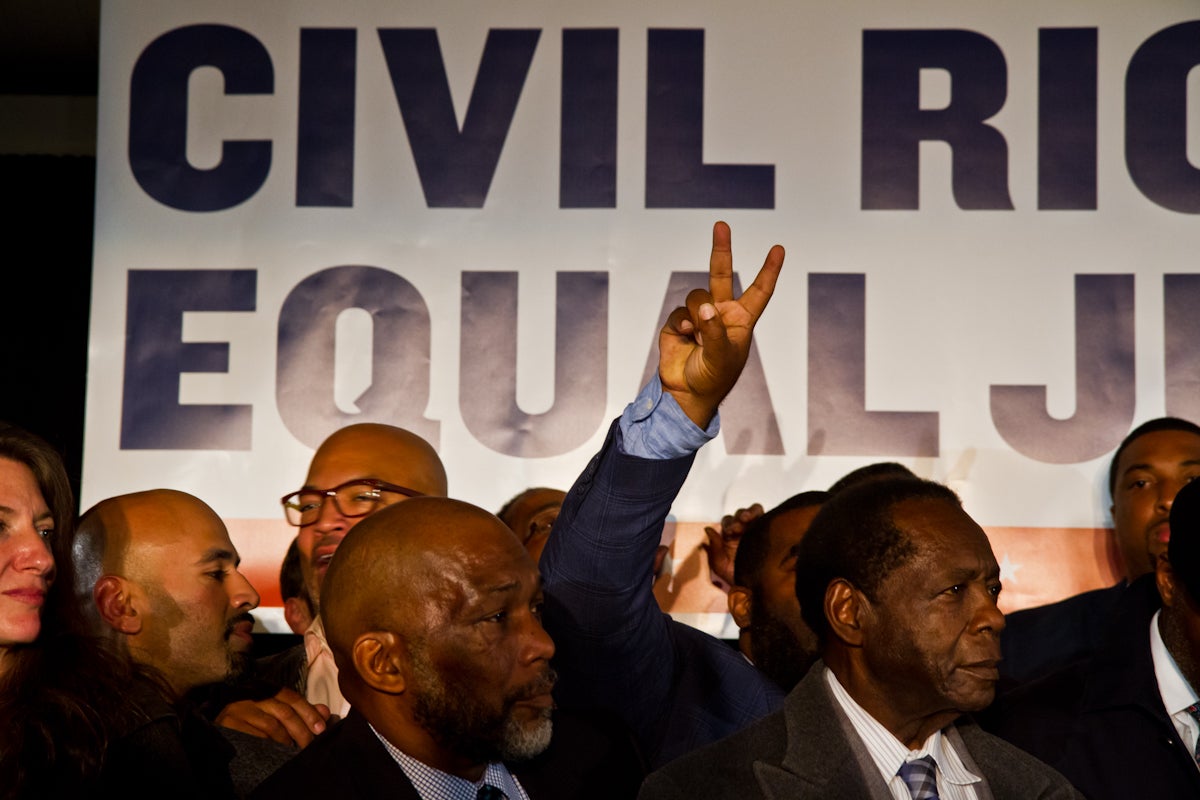 "Obviously the biggest challenge that Krasner faces is managing a bureaucracy that may not be sympathetic to his goals," Pfaff added. "Some reforms, like refusing to seek the death penalty, will be easy to monitor; others, though, will be harder, and assistant DAs will have room to undermine them."
Fueled by support from liberal hedge-fund manager George Soros, Krasner beat out a crowded field of six opponents in the May primary race by generating enthusiasm among young progressive voters who saw him as embodying a vision for Philadelphia's criminal justice system that values second chances, fairness and a greater sense of racial equity.
"Obviously, the city of Philadelphia was ready for a change. We're ready to take on mass incarceration and other policy issues that have a disproportionate racial impact," said Krasner supporter Eric Matthews. "The city has spoken."
In Tuesday's race, Krasner handily fended off challenger Beth Grossman, a former prosecutor who hammered her opponent for lacking prosecutorial experience, ignoring victim advocacy and pledging not to seek the death penalty.
Turnout surged for both candidates on Tuesday. Grossman's more than 50,000 votes was a historically large showing, more than twice as many votes as the Republican candidate for district attorney received in 2013. And Krasner voters supported him overwhelmingly. He pulled in nearly 150,000 votes, a 63 percent turnout increase from the last off-year race for district attorney, in 2009. No district attorney candidate in Philadelphia in recent memory has received more than 100,000 votes.
Krasner got nearly 150k votes. Which is big. For comparison, last Philly Democrat DA in off-year 2009 race garnered 92k votes. So 63% boost. pic.twitter.com/NiUaajHb43

— Bobby Allyn (@BobbyAllyn) November 8, 2017
Grossman conceded just after 10 p.m. inside the United Republican Club in Philadelphia's Kensington neighborhood. Speaking at times through tears, she thanked her supporters, including former DA Lynne Abraham, who hired her more than two decades ago.
She said her 25 percent of the vote was a "good showing" for a Republican in Philly.
"I just hope for the best for my friends and colleagues," she said. "They are some of the most extraordinarily talented men and women that I had the privilege of working with. I certainly hope that Mr. Krasner sees the value and talent of them."
Of Krasner, to whom she had yet to speak, she said, "I wish him the best of luck. I hope he certainly doesn't forget about victims and survivors of crime. I strongly encourage him to have some kind of community engagement unit, because the DA's office has been a resource for neighborhoods."
To some observers, Krasner's victory was a referendum on President Donald Trump and Attorney General Jeff Sessions. The Republican administration has embraced a tough-on-crime stance — pushing for mandatory-minimum sentences and calling for reinforcing the  ranks of police and prosecutors nationwide — to ramp up drug and gun prosecutions reminiscent of crime strategies of the 1980s and '90s.
In Philadelphia, where violent crime and homicides have inched up from last year but remain at historic lows, Krasner hopes to buck the attitude of  Trump and Sessions.
Michael Huff, who volunteered for the Krasner campaign, said Tuesday night that his backing of the candidate was a direct response to the Trump administration's policies.
"Philadelphia is now on the progressive map," Huff said. "Right now, in this post-Trump era, we're saying no to injustice and standing up against racism and wanting equal justice for all, and that's what Krasner represents."
Josie Duffy Rice, researcher director with Harvard Law School's Fair Punishment Project where she focuses on the role of prosecutors, said if Krasner's election sets a new agenda that de-emphasizes the prosecution of low-level offenders, that could shake up the city's entire criminal justice system.
"It makes a big difference on what police focus on, on what police choose to make a priority and, ultimately, what prosecutors prosecute influences what arrests police make," Duffy Rice said. "You can't get change just by being the head of the office and wanting change, but I have to tell you: It's impossible to get change unless the head of the office wants change."
WHYY is your source for fact-based, in-depth journalism and information. As a nonprofit organization, we rely on financial support from readers like you. Please give today.