Kevin Boyle: State Rep. working in Mayfair, former Perzel country [VIDEO]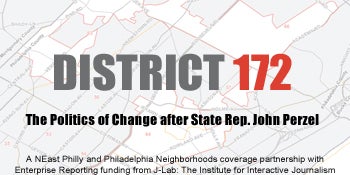 This is part of ongoing coverage in "District 172: The Politics of Change after State Rep. John Perzel," a collaborative effort with Philadelphia Neighborhoods funded by J-Lab.
Kevin Boyle has made a conference room out of John Perzel's closet.
The young freshman state representative from the 172nd district in the Northeast beat out the indicted former state Speaker of the House last fall and is settling in his first year of elected office. It's just a matter of form that his constituent services are taking place in the same Frankford Avenue storefront that Perzel held dominion for a portion of his 32-year career. (Boyle is a Democrat; Perzel a Republican).
"We just needed another place to get work done," Boyle told NEast Philly during an interview last month, standing in the small, undecorated, white room with a table and four chairs. Boyle's chief of staff Seth Kaplan says the conference room was formerly a closet when Perzel had offices there.
It's of no small interest that he's doing so in clear Perzel country. So much so that, despite awaiting trial, according to the Committee of Seventy, Perzel is still the Republican ward leader of the 64th, the southeastern corner of which is Cottman and Frankford avenues and includes Boyle's new (and Perzel's former) digs at 7518 Frankford at Oakmont Street.
This isn't Boyle's neighborhood. He grew up in Olney and lives in Fox Chase, which is also included in the 172nd district, but Boyle says that that doesn't change the importance of the Gateway to the Northeast.
"To fight and keep Mayfair strong is to fight and keep the Northeast strong," he said. "We can't have a strong Northeast Philly without a strong Mayfair."
That's meant campaigning, getting involved and working with the Mayfair community, he says, though he can't sign the checks in the way that powerful state leaders like Perzel were famed for.
Video by Ian Romano of Philadelphia Neighborhoods.
Money is scarce in Harrisburg — a tune Boyle isn't singing alone — which means he doesn't have much to share, a reality not helped by new Republican Governor Tom Corbett who ran on a budget trimming campaign. But he hopes to find other ways to support the community, like having his staff work with the bank that currently owns the largely vacant Devon Theater's mortgage, holding events at the once aptly named John Perzel Community Center and offering an open hand to the Mayfair CDC, once seen as a Perzel cash cow but now a budget casualty.
Other neighborhoods are getting used to the change, too, of course. When residents at the February Holmesburg Civic Association meeting couldn't place where along Frankford Avenue Boyle's new district office was, President Fred Moore gave the best answer he could.
"It's the old Perzel office," Moore said, to a chorus of understanding from the two dozen residents in attendance. That said, Boyle has dispatched staff representatives to these and other community meetings, where their new faces seem largely welcomed. All told, there seems to be very little public outcry against the face of the 172nd.
On the record and off, many Mayfair leaders express to NEast Philly greater interest in coming together than fighting. That's a sentiment Boyle says he'll work hard to maintain.
"I'll continue to work," Boyle said, "to encourage people to view Mayfair as a great place to raise a family."
WHYY is your source for fact-based, in-depth journalism and information. As a nonprofit organization, we rely on financial support from readers like you. Please give today.