Kensington neighbors living by scrap yards want a future without salvage next door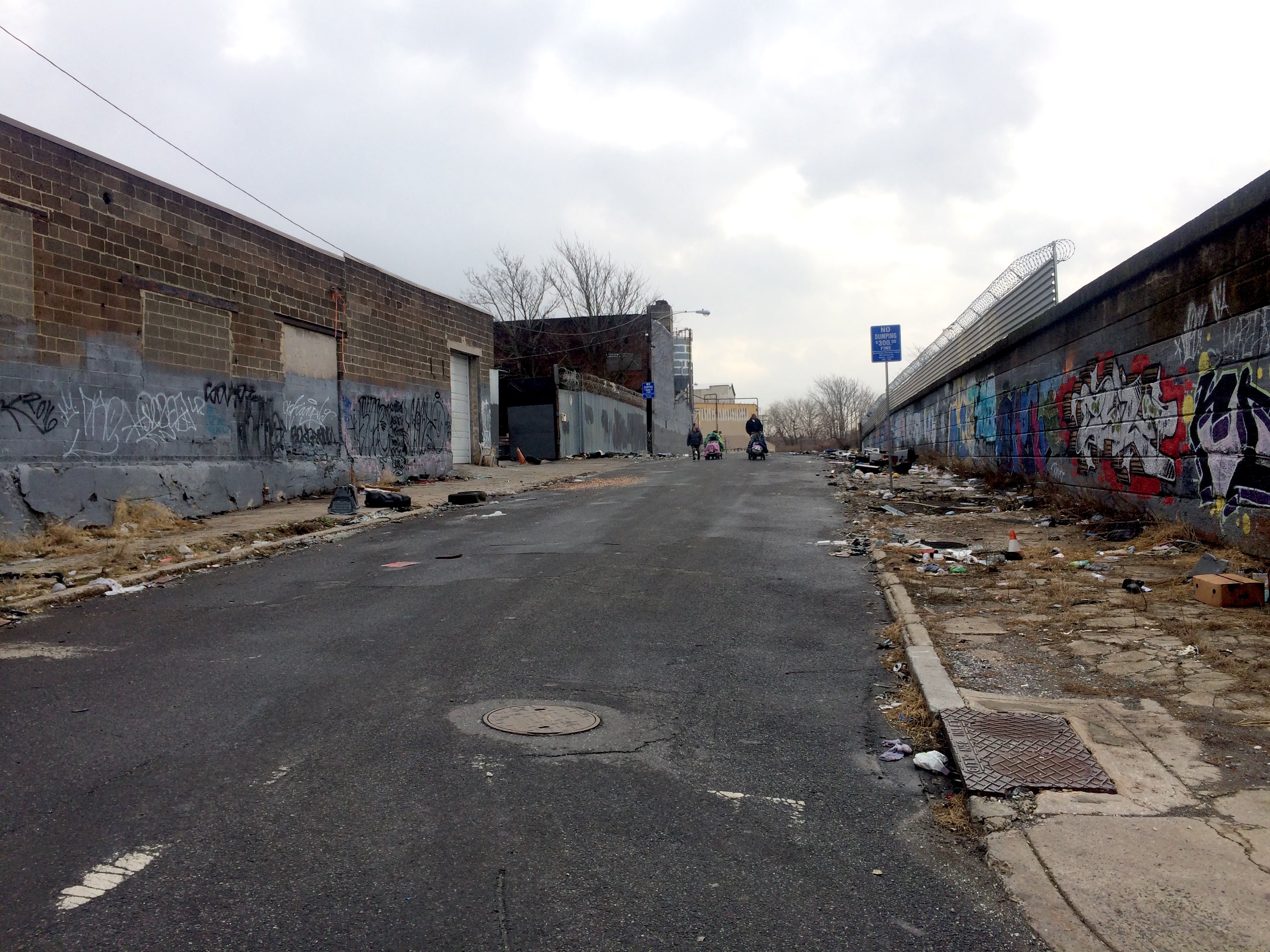 On Wednesday morning, Shawn Rowe and his wife were crossing East Silver Street in Kensington with their 3-year-old daughter and their newborn in a stroller. The block, near the intersection of Somerset Street and Frankford Avenue, was covered in trash, plastic debris, and appliance parts left behind by scrappers coming to one of the three active scrap yards nearby. Rowe and his wife mind the trash, but not having a scrap yard close to home.
"If I have a broken appliance, instead of throwing it out before trash day, I can bring it here," Rowe said. "The junk is not the junkyard's fault, it's the drug addicts trying to get a quick fix that mess this up."
The Rowes live about three blocks from Philadelphia Scrap Metal, which is at Amber and Silver streets, and a couple blocks from K & A Auto Salvage and Philadelphia Metal & Resource Recovery, located next to each other at Somerset Street and Trenton Avenue. But the reality is more acute for those living in rowhouses right across from scrap yards.
"All the scrap yards are is a safe heaven for those who are stealing," said Emanuel Davis, a 48-year-old, long-time resident of the neighborhood that owns two properties on this part of Somerset Street. "They steal batteries, they steal metal, they steal wiring, copper… They steal everything you've worked for and everything you've tried to fix. They'll break right into your car and your house, and then they'll take it right down the street and sell it. And there's no penalty for them."
For Genevieve Geer, 44, and other neighbors working together at the neighborhood's civic association, Somerset Neighbors for Better Living (SBNL), the biggest concern is health. Immediately after moving to the neighborhood four years ago, Geer noticed an acute smell in the air and called the Fire Department thinking there was a fire. Soon she learned the smoke and the smell came from Philadelphia Scrap Metal, located across the street from her house.
"I was told to call Air Management and I did that for the next three years, and was put off by them. I wrote to the Councilman [Mark Squilla], I wrote to L&I [Licenses and Inspections], I wrote to anyone who would listen. And basically, when I finally captured on film the way that they were burning the tires, I was told that it was legal."
Geer says that's because the scrap yards are not actually lighting the tires on fire, but cutting the tires with a saw, which heats the webbing so much that it smolders for hours.
"The people who live directly around the scrap yards have cancers and asthma, and even our old SNBL president: there's three people living in his home and all have major cancers. Next door to him is a lady whose two children have asthma. I'm not sure if it's connected, but it's there."
(Catalina Jaramillo / PlanPhilly)

(Catalina Jaramillo / PlanPhilly)
Russell Zerbo, an advocacy coordinator with the Clean Air Council working with Drexel University on the Philadelphia Health and Environment Ethnography Lab, a project that visited over 3,000 households in the River Wards and mapped their perceptions of environmental health risk, has been working on the Somerset neighborhood for years. He has reported illegal dumping around the scrap yards through city channels such as 311, Air Management, the Streets Department, and L&I with "varying success."
"I'm not aware of any health impact studies," Zerbo said in an email. "Scrap yards aren't like power plants where you have lots of information about emissions and can make assumptions about how many people are affected. That's not to say they are healthy." He shared a document showing 111 pages of correspondence about violations since 2006 at Philadelphia Scrap Metal.
A Drexel study collected particulate matter concentrations in the River Wards in May 2013, finding that the blocks around the scrap yards qualified as unhealthy and very unhealthy on the Air Quality Index scale. And a Community Health Assessment published by Philadelphia's Department of Public Health in 2014, shows that the River Wards have the poorest health indicators for child asthma hospitalizations, colon cancer screening, and smoking-related deaths in the city.
"But the adult smoking prevalence [in the River Wards] is much more in the range of other neighborhoods," Zerbo said. "I wonder if some of the smoking deaths they are attributing could be traced back to small time industrial burning."
Carmen Bonilla is 61 years old and has been living in her rowhouse across the street from Philadelphia Scrap Metal for 24 years. Although she said she has been diagnosed with breast and stomach cancer, she doesn't blame the scrap yard. Instead, she had other complaints.
"It brings rats, roaches, and animals," Bonilla said in Spanish.
People on the block have been living with a serious rodent infestation for years, according to Eladio Ruiz, a 57-year-old veteran Marine Corps sergeant who owns a property on Coral Street across from the same scrap yard.
"It's a shame that these businesses are here," Ruiz said. "If they were to control their environment, I would have no problem with them staying here. But it's just money making for them, they don't care about the rest of the neighborhood."
Geer said some scrap yards, like Edward F. Sullivan & Sons and Sullivan's Scrap Metal in Port Richmond, seem to work nicely with the neighbors and keep their surroundings clean.
"If any of the things that we're dealing with would happen in Old City it will instantly go away, instantly," Geer said. "The Council people would be on it, everyone would be on it. It's almost as if this neighborhood is disposable. Maybe its because it's small, maybe it's because it's poor."
District Councilman Mark Squilla said in an email that his office has heard from many residents concerning the scrap yards and that his office is working with the city to enforce existing regulations to keep the neighbors quality of life.
"We had L&I, Health and police all visit these yards to try and enforce our city laws. We have also introduced legislation to have the scrap yard require id for scrappers and pay by check to help with stolen items that we believe were being scrapped," Councilman Squilla wrote.
(Catalina Jaramillo / PlanPhilly)

(Catalina Jaramillo / PlanPhilly)
PlanPhilly requested comment from three active scrap yards off Somerset in this corner of Kensington, but no one responded. An employee, who said he had worked at Philadelphia Scrap Metal for more than 25 years, told PlanPhilly that if the neighbors had complaints, they should approach him directly.
"If they're complaining why don't they have the police come here and say something about it," he said, declining to give his name. "I used to be homeless, I used to be on drugs and everything else, long time ago. I've been clean for almost 30 years and I've been here. And I can walk up and down these streets, go around this neighborhood and they never say nothing, they know I work here."
In 2003 a Scrap Yard Task Force was created to address the numerous complaints about the operation of scrap metal and auto salvage businesses in the City. Inspections and meetings normally take place once a month, and typically four facilities are inspected at a time.
Joanne Dahme of the Philadelphia Water Department told PlanPhilly via email that "the City continues to partner with the United States Environmental Protection Agency Region 3 and Pennsylvania Department of Environmental Protection (PA DEP) in a multi-governmental Scrap Yard Task Force (SYTF) to conduct random inspections of scrap yard facilities. Scrap metal and salvage businesses may cause polluted runoff to enter the City's sewers, create blight in City neighborhoods, and contribute to short dumping and other environmental harms to area waterways. Inspections and meetings typically take place once a month in an effort to reach more scrap yards and get them into compliance. As of 2016, the City is aware of 206 licensed scrap yards; the large majority of the sites are auto salvage yards; the rest are mainly general junk/salvage yards."
From July 2015 to June 2016, the task force held 10 meetings resulting in inspections at 43 facilities, and various violations were issued to several sites, Dahme said. Most violations were minor, such as improper labeling. "The large majority of sites inspected in FY2016 were in compliance with PA DEP's Clean Water and Stormwater regulations."
In the last half of 2016, Dahme said the task force worked with the Philadelphia Health Department to report where tires were improperly stored – both a fire hazard and breeding ground for mosquitos from standing water. "The SYTF team also coordinated with Philadelphia Councilman Mark Squilla to strengthen existing scrapyard facility regulations, the changes to current regulations are currently under review to be approved," she wrote.
(Catalina Jaramillo / PlanPhilly)

(Catalina Jaramillo / PlanPhilly)
But for Somerset neighbor Emanuel Davis the industry remains difficult. "I think it's absolutely a disservice for the community. And then on top of that, if you didn't have the scrap yard where the junkies were, you'd probably had a lot of less people in the area selling drugs and shooting guns too."
"I go to the doctors and I get sick and they tell me that do not smell toxics or nothing, but it's because I can't avoid it because I live right next to a junkyard," a 28-year-old neighbor told PlanPhilly. The woman, who like other neighbors interviewed for this story declined to give her name for fear of retaliation, said she has lived in a rowhouse adjacent to Philadelphia Scrap Metal all her life and was diagnosed with asthma when she was 2 years old. Her brother also has asthma, and they have to keep the windows of their apartment closed all the time. "Who imagined to build a scrap yard where there are people living?"
The River Wards District Plan adopted by the Philadelphia City Planning Commission (PCPC) in August 2015, set as one of three priorities to develop a scrap yard and recycling facility strategic plan. According to Paul Chrystie, a spokesperson for the Planning Commission, the PCPC has not yet begun to develop the plan.
In recent months, neighbors have been trying to push the PCPC to change the underlying zoning classification for the scrap yard properties during the zoning remapping process for the neighborhood. That would not mean getting rid of the scrap yard businesses currently there, but that whenever they decide to close down (and Philadelphia Scrap Metal is currently for sale, according to an employee) any new owner would have to go through a new permitting process, including community feedback, if they wanted a scrap yard to return to the same site. The current type of industrial zoning, I-2, only requires a special exception for any new junk or salvage operations.
"The Planning Commission heard numerous comments from civic associations and residents about what they viewed as negative impacts created by scrapyards such as noise, illegal dumping, appearance and truck traffic," Chrystie told PlanPhilly in an email. "At the same time, we recognized that most scrap yards are legally operating businesses that provide employment and recycling services that are important to the local economy. The overall goal was to try to figure out how to separate these businesses from areas with large residential populations while also identifying ways in which they could simply be better neighbors."
On Monday January 9th, the Somerset Neighbors for Better Living is having a zoning meeting with members of the PCPC at 6:30 pm at Rock Ministries (2755 Kensington Avenue) where the community expects to see draft zoning recommendations for the entire neighborhood.
[UPDATE 1/11/17: Click HERE for PlanPhilly's coverage of the community zoning discussion on January 9th. ]
WHYY is your source for fact-based, in-depth journalism and information. As a nonprofit organization, we rely on financial support from readers like you. Please give today.