Kenney administration considering enforcement change in response to One Water Street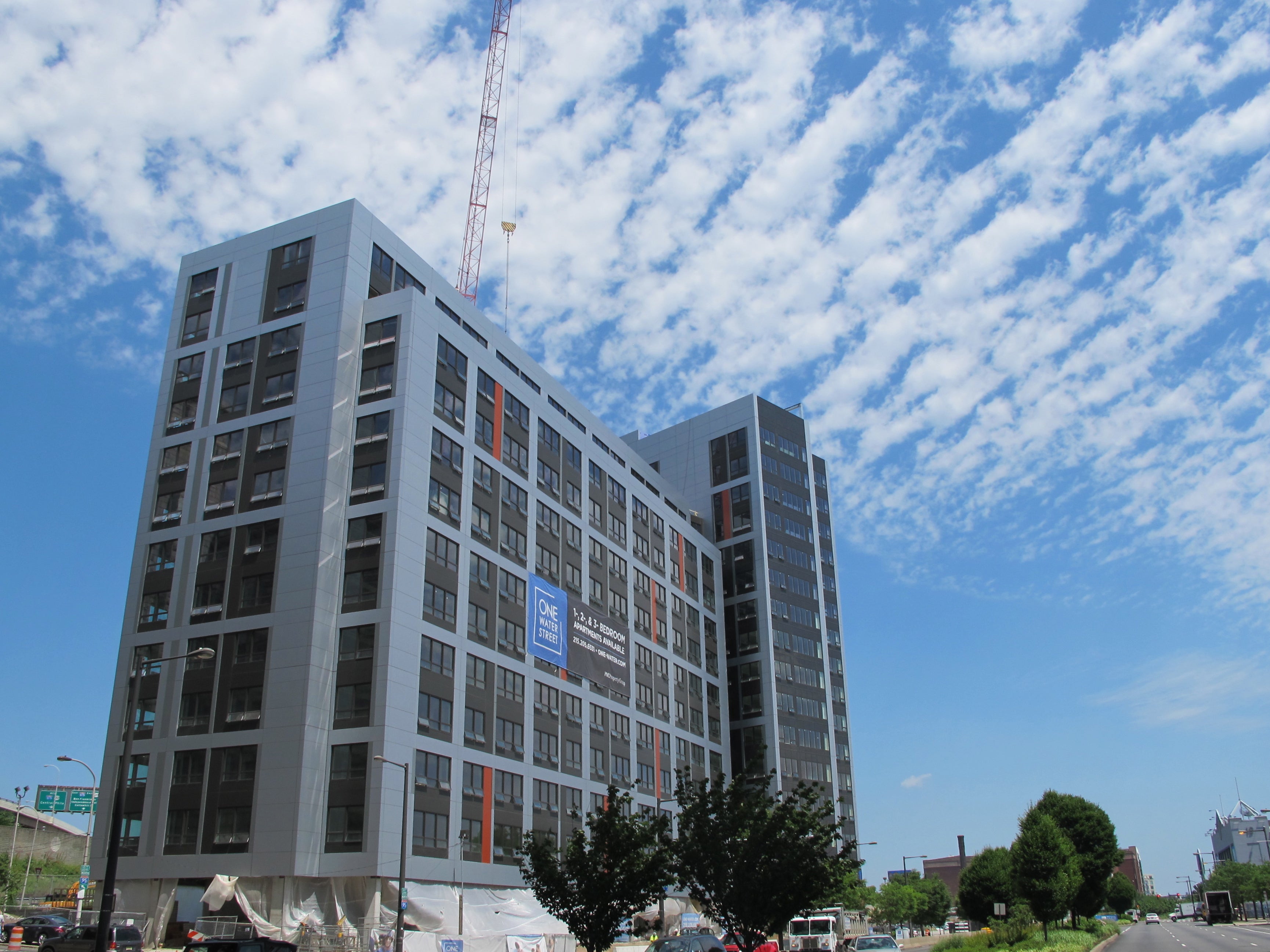 Last week on WHYY's Radio Times, Mayor Jim Kenney addressed the recent controversy over One Water Street, where PMC Property Group backed away from including 25 reduced-rate units in their new waterfront apartment building after receiving a zoning bonus in exchange for including affordable housing.
PMC was allowed to build an additional 48 feet of height because of the affordable units bonus, but with the new building almost complete, PMC signaled its intent to back out of the deal at the last minute. Instead, PMC submitted a new zoning application, cobbling together other bonuses available under the Central Delaware Overlay's zoning bonus system as a replacement, including ground-floor retail space, public art, and LEED Gold energy efficiency certification.
But housing and waterfront advocates kept the pressure on PMC to make good on their housing promise, and the situation was ultimately resolved when PMC agreed to pay $3.75 million into the Housing Trust Fund instead of supplying the units, as permitted under city code. The Central Delaware Advocacy Group (CDAG) and the Philadelphia Association of Community Development Corporations (PACDC) heralded that outcome as a big win for equity and the rule of law.
In an op-ed for Eyes on the Street, CDAG Chairman Matt Ruben argued that the enforcement mechanism worked as intended, with the Department of Licenses & Inspections withholding PMC's certificate of occupancy and forcing them to file a new zoning application to claim different bonuses—an expensive proposition.
But Kenney was evidently unsatisfied with this.
While he called the last-minute payment a "reasonable solution," he told WHYY's Marty Moss-Coane he was disappointed the city wasn't able to hold PMC to the original deal.
"Our code was insufficient to keep that from happening," Kenney said, "That is going to be corrected. We had some question whether we could win that in court."
"If any developer in the future decides that they are going to offer or pledge moderate-income housing in their development, they will not be able to get other points to get out of that deal," he continued, "This was one and done and we're going to fix that situation going forward."
Yet, the city can't legally prevent a developer from filing a new zoning application, and the menu of zoning bonuses on offer under the Central Delaware Overlay's density bonus system can be claimed by-right.
What sort of change might the Mayor have in mind?
Anne Fadullon, the city's Director of Planning and Development, told PlanPhilly that she doesn't believe the code itself requires changes, but rather how the city enforces the code. When there are questions about how the city is going to enforce a policy, it issues a Code Bulletin to explain the process, and that's what the administration is considering.
"I think the code, the way it's written, gives us some leeway as far as how it's interpreted, but it comes down to how we enforce it," she said, "We want to look at changing the Code Bulletin to say you need to have the deed restriction [ensuring the provision of reduced-rate units] before you get your permit."
Fadullon said the administration has the authority to make that change without legislative approval, under the existing code.