Judge hints at delay in trial of indicted Delaware auditor
Jury selection was set to start May 16 for Kathy McGuiness, who is accused of hiring her teenage daughter to a no-show job, intimidating witnesses, and theft.
The theft and corruption trial for Delaware Auditor Kathy McGuiness could end up being delayed past its scheduled May 16 opening.
That's what a Superior Court judge declared Thursday after hearing arguments from attorneys about McGuiness's attempt to kill a charge of witness intimidation and to have prosecutors produce information about nepotism and contracts for campaign workers in state government.
"I'm not sure how realistic this is,'' Judge William C. Carpenter said about meeting the scheduled time in remarks to Steve Wood, attorney for McGuiness, and prosecutor Mark Denney.
Should he have to postpone the mid-May start date — just five weeks away — Carpenter said he has some time on his calendar in "late summer or early fall" to preside over the trial.
Wood responded that he "seriously objected" to having the trial after "the end of June."
Left unsaid but understood by Carpenter, the lawyers, and others in the courtroom is the fact  that McGuiness, a Democrat from Rehoboth Beach, is up for re-election in the fall. Should she have a primary opponent, that election would be held in September. The general election is in November.
Carpenter told Wood he understood the significance of the trial of the first statewide elected official to be charged with crimes in office. But the judge stressed that he  — not defendants or lawyers — has the discretion to schedule when a trial will be held.
He also pointed out many trials have been postponed by the pandemic and that he alone has three murder trials on his calendar in the coming months.
Trial is over money paid to her daughter, campaign consultant
McGuiness, a pharmacist and former drug store and boot business owner, was elected as the financial watchdog of Delaware government agencies in 2018. But in October, Attorney General Kathy Jennings' Department of Civil Rights and Public Trust secured a grand jury indictment accusing her of two felonies and three misdemeanors.
Prosecutors say she hired her college-student daughter to a no-show job, gave her 2018 campaign consulting firm an illegal state contract, and intimidated employees who complained. If convicted of all counts, she faces zero to 13 years in prison.
In pretrial motions Thursday, Wood first sought to have the felony intimidation charge thrown out.
McGuiness looked on with a placid smile while Wood, a former top state prosecutor, argued that the indictment never identified a witness she allegedly intimidated, which he said is required under the law. "I've never seen an indictment this vague,'' Wood said.
While the indictment said McGuiness got permission to review emails of employees who had complained about how she ran the office, Wood pointed out that doing so is permitted under state policy and that she did so well before she learned of the investigation into her in September. That occurred when prosecutors raided her office.
Denney countered that McGuiness "knew who the witnesses were" when she called a staff meeting in February and had employees declare in unison that matters within the auditor's office are "confidential."
Carpenter said he would rule on that motion at a later date, and would do the same with the defense motion to have the state provide detailed information about elected statewide officials and Cabinet secretaries who have hired "children, spouses, siblings" to state jobs in their departments in the last decade or so.
Wood pointed out that under state law and a ruling by Delaware's Public Integrity Commission, "nepotism is not a crime in and of itself."
Denney countered that the charge involving McGuinness's daughter is misdemeanor conflict of interest and felony theft – not nepotism.
Nevertheless, Wood said he needs that information to help decide whether to mount a "selective prosecution" defense. He said no one in Delaware government history has ever been charged with such an offense involving a relative on their payroll.
"It's just not fair'' to single out McGuiness, he said.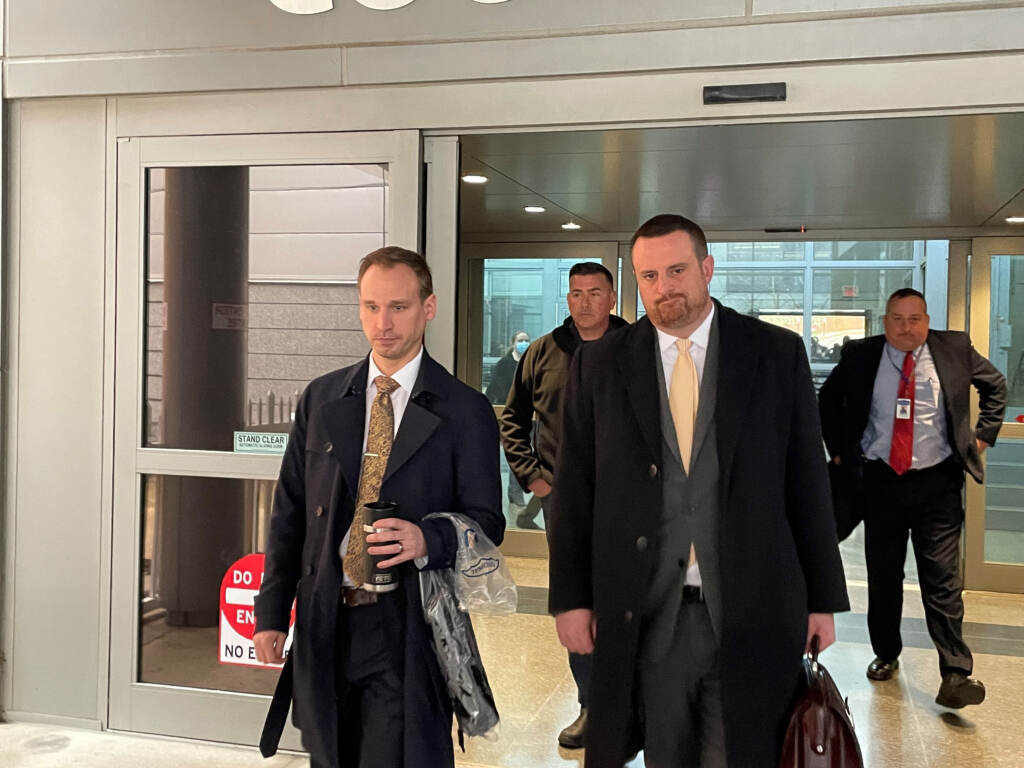 Denney said that if prosecutors found that another official had flouted the conflict of interest laws involving a relative on the payroll, they would be charged.
"There's no evidence the state would look the other way," the prosecutor said.
Wood is also seeking to have the illegal contract charge tossed but plans to argue that motion at a future date. But he argued that hiring campaign consultants as contractors is commonplace and wants the state to provide a list of all professional services contracts from recent years.
Denney argued that doing so was cumbersome and unnecessary for a jury to determine whether McGuiness had committed crimes.
WHYY is your source for fact-based, in-depth journalism and information. As a nonprofit organization, we rely on financial support from readers like you. Please give today.