Just 'cause: Jones introduces surprise bill aimed at preventing surprise evictions
Hardly anyone attended City Council's weekly session this Thursday. The public seats were thinly populated, there were barely any reporters, and even the legislative body itself wasn't at full strength. But that makes sense: There's no real need to show up if no new, significant bills are on the docket.
Which is why Councilman Curtis Jones' "just cause" eviction bill caught most observers by surprise. No one from the tenant's union or Community Legal Services was in attendance to support the bill; neither was there anyone from the the apartment association to oppose it. The only speech about the bill came from Jones himself. No one in the public comment period rose in support, even though renter advocates have been pushing for such legislation all year.
In a speech on the council floor, Jones said he introduced the bill, "not just because I realize profit values have gone up, and not just because I can, but because landlords should have just cause for [evicting] good tenants who've been in their houses and apartments — sometimes for decades."
"Just cause" eviction laws have sprouted up in numerous American cities in recent years, largely on the West Coast. They are meant to prevent landlords from evicting renters unless they have, well, "a just cause," usually defined as non-payment of rent, not conforming with the lease, or causing property damage.
Jones' bill would prevent landlords from evicting a tenant upon the expiration of a lease without "good cause." Even if there is justification for the eviction, the landlord would be required to inform the tenant that they'll have to move no later than 30 days prior to the expiration of the lease or the date of the eviction.
The bill is inspired by the evictions that swept the Penn Wynn apartment building in Wynnfield, which is situated in Jones district. In that case the tenants were given almost six months to move after the building was purchased by a new owner that planned massive renovations and a large rent increase. The bill does not consider massive renovations to be a "good cause."
"Understand what trauma that does to your life," said Jones. "I have friends in this building, there's my doctor's office down the street, I know the bus route, I can walk to get my groceries. Then all of a sudden someone who has a profit motive says you have to go?"
A "good cause" for eviction, in Jones' bill, is defined as a failure to comply with the lease or other "reasonable rules" established by the landlord. It cannot, however, include an increase in the rent or an alteration of the lease unless the tenant agrees to such a change. (If the tenant does not respond in 20 days, they will be deemed to have rejected the alteration of terms.) However, this doesn't mean that a landlord can't hike the rent–it merely means that they must offer the option to accept or reject the increase to the tenant. If the renter did not agree to the increase, the landlord would be absolved from having to renew the lease.*
Under Jones' bill, a tenant could challenge a "good cause" eviction by filing a complaint with the Fair Housing Commission.
After the City Council meeting ended, Jones told reporters that he had been discussing legislation of this nature with both landlord and tenant interest groups for the past several months. (Last session, he introduced a much narrower tenants' rights bill that would have only applied to those in multi-family buildings like Penn Wynn.)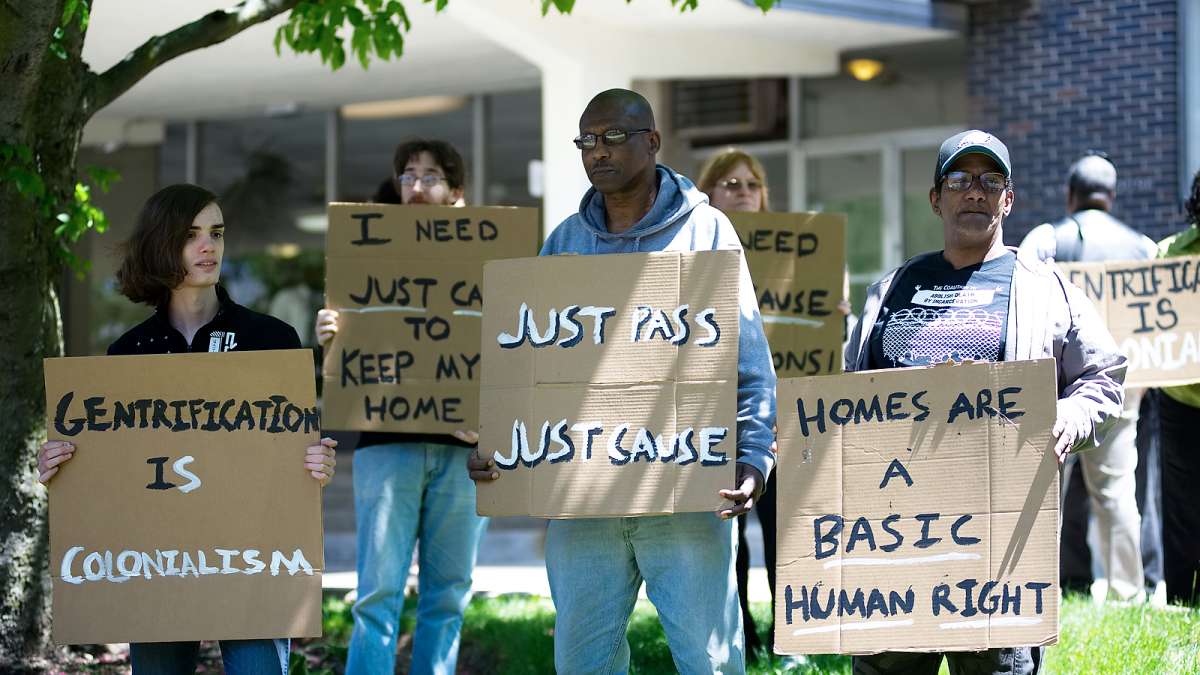 But the bill's introduction caught supporters and opponents alike unaware. "This bill is extremely problematic," said Christine Young-Gertz, government affairs director for the Pennsylvania Apartment Association East (PAA East). "Owners of rental communities have the interest of the entire apartment community, and responsible operation of the property, in their minds when they do the last resort of eviction. We need so much [more] rental housing in the city and we shouldn't unnecessarily make the job of providing it harder."
In other cities that have enacted "just cause" eviction laws, opponents have argued that it disproportionately hurts mom-and-pop landlords and that such legislation could discourage people from renting their properties or building new housing.
"We have a problem with [Jones' bill]," said Harvey Spear, president of the landlord advocacy group the Homeowners Association of Philadelphia. "We can't comment now on what would make us happy, but we've been promised a chance to discuss this with the councilman. He's alway been fair."
Tenants' rights groups also learned of the bill's introduction when PlanPhilly called for their opinions on it, which were generally very enthusiastic once informed of its contents. The Philadelphia Tenants' Union, which is the principal proponent of "just cause" anti-eviction legislation, helped organize a rearguard defense of Penn Wynn tenants and have been meeting with Jones about the possibility of legislation.
"We were unaware it was about to be introduced. [But now having read the bill] I think this is a great start," said Klyde Breitton, president of the Philadelphia Tenants' Union.
Jones emphasized that he is under pressure to introduce even more dramatic legislation. But he repeatedly forswore the concept of rent control, saying he had no wish to emulate New York City.
The councilman then stated that he also wished to avoid the fates of more recent West Coast boomtowns. He warned of a future where working-class Philadelphians are priced out of their homes by spiking housing costs, especially in gentrifying neighborhoods where longtime tenants may not be able to afford increased rents.
"I do not want to be like Seattle or Oakland, which have undergone gentrification so working people can no longer afford to live in the city limits," said Jones. "We hope to begin the dialogue with this legislation and come up with something that can become a national model."
This "just cause" eviction bill comes in the midst of a push among many City Council members to address different aspects of Philadelphia's housing crisis. Councilwoman Maria Quiñones-Sánchez is crafting an inclusionary housing bill, which would require many developers to build one unit of affordable housing for every nine market rate units. The Philadelphia Coalition for Affordable Communities continues to push for a development impact fee, rumored to be introduced at the beginning of this session, which would require developers to pay a percentage of a project's cost into the city's housing trust fund.
The legislative push comes as housing prices rise across many neighborhoods that are suddenly undergoing a housing boom after decades of disinvestment, while the supply of naturally affordable housing shrinks and eviction rates shoot up. But although many of Philadelphia's housing debates are often framed in terms of gentrification, most observers agree that only the neighborhoods in and around Center City are seriously undergoing such dramatic neighborhood change. Property values in many neighborhoods are falling and the median home value in the city, according to Zillow, is a relatively affordable $139,000, even after years of growth.
But eviction presents another, distinct challenge among the many housing issues in Philadelphia today. While Jones' bill would protect some renters, many Philadelphians who face eviction aren't on the losing end of gentrification. Instead, they are simply desperately poor, many living in very low-income neighborhoods yet still allocating well over than half their incomes to housing. With such a thin margin of error, these renters are at the mercy of even minor life events that could keep them from affording that month's rent. Only about 30 percent of Americans below the poverty line receive any housing subsidies from the federal government, which has never fully funded policies like the Section 8 voucher program.
Princeton sociologist Matthew Desmond's Pulitzer Prize-winning book Evicted: Poverty and Profit in the American City chronicled the lives of low-income renters in Milwaukee and their experiences with insecure housing. None of the people chronicled in the books were evicted because of gentrification. Instead their wages and social supports stagnated, or vanished, while housing costs remained high — even in the poorest neighborhoods.
"In most cities evictions are for cause: it's because you fell behind on the rent," said Desmond, in an interview with this reporter earlier in 2017. "'Just cause' laws wouldn't affect those cases. Some housing advocates say it's a piece of the puzzle. I would agree, but we also need to include legislation and policies that help the vast majority of evicted families who are evicted for cause."
Over 90 percent of renters who go to landlord-tenant court do not have access to a lawyer and they usually lose as a result, even when their landlords do not have rental license or have grossly neglected the property. Councilwoman Helen Gym, who co-sponsored Jones' legislation, fought to win an annual $500,000 city budget outlay to hire more legal aid lawyers to represent tenants in eviction court. Other cities have focused on a guarantee of legal aid access as a way to fight the larger eviction problem. New York City went the furthest, eventually earmarking over $200 million-a-year to such efforts.
Community Legal Services' (CLS) Rasheedah Phillips said that she agrees with Desmond's statement about just cause law. But Phillips insists that many tools will be needed to address the eviction and affordability crises. Still, this bill isn't a bad place to start, she said
"'Just cause' mostly helps the more sophisticated tenants and it won't help the most vulnerable," said Phillips, who is managing attorney of CLS' housing unit. "But I don't want to underemphasize that I think it will be very useful and empowering to tenants."
*This article has been updated to clarify the terms of a rent increase offer under Jones' bill.