June 18: A- rating | Penn Street Trail open | Logan plan | Sustainable housing | Middle-class flight | Street signs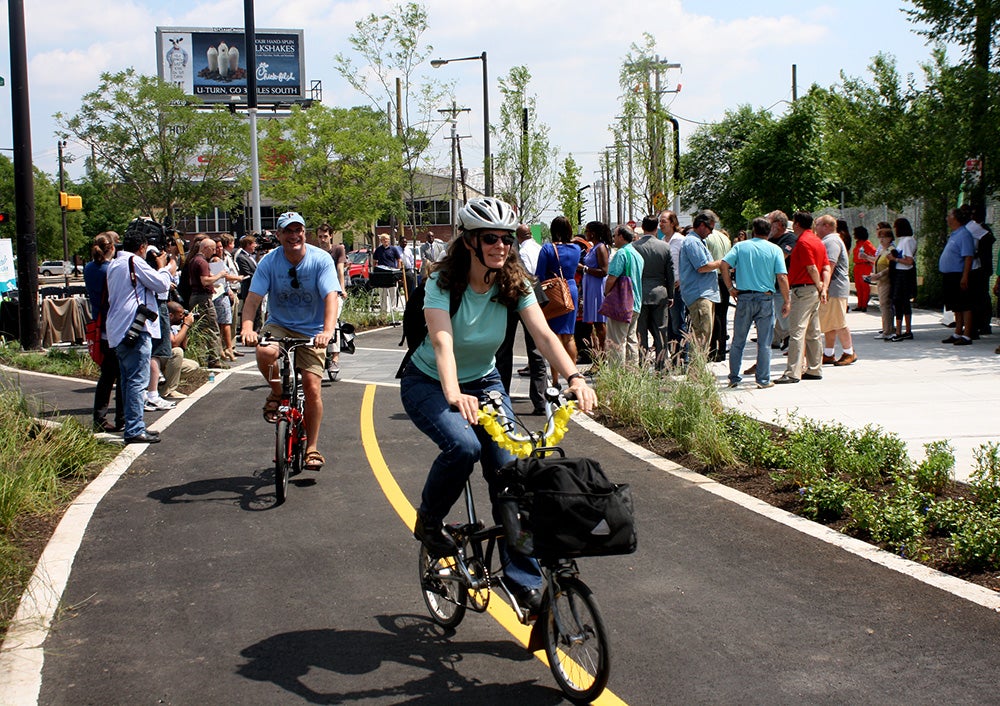 Good morning, Streeters. Here's what's making news this Tuesday morning:
For the first time since 1979 the city of Philadelphia has an A- bond rating, the Business Journal reports. In addition to that miraculous milestone, the Daily News editorialized that another happened yesterday: the opening of the first segment of the Delaware River Trail from Spring Garden to Ellen streets.
Our Kellie Patrick Gates was hand for the Penn Street Trail segment ribbon-cutting yesterday. Even though the Penn Street Trail is only 1,400 feet long it's an important demonstration of what's to come. The Penn Street Trail is the first segment built with the standard materials and surfaces that will be used throughout the waterfront trail, which will someday extend from Oregon to Allegheny avenues.
Logan Community Development Corporation received a $100,000 grant from the Wells Fargo Community Foundation to create a neighborhood plan, reports the Business Journal. Logan CDC will work with the design firm Wallace, Roberts and Todd to develop a plan to address the sinking Logan Triangle and vacant business corridor and capitalize on the neighborhood transportation, historic, and community assets.
Flying Kite takes a look at three sustainable housing developments that are improving the city's green design portfolio: Carpenter Square at 17th and Carpenter, ReNewbold at 16th and Moore, and Paseo Verde at 9th and Berks.
Will the shriveling public school system and the impact of the Actual Value Initiative push middle-class residents out of the city? Tom Ferrick looks at the possibilities of a new round of urban flight in his Publius column. Even though suburban taxes might be a bit more for a similarly priced home, he notes, the school services are a world apart. Meanwhile in Philadelphia: "Trying to convince a parent to try the local school in the current environment is like trying to convince someone to buy a house while it is on fire."
Thousands of Philly's street signs are becoming more legible as they are replaced, thanks to a font change – from "Highway Gothic" to Clearview – that features a mix of upper- and lower-case lettering. In a fascinating piece, Hidden City Daily's Brad Maule digs into the anatomy of our street signs and pays a visit to the city sign shop in Juniata Park where all of the city's signs are produced.
The Buzz is Eyes on the Street's morning news digest. Have a tip? Send it along. | Follow us on Twitter @EOTSPhilly | Like us on Facebook | Share your Philly photos in our Flickr Group