JLL: Philly's commercial real estate market turned the corner in 2014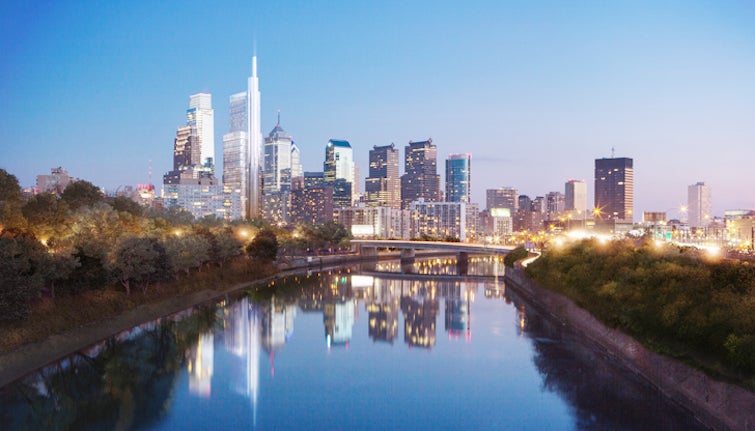 Philadelphia's recovery from the Great Recession has come in fits and starts, but it looks like momentum has been picking up recently.
After decades of decline, the population is growing again. After decades of job losses, the number of jobs within city limits is trending up again, however meagerly. And we're experiencing the fastest growth rate for college-educated young adults of any major city in the country, which is one of the factors driving our third fastest growth rate in construction jobs nationally.
But at the same time, wage growth has been stagnant, the poverty rate has barely shrunk, and our job growth hasn't been robust enough to drive a commercial construction boom.
There's some interesting evidence though that the commercial real estate market finally turned the corner last year, which bodes well for even more construction job growth, and more economic growth in general.
Sean Coghlin, the manager of capital markets research at Jones, Lang, LaSalle (JLL) argues that the popular pessimistic narrative about Philly's commercial real estate market that's set in over the past few years is outdated, and that it's time for an update.
Consider the following chart he shared with PlanPhilly: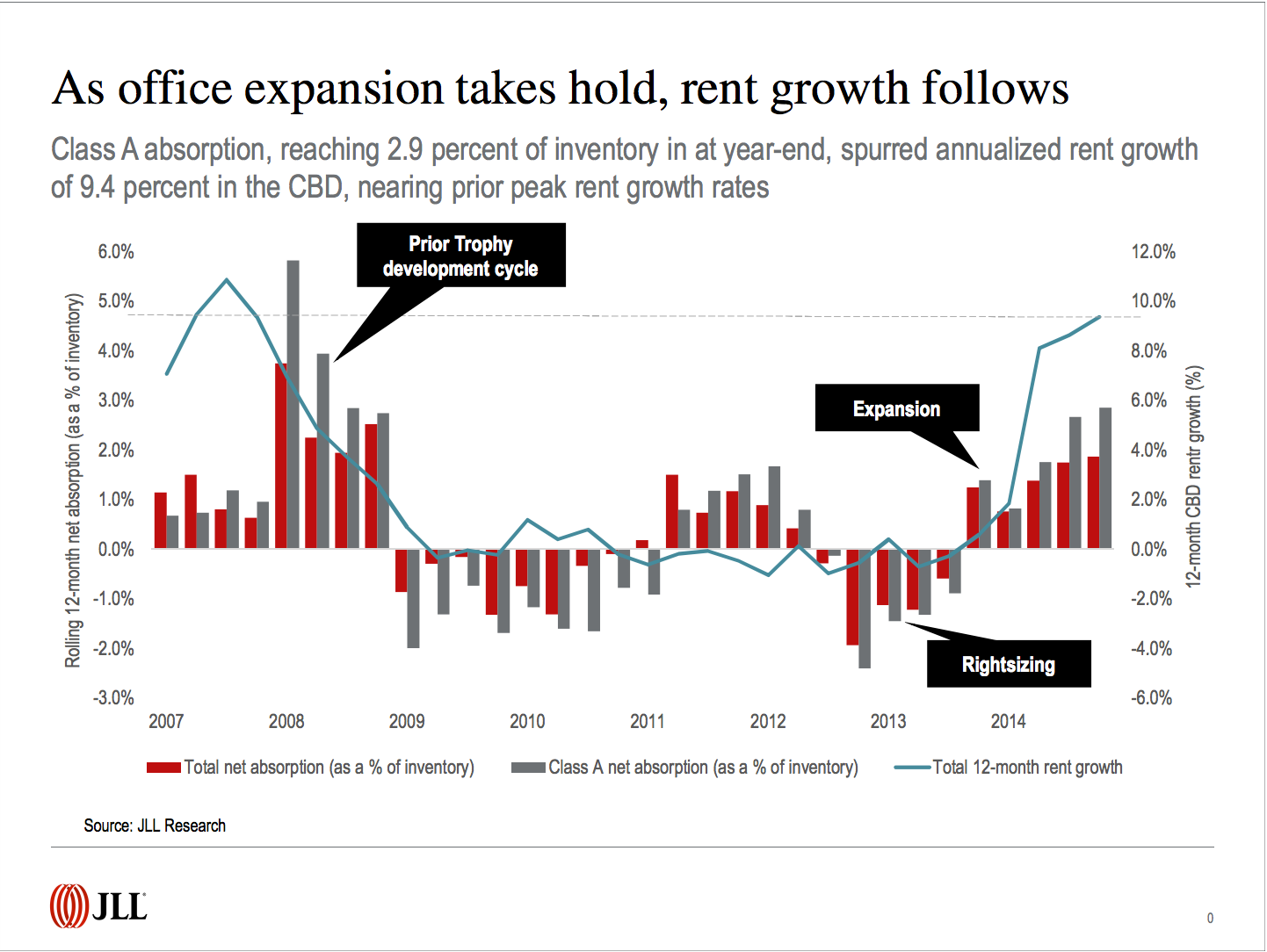 The basic story of the chart is that commercial rents peaked in mid-to-late 2007, and then some big trophy spaces like the Comcast tower came on the market. Then, the global recession hit and Philadelphia's market continued to have a positive but slowing rate of office space absorption through 2009, when absorption went negative through early 2011.
"We had some strong absorption back in 2011 and 2012," Coghlin explains, "and in 2013 we saw some negative absorption on a rolling basis that was driven by right-sizing, where a lot of your large professional services firms right-sized their footprint in the downtowns."
By the end of 2013 market conditions began to strengthen, and in 2014 office rents started to increase, reflecting greater demand for space.
Coghlin says that what distinguishes this cycle of expansion from the prior cycle is that the participation rate, the growth across sectors and the number of companies, is much higher.
"If we're looking at office leasing, that breaks into three categories: lease expiration, organic growth, and in-bound demand," he says, "In prior cycles, the majority of our activity was driven by lease expiration, then by organic growth of a few users and big institutions, and then in-bound demand, companies moving in from outside the city, which really wasn't in play. Looking at office leasing demand today, we're seeing one out of every four lease transactions has some element of growth, either organic growth of existing companies or in-bound growth."
The trophy sector got really tight at the end of 2012, rents for trophy space started really growing in late 2012 into 2013. and then we started to see some more leasing activity for what Coghlin calls the Class A + segment, driving growth in the Class A submarket.
"In 2014 in the Class A market we absorbed 2.9% of our inventory," he said, "Nationally, Class A absorption is between 1% and 1.5%, so we're seeing twice the national average, and that's now supporting rent growth on the Class A side. So for the first time in the 2014 cycle, we're seeing Class A rent growth exceed trophy growth, and it's very much driven by the misalignment between available space and the demand that's out there in the marketplace."
Now, to be clear, despite the growth in office rents for high quality space, Greater Philadelphia is still retaining its competitive edge on rents for now compared to other large metros. Via the Select Greater Philadelphia site, here is a chart comparing office rents in some of our peer metros: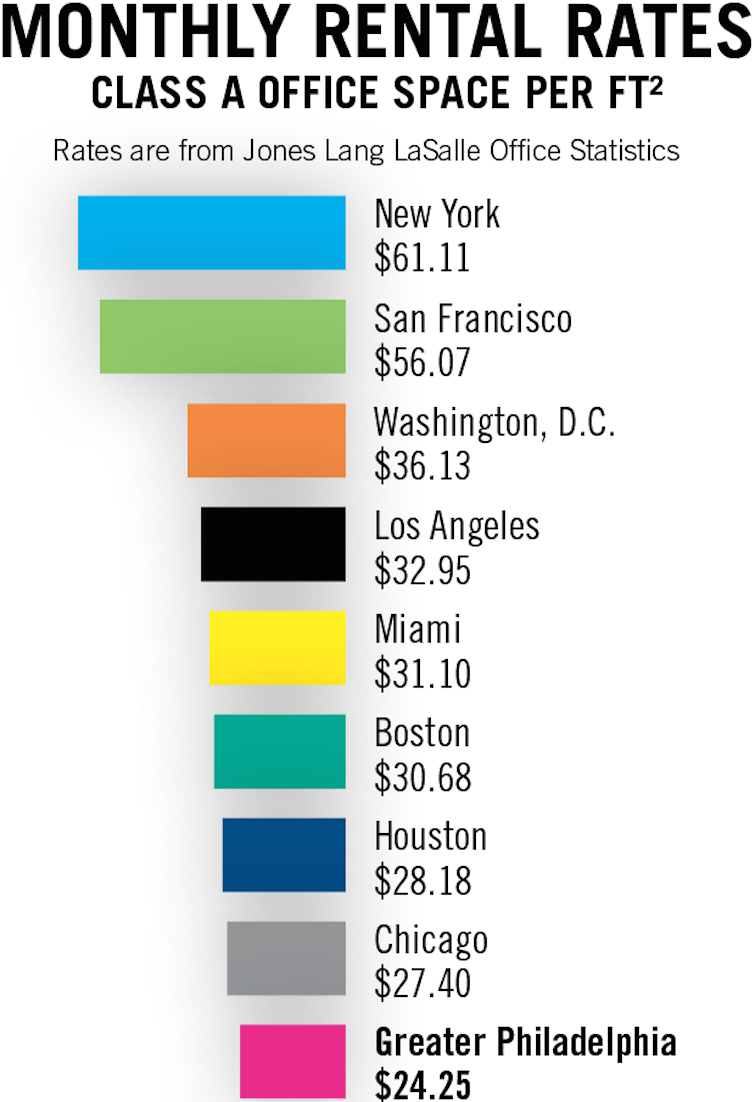 Why does this story matter? Some local writers have observed the high volume of residential construction, and the rise in rents for some classes of office and multi-family assets, and begun throwing around the term "bubble."
Whether the bubble narrative is viewed as credible by investors, planners, and elected officials has important implications for the real economy and public policies concerning land use and zoning.
The term bubble actually has a specific meaning. It isn't just about high construction volumes or rising prices. For Philadelphia's office markets and multi-family housing markets to be experiencing a bubble, we would need to be building a volume of offices or mixed-use multi-family buildings that can't be justified by the near-term and medium-term levels of demand for office space and apartments. But the high absorption rates in the office markets and the apartment markets that we see accompanying high levels of construction make that story unlikely.
Philly is building a lot of apartments and we are in a real growth cycle in the office market, but "a lot" and "too much" are very different things. At this time it's hard to tell a credible story rooted in data that the construction trends have become decoupled from the growth fundamentals. For the foreseeable future, the more pressing worry is that we'll build too few apartments and offices, not too many.