Jeff Sessions magically refreshes his memory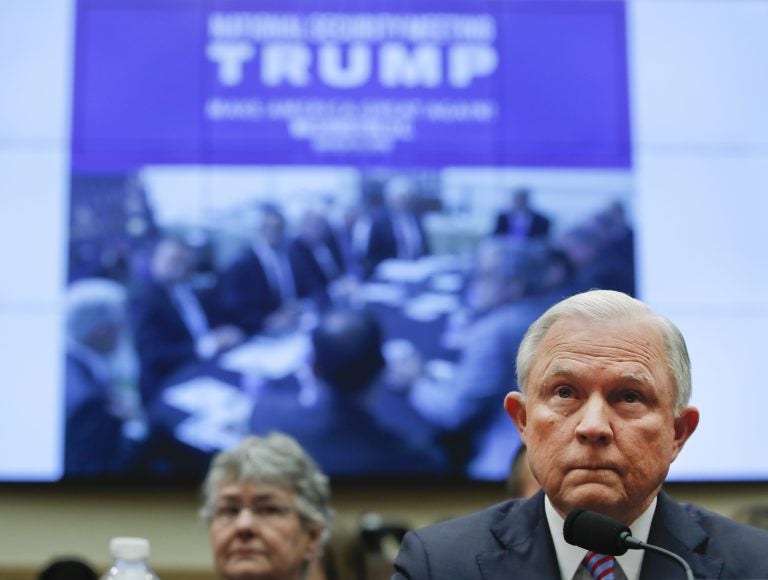 You don't often see Jeff Sessions (Trump's hapless piñata) linked in the same sentence with Steve McQueen (the cool '60s actor), but I'm giving it a try.
Watching the attorney general testify yesterday in front of the House Judiciary Committee, where he was compelled yet again to refresh his memory about the Trump campaign's back-channel contacts with its Russian masters, I was reminded of a scene in "Bullitt," the great '68 crime movie. McQueen and a fellow detective were in a cheap hotel, trying to sweat the desk clerk. A murderer had visited the hotel, McQueen wanted a description, but the clerk insisted on playing dumb. The dialogue went like this:
"I don't remember nuttin. Nuttin!"
"Start remembering."
"I can't. And that's the honest truth."
"Take him downtown."
Suddenly the clerk remembered! "One thing about the guy – he had a square face … Am I helping you, sir?"
Jeff Sessions, a co-star in our real-life tawdry drama, did much the same thing yesterday — as he has repeatedly done before. He always starts out by insisting that, to the best of his foggy memory, he and the rest of the Trump campaign crew never had any contacts or meetings with the Russians while the Russians were preparing, or engaging in, cyber-warfare on Trump's behalf. And whenever he gets squeezed – whenever his lies are exposed, whenever new evidence surfaces that such contacts or meetings indeed occurred – he suddenly remembers what he had apparently willed himself to not remember.
On Oct. 18, for instance, he told the Senate Judiciary Committee that no Trump campaign surrogates had any communications with the Russians: "I did not — and I'm not aware of anyone else that did. I don't believe that it happened … A continuing exchange of information between Trump surrogates and intermediaries for the Russian government did not happen — at least not to my knowledge." But on Oct. 30, Robert Mueller unsealed evidence that Trump surrogate George Papadopoulos had met with Russian government intermediaries and that Papadopoulos had openly shared his findings with Sessions at a March '16 campaign meeting — which Sessions chaired, just two seats away.
Confronted yesterday with his Oct. 18 lie, which was exposed by the Oct. 30 document, Sessions said: "I do now recall the March 2016 meeting at Trump hotel that Mr. Papadopoulos attended, but I have no clear recollection of the details of what he said during that meeting. After reading his account, and to the best of my recollection, I believe that I wanted to make clear to him that he was not authorized to represent the campaign with the Russian government, or any foreign government, for that matter. But I did not recall this event, which occurred 18 months before my (Oct. 18) testimony…."
Amazing how quickly his foggy memory dissipated — but not entirely, of course. Sessions suddenly remembered the meeting — but only the parts that made him look good. He had miraculous clarity about instructing Papadopoulos to stand down (which only makes us wonder why he didn't remember that detail before), although, as we now know from Mueller's document, Papadopulos kept contacting his Russian sources anyway.
But America's top cop has been playing this bob-and-weave from the beginning. During his confirmation hearing last Jan. 10, he said, "I did not have communications with the Russians, and I'm unable to comment on it." A week later, the committee asked him in writing, "Have you been in contact with anyone connected to any part of the Russian government about the 2016 election, either before or after Election Day?" He wrote back: "No."
Six weeks later, the news broke that Sessions had met at least twice during the campaign with Sergey Kislyak, the Russian ambassador to the U.S.
Confronted with that info, Sessions suddenly remembered that, yes, he had met with Kislyak — but only to discuss foreign policy in Sessions' role as a senator, and never to discuss anything about the campaign. On March 1, he declared: "I never had meetings with Russian operatives or intermediaries about the Trump campaign."
But then, on July 21, this news broke: "Russia's ambassador to Washington told his superiors in Moscow that he discussed campaign-related matters … with Jeff Sessions during the 2016 presidential race, contrary to public assertions by the embattled attorney general, according to current and former U.S. officials." Kislyak's conversations with his superiors were intercepted by U.S. spy agencies. On that issue, Sessions continues to plead a foggy memory.
In fact, he attributes his purported memory woes to what we might call the Chaos Theory. Some of you may recognize the Chaos Theory as a branch of mathematics. We're talking here about a different kind of Chaos Theory. Maybe we should let Sessions explain it, as he sought to do yesterday.
The Trump campaign, he said, "was a form of chaos every day from day one. We traveled all the time, sometimes to several places in one day. Sleep was in short supply." So he was sleepy. That's his excuse.
He said yesterday, "I will not accept, and reject, accusations that I have ever lied under oath." But look at his track record. During his confirmation hearing, he testified under oath. During the Oct. 18  Senate Judiciary Committee hearing, he testified under oath. Yesterday, he testified under oath. At least twice, he has miraculously refreshed his memory to address lies he told earlier. A strong case can be made that Sessions, in the service of Trump, has committed perjury.
To quote Steve McQueen, "Take him downtown."