January 5: RIP City Hall Parking Lot | Sanctuary City, again | Squilla wants a street-sweeping program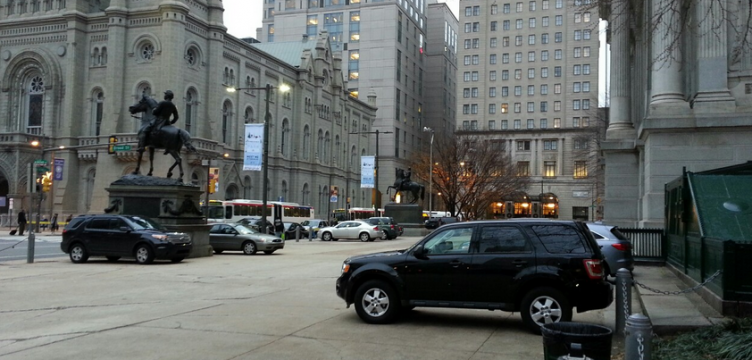 As he promised on the campaign trail, Jim Kenney officially ended the City Hall Parking Lot as one of his first acts as Mayor, Holly Otterbein reports. Mayors Ed Rendell and John Street both struggled to curb the practice of politicians and city officials treating the City Hall apron as their personal parking lot, before it enjoyed an odd resurgence during the more urbanist-friendly Nutter administration. We'll be interested to see whether there's any parking creep as the year unfolds.
In a decidedly less small-ball move, Kenney restored Philly's status as a "sanctuary city," reports Michael Matza, reversing a last-minute Nutter policy change. This was one of the few major policy differences between Kenney and Republican Mayoral candidate Melissa Murray Bailey. "Mayor Kenney on Monday barred almost all cooperation between city law enforcement and federal immigration agents, reverting to a policy that made Philadelphia one of the nation's 'sanctuary cities.'"
Andrew Stober, former chief of staff at the Mayor's Office of Transportation and Utilities and independent candidate for City Council, has joined University City District as their new VP for Planning and Economic Development.
Councilman Mark Squilla wants another go at a plastic bag fee bill in 2016, and wants to work on bringing back street-sweeping after that, reports Tricia Nadolny. "I still think we need a street-cleaning program," he said. "Now, my South Philly brethren will probably freak out about it. But I would be a proponent."
Alaina Mabaso explores some of the ways a rail extension to King of Prussia could benefit Norristown.
Have you seen the new raised table mid-block crossing on the 1700 block of Arch Street? Sarah Clark Stuart has the backstory. We can likely expect more of this if, as promised, the Kenney administration's Vision Zero initiative gets moving.
Know someone working in city government who's making a real difference for Philadelphia? Nominate them for a Dilworth Award before January 29th.
"If all goes to plan, MakeOffices will have the largest coworking footprint in the city by the end of 2016," reports Juliana Reyes. As we've written, co-working spaces still make up a very small portion of the office market, but it's nonetheless a fast-growing trend worth watching.
Columbia University urban planning professor Dave King argues that unless one car company establishes a near-monopoly on autonomous vehicles, market competition is "going to lead to a tremendous oversupply of vehicles on our streets—way more so than we have now."