January 23: Women's Marches | Rittenhouse Hotel | "Gentrification"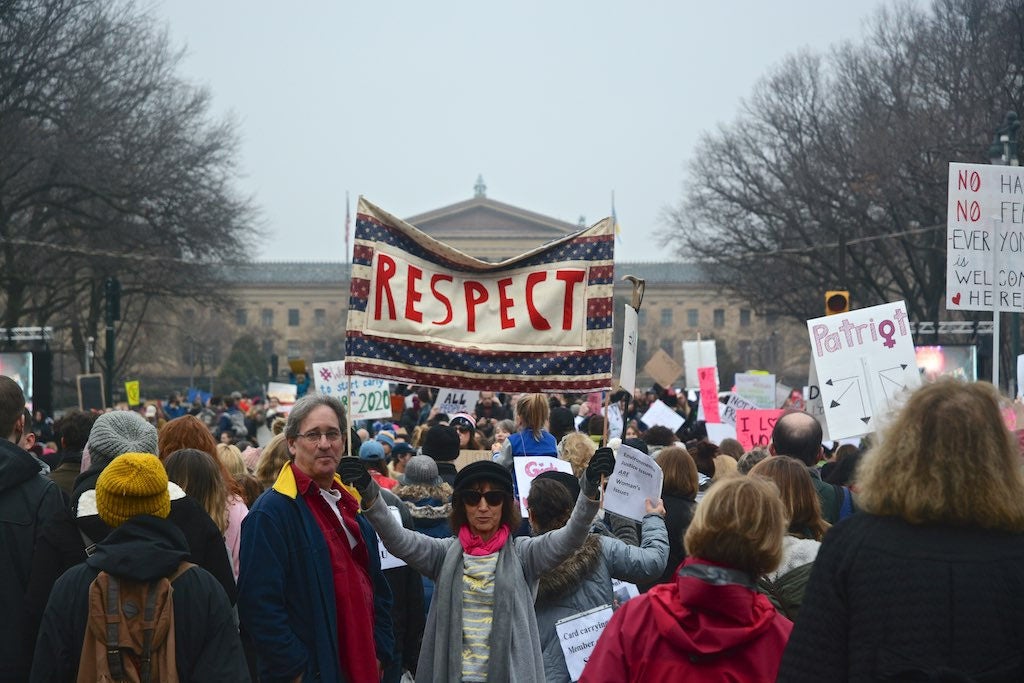 There's a Nor'easter blowing through this morning, so expect blustery and wet weather through the day and a few challenges getting around. This morning's regional rail commute was complicated by downed wires. Be sure to check SEPTA's System Status or @SEPTA for info about delays.
It's hard to capture all of the sentiments and signs of the Women's Marches. Our NewsWorks colleagues collected snapshots of the 50,000 marchers in Philadelphia and the hundreds of thousands in Washington D.C. The New York Times told the story of 2 million demonstrators in cities all over the world in a few pictures. More than 2 million demonstrators in major cities all over the world gathered for Women's Marches. While the turnout in many cities reached hundreds of thousands (including an estimated 750,000 in Los Angeles, 400,000 in New York and 250,000 in Chicago), what's even more remarkable is that police arrested zero protesters. This is strikingly different from Friday's inauguration, where in D.C. "more than 200 arrests were reported, with several injuries among police and civilians. On Saturday, instead of firing tear gas and flash grenades, police officers were giving Women's March participants directions," CityLab reports.
Rittenhouse Square may have worse problems to worry about than sitting on the balustrades. A white sedan with New Jersey plates crashed through the iron fence an entrance to Rittenhouse on 18th Street. Onlookers posted pictures and videos of incident on social media immediately.
The unusual white ziggurat tower at 220 Rittenhouse was arguably ahead of its time with its stylish detailing, fascinating facade patterns, and unrestricted views for each room. Inga Saffron tells the long history of the Rittenhouse Hotel, and its architects and developers. The development had its ups and downs, though: the building was first slated to become a modest, midrise rental building, then luxury hotel, then condos, then sat in limbo for 15 years until another developer rescued it.
"Gentrification" became the new hot word in urban discourse in the late 70s—some argued that it perfectly captured class inequalities, displacement, and injustice, while proponents argued that its cycles of disinvestment and reinvestment brought back and sustained the city. On Philly History, Ken Finkel goes over the origins and revamp of the word, and whether "gentrification" may finally be fading as the reliable, accurate and useful description for urban change.
Want the best of PlanPhilly delivered to your inbox? Get our events roundup on Mondays and our news digest on Thursdays. Sign up today.
WHYY is your source for fact-based, in-depth journalism and information. As a nonprofit organization, we rely on financial support from readers like you. Please give today.