Is Camden's new superintendent too young?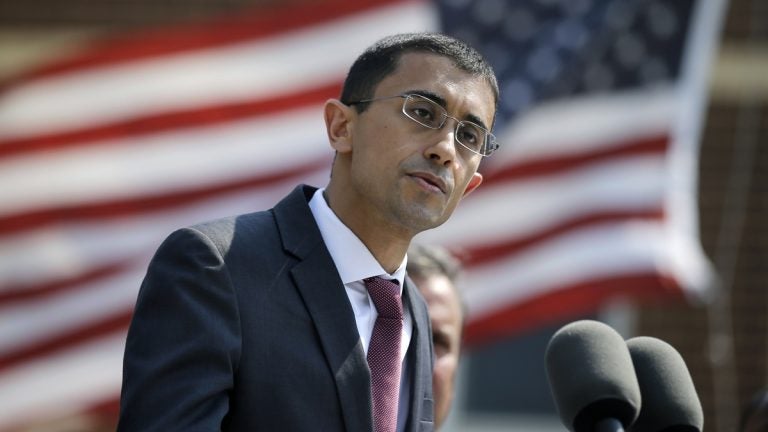 This is part of a series from education blogger Laura Waters of NJ Left Behind.
Last week Gov. Christie nominated Paymon Rouhanifard as Camden City's new school superintendent. On Monday the State Board of Education confirmed Christie's choice, and now Rouhanifard will embark on his efforts to turn around N.J.'s lowest-performing school district.
While Rouhanifard has many admirers in the world of public education, he has attracted critics who charge that he's inexperienced and too closely associated with charter schools and other elements of education reform.
But the loudest rebukes focus on one specific data point on Rouhanifard's resume: he's only 32 years old.
We typically think of school superintendents as seasoned education veterans and, indeed, in 2006 the average age of American superintendents was 54 years old. Is age and experience a proxy for effectiveness? Must the career arc of a successful superintendent follow the traditional trajectory of classroom teacher to principal to central office administrator to superintendent?
Many critics say "yes." Diane Ravitch, a nationally-recognized education historian, fumed, "Paymon Rouhanifard graduated from college 10 years ago."
Former Camden school board member Jose Delgado predicted that "he would've never made the cut of a national search because he has no expertise in areas he would be responsible for as superintendent."
Bob Braun, recently-retired Star-Ledger chief columnist, was irate: "Gov. Chris Christie's pick of an inexperienced 32-year-old Wall Streeter for Camden schools superintendent is not just a dumb move. Dumb moves are a Christie specialty and he is rewarded for them. The selection is a contemptuous mockery of two groups–all professional educators who actually believe experience counts for something and the citizens of Camden who clearly have no say in how their schools are run."
Braun is referring to the State's seizure of Camden's public schools this past June due to a long history of academic failure and administrative dysfunction. The graduation rate for Camden high school students is 49 percent and only 20 percent of its 13,000 students are proficient in language arts and literacy. The other three N.J. districts under state control are Paterson, Jersey City, and Newark.
Let's look more closely at a Rouhanifard's personal history.
As a young child he fled Iran with his parents and younger brother because of religious persecution. According to the Philadelphia Inquirer, the family was "stripped of their home and belongings and relatives tortured and executed" because of their Bahai faith. After a year in a Pakistani refugee camp, the family immigrated to America and settled in Nashville, Tennessee. When Rouhanifard began first grade he knew no English.
In 2003 he graduated from University of North Carolina at Chapel Hill and then joined Teach for America as a classroom teacher in West Harlem. He left teaching for a few years in the private sector and then returned to the New York City Board of Education as Chief of Staff for the Deputy Chancellor. Last year Newark Superintendent Cami Anderson hired him as Chief Strategy and Innovations Officer.
Seems like a pretty inspiring role model for young people. Then again, he's 32 years old. Wouldn't Camden be better served by a more mature and experienced leader?
Been there, done that. Camden's most recent superintendent, Bessie LeFra Young, was 57 years old when she was hired by the Camden School Board in 2007. (One of those board members was the aforementioned Jose Delgado.) Young had spent 31 years as a classroom teacher and another four as an administrator, including her last appointment as Superintendent of Central Region in North Philadelphia.
Age and experience, right? How'd that work out?
During Young's tenure, student academic outcomes declined; currently, 23 of the district's 26 schools are on the list of the 75 worst schools in the state. Fiscal oversight of the district's $313 million budget has been so poor that the Department of Education sent in a State Monitor. Under Young's watch the district falsified reports on violence and vandalism and failed every section of the state accountability rubric called QSAC.
Student and teacher absenteeism soared. Young's too: during her last two years in the district she missed more than 180 school days, despite her annual salary of $240,000. Last July the School Board bought out her contract for $62,000.
The superintendent who preceded Young, Annette Knox, had been a veteran education and a regional superintendent in Cleveland when she was hired by the Camden School Board in 2001. At the time she was 54 years old. Knox resigned in 2006 after five years on the job because two staff members became whistle-blowers, alerting the State to widespread fraud in test scores and evidence of a cover-up. Knox also gave herself $18,000 in unauthorized performance bonuses.
There's much to be said for maturity and experience, yet Camden's last two superintendents have met those standards and failed miserably. (I haven't gone further back in history.) Sure, Rouchanifard's a young man. But perhaps it's time to rethink our assumptions about the prerequisites for educational leadership.
_________________________________________________________
Laura Waters is president of the Lawrence Township School Board in Mercer County. She also writes about New Jersey's public education on her blog NJ Left Behind. Follow her on Twitter @NJLeftbehind.
WHYY is your source for fact-based, in-depth journalism and information. As a nonprofit organization, we rely on financial support from readers like you. Please give today.