Interactive map uses property sales data to predict impact of AVI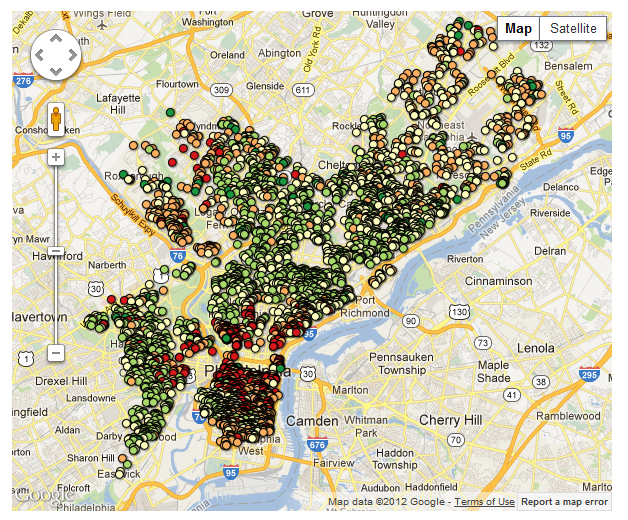 City Council decided yesterday to delay the switch to a property tax system based on market values for one year. The main reason? Not enough information.
The Nutter Administration has been working for some time on reassessing residential and commercial properties across the City, but that work is behind schedule, and won't be completed before Council's budget deadline. City Council was essentially being asked to set a tax rate before knowing how that tax rate would affect property tax bills. There was enough discomfort with that prospect among the public and members of Council to delay the initiative.
But it's only a matter of time before the switch occurs. The City's reassessments are supposed to be finished this fall, and AVI will likely go into place this time next year.
Earlier this week, the Philadelphia Public Interest Information Network (PPIIN), a collaborative news upstart, released a map showing how property tax bills might change under AVI. The map uses data from property transactions over the last several months to calculate what new tax bills will look like for properties that have recently sold. Property sales prices are, presumably, a good indicator of market value, and, as such, provide a decent prediction of the City's reassessments. (Full disclosure: I worked with Neil Budde and Casey Thomas at PPIIN to develop this map.)
Despite Council's decision to delay AVI, the map, with its adjustable tax rate and optional homestead exception, can be a useful tool for homeowners looking to predict what their new tax bills might look like.
If you've got other ideas about how this data might be used, feel free to get in touch or leave a comment here or on the PPIIN page.
Contact the reporter at jaredbrey@gmail.com and follow him on Twitter @jaredbrey