Inflatable 'Trump' put up next to Philly's Rizzo statue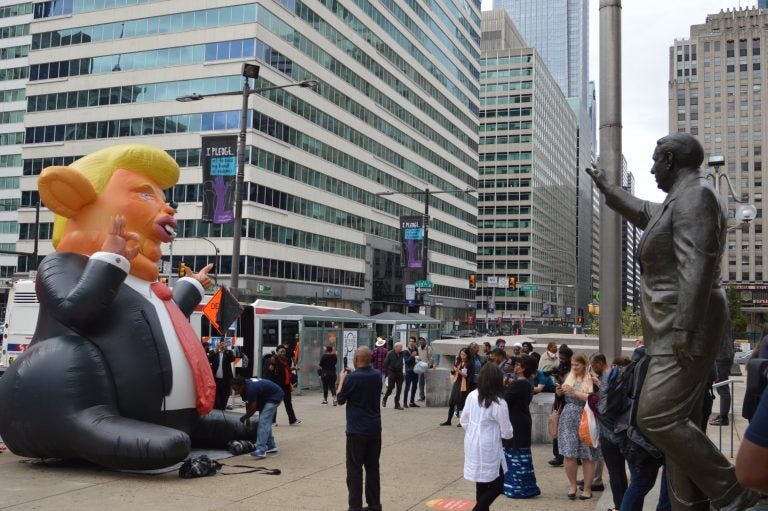 On what would have been former Philadelphia Mayor Frank Rizzo's birthday, his statue got a visit.
An inflatable rat with a head like President Trump was erected so it stood eye-to-eye with the Rizzo statue near City Hall.
Activist Faye Anderson says Trump and Rizzo have a great deal in common.
"They both encourage police brutality, they both attack private citizens for exercising their right to free speech, they both attack the media," she said.
Artist John Lee created the inflatable art and brought it from New York.
"I don't want to wade too deeply into the issue of taking down statues, taking down art because that's a complex subject matter, but I would replace Frank Rizzo with the guy who invented the cheesesteak, because we need less divisiveness," he said.
Anderson says the display is a protest to help spur thought about the fate of the bronze Rizzo statue.
"We want to raise awareness of the role of public art.  Public art is not history, public art is about collective memory and what Frank Rizzo stands for police brutality, racism," she said.  "This Frank Rizzo should not be on the steps of the municipal services building which is the gateway to city services."
The rat was moved by the order of police from the plaza outside the Municipal Services Building to a spot directly across from the statue on the sidewalk, which is considered public space.
After receiving 3,000 comments, the Kenney administration is still considering whether to petition the Art Commission about removing or relocating of the statue. It's also possible it stays where it is.