In wake of #MeToo, Feminist Apparel workers fired after speaking out against sexual harassment
Listen
5:22
On the afternoon of June 21, Kerri Grogan was managing the social media account for Feminist Apparel when a notification popped up.
"It said something along the lines of, 'this is a reminder that Feminist Apparel is run by a rapist and abuser.' It was just a one-line post and it was just like, 'whoa, what are they talking about, is this for real?'"
After a little digging, Grogan and her coworkers found a Facebook post that their boss, Alan Martofel, had made in 2013, announcing the launch of Feminist Apparel. The note began with a description of rape culture and its harms. Next, Martofel said that he had been complicit in that culture. He admitted as a young man he would grind up on women in buses and at parties, kissing the drunk girl at the party because it was easier, and putting his penis in a woman's hand while she was sleeping. From there, Martofel outlined the idea and mission of Feminist Apparel as what he called a "humble" response to the pervasiveness of rape culture.
Seeing the post, Grogan felt betrayed. She really liked working for the company and the values she thought it stood for: a vision of inter-sectional feminism that included voices for trans people, people of color, and an understanding of interlinking oppressions that feminist dialogues often oversimplify or leave out all together.
"I think we were all a little devastated that it turned out we had helped this person who was an abuser profit off of the company," she said.
The team got together and decided they wanted to confront Martofel. They told him they were uncomfortable with a person with his history being in charge at a company that markets many items to sexual assault survivors. During the conversation, Martofel told them he would consider stepping down, and he left the office for the day.
Once he was gone, the staff got together and made a plan: they would print, pack and deliver all the orders that had already been placed, but shut down the ordering on their website so they could wait until they knew the fate of the company before taking more orders.
They did what they could at the end of the day on Friday June 22, and went home for the weekend. They put a notice up on the website saying Feminist Apparel was not accepting orders at this time. Over the weekend, they got a message from Martofel on the company's Slack channel asking them not to come on Monday, and to take the week off while he sorted things out.
The following Saturday night (June 30), still not knowing whether the company they had been working for would continue to exist or not, some of the staff members realized their passwords had been changed for their company email addresses, so they weren't able to log in. They also noticed the website was taking orders again.
"We had a couple of different scenarios in mind ranging from he wants to keep the company going and try to negotiate with us, or he wants to keep the company going and maybe he'll fire us all on the spot," said Grogan.
"The one thing that I didn't expect was for him to say that he was going to step down and then turn around and fire us all."
The next morning, the nine employees who went to work regularly at the Feminist Apparel offices all received the same form email, telling them they were fired.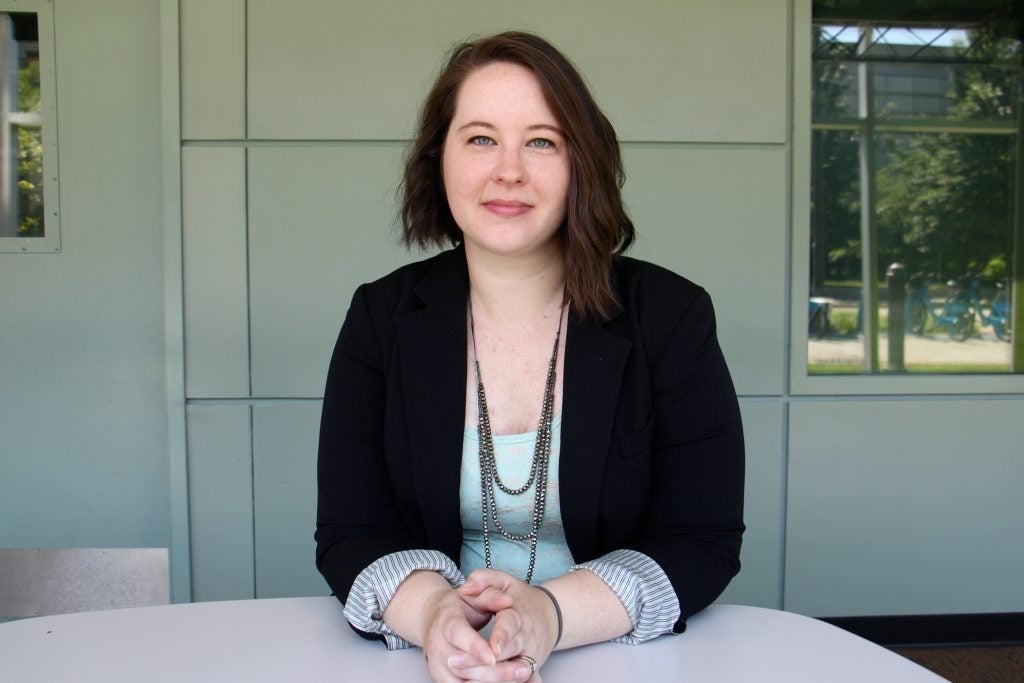 That same day, a post on the Feminist Apparel Facebook page expressed that after having grappled with some hard decisions it was now looking for new management.
Alan Martofel started Feminist Apparel in 2013 out of his parents house in South Jersey with no investors and no board of directors.
"I had a couple hundred bucks I had saved up from video projects," said Martofel, who had graduated from Rutgers in 2011. After college, Martofel started seeing more dialogue about feminism on social media, and was intrigued.
"Up until that time, my only association with that word were the common misconceptions — back in 2012 — of you know, the whole bra burning so on and so forth."
Martofel says that the debates he saw unfolding on Facebook showed him that such a reductive vision of feminism was inaccurate. He said he started reading, engaging in his own conversations, and learning about systems of misogyny and rape culture.
"This is the thing that clearly points out why things are messed up in our society in certain ways, and why certain biases exist and continue to exist," he said.
One of the issues that stuck out most starkly in Martofel's mind was sexual assault. He had the idea to make a documentary about assault at his alma mater, and planned a Kickstarter to raise money for its production. When he was brainstorming what he could offer as rewards to those who donated to his campaign, he came up with the idea of t-shirts bearing slogans that brought awareness to assault and rape culture.
"That's when I really started to change direction," said Martofel.
From there, the t-shirt company business took on a life of its own. Feminist Apparel began distributing its shirts with catchy slogans about feminism, gender and empowerment nationally. Superstar Ariana Grande posted on social media wearing their products. It has 137,000 followers on Instagram.
Martofel moved the company to Philadelphia, where he brought the t-shirt printing, packing and shipping in-house and was able to hire more staff. In 2017, the company raked in about $1 million in revenue, most of which was earned during the winter months around the holidays.
In January of 2018, he had moved the company back to Somerdale New Jersey, he says because they needed more space and they were operating in a loft apartment in Philadelphia. Several employees told WHYY it was very inconvenient to get to Somerdale, another said she bought a car explicitly to drive to work.
At the time of the firing, there were 10 employees. Of the nine who were fired, six were women and three were men. Six were white and three were black. Five identified as LGBTQ. They say they were paid between $10 and $22 an hour (Martofel reported to his employees he made $30 an hour). Some staff members were victims of sexual assault themselves. None of the employees say they knew of Martrofel's past at the time they were hired.
Jace Gulbronson was one of those hired, and he wrote about his experience as a survivor for the Feminist Apparel blog. Gulbronson, who is trans, wasn't there the day the staff confronted Martofel, because he was out on medical leave, recovering from a double mastectomy, or top surgery, a week before. He was still fired. Gulbronson said he regrets writing about his experiences as a survivor on behalf of the company,
"Being a survivor, talking about it for this company and feeling like oh, I was never safe. This space was never safe for me even if I thought it was."
In his post explaining why he fired the employees, Martofel said that he "acknowledged my wrongdoing and committed myself to work within this movement. Spreading the message of consent culture and feminism has been my life's work since that note was written." But he said, after speaking with his staff, he understood that they "unequivocally, do not share my views on either business or feminism."
When I spoke to Martofel, I asked him how he thought his views on business and feminism differed from that of his employees.
"I believe that business can be a tool for good," he told me. "The feminism I believe in is an inclusive movement that allows men to see the error of their ways and to be an ally."
But the former employees say, firing your workers when they confront you about your history of assault, isn't what being an ally looks like.
"I firmly believe in second chances, in people growing, in education, in changing minds," said Gulbronson. "In my experience I grew up in a very homophobic racist family, and had a lot of really problematic beliefs, and I grew.
"There are 1001 ways to participate in destroying cultural oppression that you are a part of and the way to do that is not making money off of it," Gulbronson added.
Martofel disagrees. "I think that's a very narrow way of portraying an entire company."
He says it never struck him as inappropriate, or a conflict of interest to have been a person with a history of sexual assault running a feminist company.
What does the law say?
Because they were private-sector employees, and New Jersey is an "at-will" employment state, a legal case against Martofel would be a tough one to make. Under the National Labor Relations Act, workers are protected from being fired if they are engaging in "collective action" for their "mutual aid and protection." This is the provision that prevents workers for being fired for wanting to start a union. Tamara Lee is an Assistant Professor at Rutgers School of Management and Labor Relations. She said in order for the Feminist Apparel employees to be protected under that clause, they would have to demonstrate a direct connection between Martofel's actions as a harasser and an impact on their working conditions.
"Women have a right to work not for a sexual predator," said Lee. "All you have to do is say this is in a workers interest."
But that's easier said than done. These decisions are left to the National Labor Relations Board, and Lee said the NLRB under the Trump administration would be much less likely to see an employer's past wrongs as tied to current working conditions.
Kate Bronfenbrenner is director of Labor Education Research at Cornell's Industrial Labor School.  She says that, regardless of whether the firing was legal, as people question whether someone with a history of harassment is fit to run a company, it's important not to get too bogged down in the details.
"I think what everyone does seem to forget is that they have committed a violation of the law," said Bronfenbrenner. "So when we talk about hasn't the perpetrator suffered enough — we don't ask that of other kinds of crime. Why do we ask that of sexual harassers? And I think it's because they're men of power."
Bronfenbrenner also noted that despite the seeming employment culture change in the wake of the #MeToo movement, instances like these demonstrate the continued vulnerability of everyday workers who are not protected by a union.
"Unorganized, working class workers are going to be the least likely to speak out because they don't have the protections that celebrities have, that unionized workers have, and they don't have anything to fall back on," said Bronfenbrenner.
Martofel has waffled considerably in whether he plans to leave the company. A few days after he fired the staff, after an outpouring of backlash on social media, a new post indicated that he was seeking a replacement, and would indeed be stepping aside. Now, he says he has no plans to step down.
As for those Feminist Apparel workers who were fired, they are still weighing options on what they'll do next.