In Pennsylvania's lopsided gubernatorial race, a study in contrasts
With under a month until the general election, Democratic Governor Tom Wolf and his Republican challenger Scott Wagner appear to be locked in an uneven contest.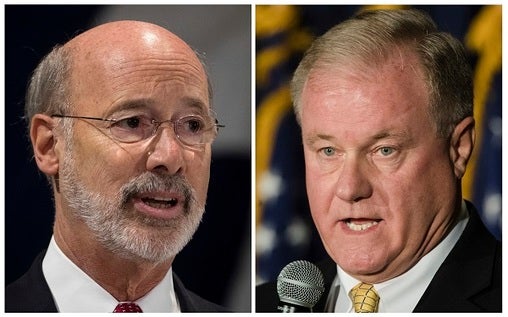 With under a month until the general election, Democratic Governor Tom Wolf and his Republican challenger Scott Wagner appear to be locked in an uneven contest.
Their latest financial disclosures show Wolf with $8.9 million on hand to Wagner's $1.8 million. The incumbent is also leading by almost 17 points in an average of recent independent polls.
And the candidates' divergent campaign styles are reflecting that divide.
It was, perhaps, never more clear than on a recent Friday morning, when a shaky, live video went up on Scott Wagner's campaign Facebook page.
He was standing on a roadside under a billboard. On it was a picture of Wagner's face, and a caption message saying his trash-hauling company has sued 6,979 Pennsylvanians — something Wagner doesn't deny.
"Well hey governor, I don't know whether you know this or not, but if you have a company and you render a service, you want to get paid for, you want to get paid for that service," Wagner said, addressing Wolf even though the billboard had been paid for by an unaffiliated, left-leaning nonprofit.
After speaking for about two and a half minutes, Wagner upped the ante.
"You better put a catcher's mask on your face," he told Wolf, "because I'm going to stomp all over your face with golf spikes, because I'm going to win this."
Democrats quickly denounced the "golf spikes" line as a threat. Wagner's campaign said it was a metaphor. Whatever it was, it made national news.
Wolf's campaign capitalized, putting out a supercut of incredulous anchors and late-night comedians.
The episode epitomizes a campaign that's been marked by profoundly different strategies. Wagner, as Muhlenberg College pollster Chris Borick noted, is trying to find some traction with voters.
"He's a little bit desperate right now," Borick said. "He's way down in the polls, he's having trouble raising funds, he's called out donors in this cycle, and he's looking for something to kickstart his campaign."
And Wolf?
He's keeping about as low a profile as is possible when you're running for reelection, while using his cash advantage to help him paint Wagner as an erratic, irresponsible option.
"Scott Wagner's definitely got a big personality, but I'm just not sure, without the advertising, enough people have seen it. They've heard one side of the story, which is basically Tom Wolf's," said GOP strategist Mike Barley.
Four years ago, Barley managed former Gov. Tom Corbett's reelection campaign, which ended with Wolf's victory.
In that race, Wolf had to show Pennsylvania who he was, and why he was different from the increasingly unpopular Corbett. But now, with a stronger national economy and more cash in state coffers, Barley said the smartest thing Wolf can do is lean on his inoffensive record.
"He's run a smart campaign by the fact that they haven't put themselves in any positions, really, to make any unforced errors," Barley said. "They've done what they needed to do in a climate that's favorable to position him for election day."
Wolf touts his expansion of Medicaid, which technically started under the Republican Corbett administration. He notes he's resisted efforts to defund Planned Parenthood and has pushed lawmakers to put more money into education. He also signed the bill that legalized medical marijuana in Pennsylvania.
His campaign hits on Wagner are targeted. He stresses his fellow York County resident's refusal to share his tax returns, and has publicized a video of Wagner, from an Erie town hall, explaining why.
"If I disclose those tax returns," Wagner had argued, "union representatives get a hold of my tax returns, go around to my employees' homes at night."
Of course, the governor hasn't been able to fly under the radar completely. For instance, a decision from his administration's Department of Corrections to hike prison security has caused some campaign headaches.
A recent fundraiser at a Philadelphia brewery ended up featuring dozens of protesters, who said the heightened security is cruel. A few were forcibly removed from the building.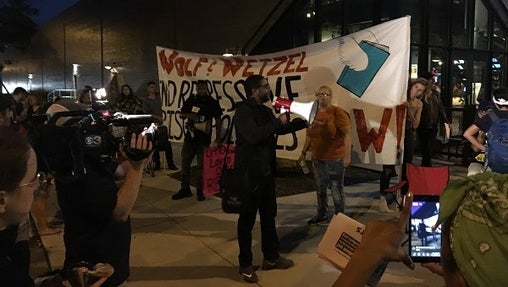 Wolf didn't involve himself with the rally. He entered and left from a back door.
A spokeswoman said Wolf stands by the tighter prison security because it's designed to protect corrections officers and inmates from exposure to synthetic drugs that are sometimes smuggled into facilities.
One of Wagner's recurring talking points is Wolf's reluctance to engage. In the pair's only debate, the former GOP state senator repeatedly accused his opponent of failing to make himself accessible to voters.
Wagner has pushed to hold a debate in every county.
"I've been to all 67 counties," he told Wolf and moderator Alex Trebek. "I was in a county the other evening, I was told I've been there seven times … The people of Pennsylvania want to hear from the governor. They want to talk about issues, and there are a lot of issues."
Wolf dismissed the 67 debates idea as a stunt.
"I have been, also, in every county in Pennsylvania," he said. "The issue, I think, that Scott has is not that people aren't listening … People are listening to both sides. They're drawing their conclusions, they're understanding the contrast … They don't like what they're hearing from you, but they are listening."
When it comes to policy, Wagner has presented himself as a Republican in the mold of President Donald Trump.
He supports stripping the state budget down to essentials and wants to study school funding to avoid waste. He's pitching promises to get rid of school property taxes and pay off Pennsylvania's massive pension debt — both huge goals that recent governors from both parties have deemed infeasible.
About six hours after Wagner's golf-spike-stomping video went up, he took it down, and released another video in which he said he might have made a poor word choice, before refocusing on his campaign pitch.
Wolf's staff, meanwhile, was busy sending out statements calling Wagner "unhinged" and unfit to be governor.
The governor himself was characteristically quiet.
In a meeting with the Philadelphia Inquirer editorial board later that day, he gave his only in-person answer to the golf spikes comment:
"I think that would hurt," he said. "I'm not sure I'd like that."
The midterm election is Nov. 6.
WHYY is your source for fact-based, in-depth journalism and information. As a nonprofit organization, we rely on financial support from readers like you. Please give today.