In Florida, climate change denier Rick Scott can't connect the dots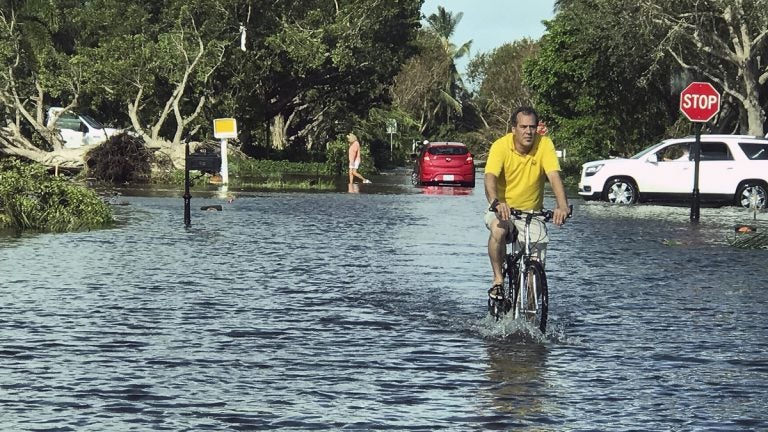 How horrifying it has been to track one of America's dire natural disasters. I'm referring to Florida governor Rick Scott.
It's great that Scott repeatedly clanged the alarm about Irma and pleaded with coastal Floridians to flee for their lives. But there was always a glaring disconnect between his thundered warnings ("This is a catastrophic storm our state has never seen!") and the scientific fact — which he has long refused to acknowledge — that climate change has heightened the severity of storms, making it far more likely that hurricanes like Irma will wreak catastrophic havoc in low-lying overdeveloped states. Most notably, his state.
That's what happens when you're governed by a flat-earth Republican.
It's great that Scott was front and center as the storm-on-steroids crept closer. It's not so great that Scott's regime barred its staffers from using the term climate change. According to one investigation, released in 2015, "[State] environmental protection officials have been ordered not to use the term 'climate change' or 'global warming' in any official communications, emails, or reports," and Scott's minions refused to use the term in public hearings — in the apparent belief that if the words weren't uttered, the crisis would go away or cease to exist.
It's great that Scott took the lead on Irma prep and held a slew of press conferences. It's not so great that when he was asked three years ago to acknowledge the link between climate change and rising seas (saltwater was already bubbling up on lawns in Miami), he glibly replied, "I'm not a scientist" — the standard fatuous response favored by flat-earth Republicans. You had to wonder: If Scott got really sick some day, and multiple doctors recommended surgery, would he shrug them off by saying, "I'm not a doctor"?
It's great that Scott donned a Navy cap and piloted Florida through this crisis. It's not so great that he has repeatedly taken steps to push development in Florida wetlands. Florida enacted a growth management law in 1985, but Scott's Republican legislature repealed it and he signed the repeal. The state water management agency has been overhauled; scientists have been replaced by development-friendly lawyers. Paving over wetlands to build condos is awesome for the real estate business, but it exacerbates flooding when hurricanes hit because the water has fewer places to go.
It's great that Scott declared a state of emergency nearly a week before Irma stormed ashore. It's not so great that Florida conservation experts fault him for failing to plan ahead long before the state of emergency. Kathy Baughman McLeod, who served on Florida's Energy and Climate Commission — before Scott basically abolished it — says: "The science was brought on a silver platter to Governor Scott, and he's chosen not to do anything … There is no state leadership on climate change in Florida, period."
Even some Florida Republicans fault him for being AWOL. Eric Buermann, former general counsel for the state GOP  and a former state water management official, says of Scott: "It's more than an absence of leadership. There's harm being done by denying the problem. He's chilled the discussion, so that those who would want to do something about it feel ostracized … I'm a Republican. He's a Republican. He's a nice guy. There's nothing negative I have to say about the human being. It's just that the policy is 180 degrees off course."
Scott preceded Trump by six years, but the latter's regime has the same flat-earth 'tude — as evidenced by the neutered Environmental Protection Agency, where Scott Pruitt is tasked with dissing science. Pruitt says that Irma is not the time to discuss climate change, which of course mirrors the gun lobby's mantra that mass gun slaughter is never the time to discuss guns. And a Pruitt flack says that talking about climate change during Irma is merely an attempt "to politicize an ongoing tragedy."
In truth, it's an attempt to improve public policy, before it's irretrievably too late. The Republican mayor of Miami, Tomas Regalado, seems to get that. On Friday he told the Miami Herald, "This is the time to talk about climate change …. If this isn't climate change, I don't know what is. This is truly, truly the poster child for what is to come."
The Palm Beach Post newspaper concurs. In an editorial, it says: "Once the wind dies down and the water recedes, we hope [Scott] can be just as decisive in abandoning his tunnel vision when it comes to the threat of climate change. His shortsightedness, and that of other climate 'skeptics' have kept this nation from doing all it could to slow the escalation of such weather-driven catastrophes as this."
Care to bet on whether Scott will connect the dots?
—
Follow me on Twitter, @dickpolman1, and on Facebook.