Hurricane season peaks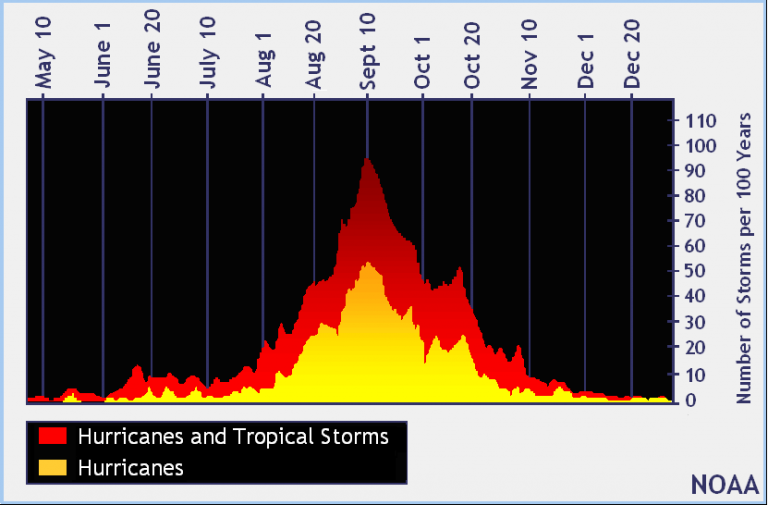 Monday marks the statistical peak of the Atlantic hurricane season.
According to NOAA, historical data indicates that Sept. 10 is the day when tropical system activity is most likely to be occurring in the Atlantic basin due to favorable conditions (warm sea surface temperatures, moist air, and low wind shear).
As of Monday, there have been nine named tropical cyclones, including five hurricanes, three tropical storms, and one subtropical storm. Three hurricanes are currently active — Florence, Isaac, and Helene — and two areas are being monitored for potential development.
The climatological peak of the Atlantic #hurricane season is today (September 10). It sure is living up to that distinction this year. Currently, we have three #hurricanes and two other areas given a medium chance of development in next five days. #Florence #Isaac #Helene pic.twitter.com/PfB6eoXn8z

— Philip Klotzbach (@philklotzbach) September 10, 2018
Hurricane Florence is currently threatening the southeastern United States, with landfall likely between the northern South Carolina and central North Carolina coasts Thursday evening.
Depending on Florence's track once it comes ashore, heavy rain is possible in southern New Jersey later in the week, according to the National Weather Service. Large swells are beach erosion are both likely.
5pm EDT Update: Here are the key messages on Hurricane #Florence. The latest full forecast is available at https://t.co/tW4KeGdBFb pic.twitter.com/j80VAyrMUG

— National Hurricane Center (@NHC_Atlantic) September 10, 2018
The most dangerous time of the year for hurricane activity is between mid-August and mid-October, when 96 percent of all major hurricanes form, according to NOAA.
By mid-October, the ocean and air begin to cool, and wind shear increases, which then lowers cyclone development.
With more than two months left in the current hurricane season, forecasters advise coastal residents to have a plan should a tropical system threaten or strike.
The 2018 hurricane season ends on Nov. 30.