How a chatbot can motivate people recovering from traumatic brain injuries
MossRehab Research Institute researchers reinterpret a common consumer technology to help with post-injury social isolation and depression.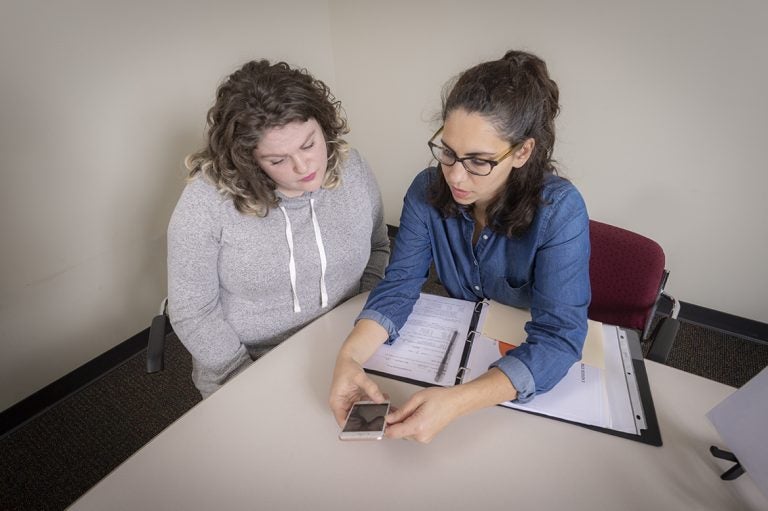 Nearly 125,000 Americans are disabled every year due to traumatic brain injuries, which can result from such varied events as a bump, blow, or jolt to the head, a penetrating head injury, or an explosive blast.
From veterans to car crash survivors, the road to recovery for some of them is made more difficult because of social isolation and an overall feeling of dependency that can last long after an injury, depending on its severity.
Researchers at the MossRehab Research Institute believe a reinterpretation of a common consumer technology could go a long way to helping fill in the gaps.
"After a brain injury, services are really front-loaded. People get a lot of rehabilitation care in that first six months to a year, but after that, we find that there are financial barriers to seeing a therapist in the office as frequently as we would like," said Amanda Rabinowitz, director of the Brain Injury Neuropsychology Laboratory at the institute, based at MossRehab's Elkins Park campus. "People lose some of their benefits that support that kind of care."
To combat that, Rabinowitz partnered with George Collier of the Shepherd Center in Atlanta to create RehaBot, a motivational text message chatbot that helps people who have had traumatic brain injuries keep appointments and get reminders. It also assists with mental health check-ins between therapy sessions.
"The bot is always available whenever the user wants to initiate a conversation. And anytime they text, hello, they get a response," Rabinowitz said. "It extends the reach of the therapy by providing an always-available companion that can help somebody between sessions be more successful in fulfilling their goals and doing more of the activities that we know lead to a sense of accomplishment and pleasure that can lift somebody out of a depression."
People with traumatic brain injuries are eight times more likely to be diagnosed with depression, and research suggests nearly one-third of those who suffer a traumatic brain injury will exhibit depressive symptoms within a year. According to a Centers for Disease Control and Prevention report to Congress published in 2015, reentering normal life through work and school are key components for staving off adverse mental health side effects commonly brought on by such injuries. But overcoming the physical and psychological barriers to doing so is challenging.
RehaBot is programmed to work in conjunction with face-to-face therapy as a tool to get those with traumatic brain injuries one step closer. Users work with therapists to input their schedules into the chatbot's system and receive reminders in the form of text messages from RehaBot throughout the day. Rabinowitz said many users often initiate unprompted conversations with the bot, too.
"We find that the chat is really a natural interface. And because we're social beings, and because we're conversational, that's a way that we're used to processing information. And instead of saying, 'OK, I have to look at this calendar and figure out when this is,' I can just ask, 'What do I have to do today?' and find out what I have to do."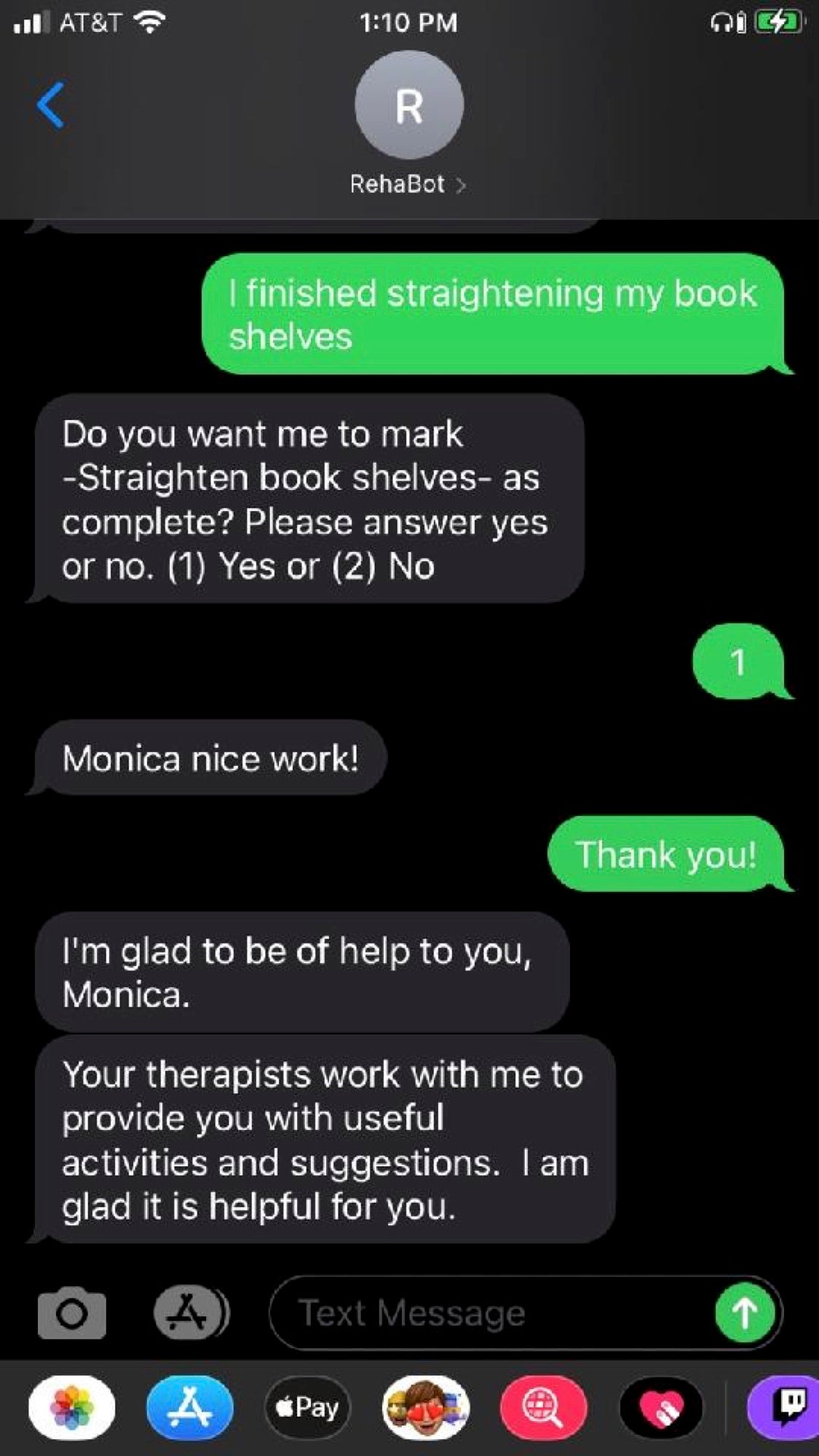 The bot is still being tested in focus groups, but Rabinowitz is setting her sights on the future and where the technology could go. The internal logic of the system is transmutable, meaning RehaBot could theoretically work through whatever delivery system the user prefers, including virtual voice assistants.
"In our preliminary focus group work with individuals with TBIs, we've gotten the feedback that people prefer chat, prefer the text messaging for now, but we definitely think that because this type of chatbot is really so flexible, you could deploy it in a lot through various channels, so that's something that we're also interested in pursuing in the future," said Rabinowitz.
Though RehaBot remains in its early stages, Rabinowitz believes the tool can help people living with a traumatic brain injury reach a new normal using powerful technology built on a classic foundation.
"You see this in other areas of tech development, where people are transitioning to chat interfaces because it really takes advantage of our conversational nature, which is sort of at the core of being human," said Rabinowitz. "And so we think that's more engaging, and we think that that encouragement is a very powerful motivator."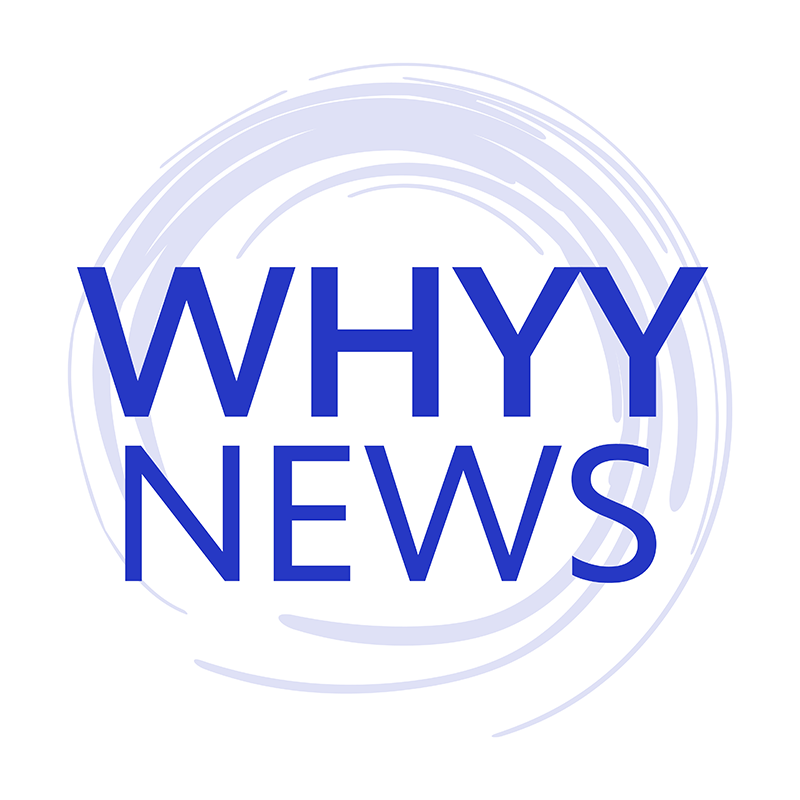 Get daily updates from WHYY News!
WHYY is your source for fact-based, in-depth journalism and information. As a nonprofit organization, we rely on financial support from readers like you. Please give today.