Homeowner Solar program discussed in Frankford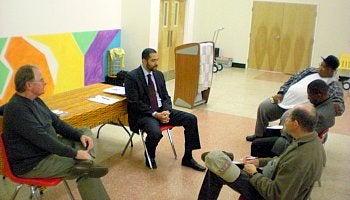 Five years from now, the most meaningful state and federal solar energy incentive programs may likely be gone, a spokesman from a solar panel leasing company said at a community meeting in Frankford Thursday night.
"For the next three to five years, it makes sense to get out and talk to homeowners," said Paul Deery from Urban Eco Electric, a solar panel leasing agent based in West Conshohocken, at an event hosted by state Rep. Tony Payton's office. Deery was one-fifth of those present at the sparsely attended affair held in the meeting room of the Sankofa Freedom Academy at 4256 Paul St. in Frankford.
The attendance last night — four people at peak — was "unfortunately" a common representation of other similar solar meetings Payton's office has hosted recently, said the representative's chief of staff Jorge Santana.
Below, get the scoop on these programs and video of Deery pitching his organization.
"It's important that people know the opportunities out there," Santana said. "Right now this is just a Center City and Northern Liberties conversation, but this is something that working class and middle class people can really do."
At the session, two clear routes for home and business owners were described:
Purchase a solar-panel system, at roughly $9 a watt with an average home needing roughly 4 kilowatts, that comes out to roughly $36,000. There are supplement programs, subsidies and tax credits, and eventually, owning a solar panel system will give you the opportunity to sell electricity back to PECO.
Take a 20-year contract with a solar leasing company like UEE. They'll construct and maintain a solar array on your flat roof in Philadelphia at no cost, but they own it. As an incentive, they'll charge you half what your current monthly electric bills are for the first two years. Then, they'll lock in your current electric costs over the life of your contract at a time when many project electricity costs to rise, due to deregulation and other reasons.
Deery said that an important first step for all buildings is to be weatherized and reviewed for better ways to conserve electricity.
What you need to partner with a solar-leasing company
Property in Philadelphia
Flat roof
300 square feet
20-year commitment
"Then we talk about making solar work for you," he said.
Companies like UEE make most of their money, Deery said, by harnessing the power of a mass of state subsidies and grants from their clients and some from being able to sell or redistribute additional electricity harnessed. UEE has a goal of putting solar panels on 5,000 homes in Philadelphia. They have more than 100 now.
The lease is assignable if you were to sell the home or property. To break the lease early, the homeowner would have to buy out the remainder of the contract.
"It's meant to be punitive because we're enduring a sizable upfront cost for you," Deery said. "But this is going to be an assett that will immediately add value to your house and, we think, save you quite a bit of money over the long haul."