History instructs, and we ignore it at our great peril
Of course, learning from history requires a modicum of reading and knowledge, attributes seemingly lacking in our 45th president.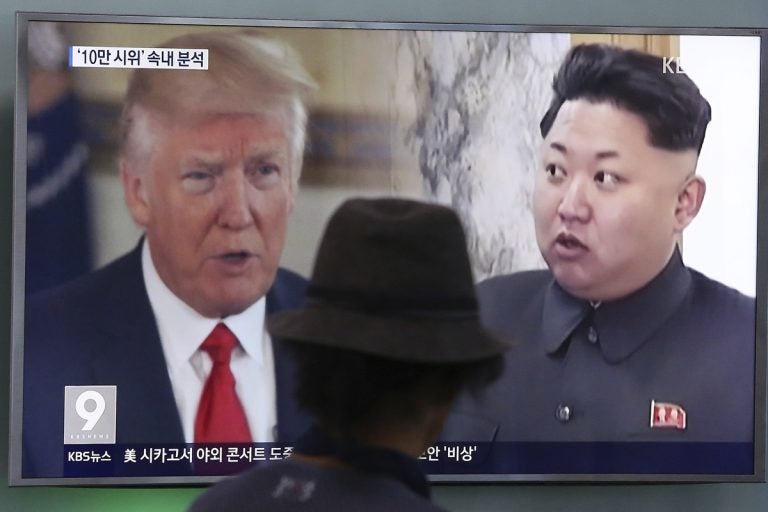 "Plus ça change, plus c'est la même chose," say the French — the more things change, the more they remain the same. So true of history. Just when we think we have resolved conflicts, they reappear in a new guise.
World War I, the "war to end all wars" lasted four years and led to more than 18 million deaths. Archduke Franz Ferdinand was the Austro-Hungarian emperor who had infuriated Serbian nationals by annexing the Balkans. He was assassinated when a discontent lobbed a bomb into his carriage. In the ensuing melee, Russia supported the Serbians and went to war to protect them, and Germany supported the Austrians. France and Britain joined the cause — and, bingo, World War I.
Clearly that war did not end all wars.
But does that accident of history teach us where we might be going with North Korea today? Almost certainly. On the one hand, the lethal actions of a lone gunman led to a mammoth conflagration. One hopes our president's thumbed midnight missives don't explode as did the bomb that killed Ferdinand. The exchanges of provocative schoolyard taunts between Donald "dotard" Trump and "little rocket man" Kim Jong Un might yet unleash a war prompted by two unstable leaders with control over their respective nuclear arsenals.
So how could a knowledge of history help us to reshape it? Well, first of all, a lot depends upon how it's taught. Tom Reed, who teaches history at Lower Merion High School, says it should reflect global interrelationships and influences. Reed starts his course with China's Song Dynasty, which was overthrown by the military. Much later, the emperor Taizu (927-976) was able to persuade high-ranking military officers that they'd be much better off leading a peaceful bucolic life in the countryside and far away from weaponry. He chose to rely more on civilian officials in administration.
The lesson from that prevails to this day: The U.S. military is intentionally prevented from getting its hands on political power … and the highest military decisions are made by civilians.
In the 14th century, the bubonic plague killed more than 50 million people. Because this resulted in a shortage of labor, wages rose, and the era was considered a turning point in European economics. Reed points to irrigation, sewage disposal and potable water as historical factors that led to migration from the countryside to the towns … and to advances in public health and the teaching of preventive medicine.
And so it is today. Climate change is often seen as a "stressor" that can intensify a political situation. The extreme drought that affected Syria for many years was believed to have been exacerbated by climate change. Rural country dwellers streamed into the cities. Overcrowding and paucity of jobs led to unrest and the ensuing civil war — which in turn has led to a worldwide crisis of refugee migration.
Afghanistan is another classic example of Winston Churchill's dictum that those who fail to learn from history are doomed to repeat it. The British occupied Afghanistan for decades. Russia invaded the country in 1979 and became bogged down there for 10 years. The U.S. inherited the whole mess after 2001 and, after sending thousands of troops and spending billions of dollars, is still there 16 years later.
An understanding of the artificial boundaries delineating "countries" in the Middle East without regard to historical tribal alliances would have been helpful in developing the strategy for Afghanistan as well as fathoming the reasons for starting — or not starting — the war in Iraq. What was the West's biggest failure in Afghanistan? Seth G. Jones, author of "In the Graveyard of Empires," argues that history should have provided a lesson: The Brits, the Russians, and the Americans all became entangled in the country as a result of its chaotic leadership, inhospitable terrain, and warring tribes — ignoring the lessons learned by the preceding occupier.
And if Lyndon Johnson could have predicted that U.S. involvement in Vietnam would result in 58,000 American, and more than a million more Vietnamese, Cambodian, and Laotian deaths, and an inconclusive outcome, perhaps he would have rethought the reasons for embarking on it. Indeed he should have predicted it, if he'd had some advance understanding of the culture, history, and politics of a balkanized country that historically had fought off foreign invaders and occupiers. The steady accumulation of troop strength to fight a war on unfamiliar terrain presented an enormous challenge to U.S. forces.
Of course, learning from history requires a modicum of reading and knowledge, attributes seemingly lacking in our 45th president. The Economist says of him: "His instincts are atrocious; he imagines he has nothing to learn from history."
He aligns himself with such autocrats as Russia's Vladimir Putin, the Philippines' Rodrigo Duterte, and Turkey's Recep Tayyip Erdogan. Boasting "I alone can fix it" is the kind of claim that history's bloodiest autocrats might have made. The president seems unable to grasp the significance of the Iran treaty, the Paris accords on climate change, NAFTA, NATO, TPP … and the rapidly depleting value of our diplomacy in the world.
As Timothy Snyder points out in his landmark little (126 pages) book "On Tyranny," "It is thus a primary American tradition to consider history when our political order seems imperiled."
WHYY is your source for fact-based, in-depth journalism and information. As a nonprofit organization, we rely on financial support from readers like you. Please give today.