'History in the making': Reading expected to elect first Latinx mayor
Listen
4:32
By mid-afternoon last Tuesday, Eddie Moran was running on empty. 
"Please give me two minutes to run to the men's room and [get] a drink of water," Moran, 52, asked before an interview at his downtown Reading campaign office, "because I've been nonstop." 
As the Democratic nominee in a city that hasn't elected a Republican mayor since 1996, Moran is heavily favored to win the race over Republican challenger Louis R. Perugini and become the city's first Latinx mayor. Still, Moran says he's not taking anything for granted. He knows how emblematic his election would be: a major milestone in the decades-long transformation of Reading from its industrial, white working-class roots to a now-majority Latinx city trying to redefine itself. 
"It's history in the making," Moran said. "It shows that the Latino community is making progress. That we are ready and available to govern ourselves." 
"My story is not much different'
Moran is a federally licensed insurance agent who has served on the Reading School Board since 2013. He was born in Puerto Rico and grew up there and in Brooklyn, New York. Eleven years ago, he moved to Reading, motivated by a desire for more space and a better quality of life.
That story tracks with the experiences of many residents in the city, which has attracted Latinx people, primarily those of Puerto Rican and Dominican descent, for decades.
"I came here with the hopes of having the American dream. Having a white picket fence, and becoming a soccer and baseball dad," Moran said. "My story is not much different than the majority of the community." 
These days, the city is about 64% Latinx, according to census data, up from about 37% in 2000. 
Democratic mayoral candidate Eddie Moran holds his niece Sophia Feliciano, 2, at a campaign event days before polls open. as he is looking to become the first latino mayor of Reading, which has a majority latino population. (Matt Smith for Keystone Crossroads)

Reading Democratic mayoral candidate Eddie Moran talks to supporters gathered Nov. 2, 2019 at Jet Set Restaurant for a campaign event. (Matt Smith for Keystone Crossroads)

Moran poses for a photo with supporters at a campaign event in Reading days before polls open in the 2019 general election. (Matt Smith for Keystone Crossroads)

Moran talks to longtime friend Nercida Herrera, left, as supporters gather Nov. 2, 2019 for a campaign event. (Matt Smith for Keystone Crossroads)

Moran poses for a photo with Melanie Taravez, right, as supporters gathered for a campaign event. (Matt Smith for Keystone Crossroads)

Moran talks to supporters gathered Nov. 2, 2019, at Jet Set Restaurant for a campaign event. (Matt Smith for Keystone Crossroads)

Campaign signs displayed for Reading Democratic mayoral candidate Eddie Moran. (Matt Smith for Keystone Crossroads)

Democratic candidate Eddie Moran on the phone at his campaign office Nov. 2, 2019. (Matt Smith for Keystone Crossroads)
Community leaders say Moran's election would be a major shift in a city that has been dominated by white politicians. 
"I really hope that … we recognize ourselves, we see ourselves, in the people that are in government," said Daniel Egusquiza, founder of the city community group Barrio Alegría. "Up until now, that hasn't been the case."
Moran is running on a platform of economic growth, a universal concern in Reading. In 2011, about 40% of Reading residents were living in poverty — more than any other American city with a population over 65,000. That finding brought headlines from outlets such as the New York Times that still shape the city's image in the minds of many outsiders. 
Reading's poverty rate now stands at 30%. The unemployment rate in the city is 6.8% — well above the Pennsylvania average.
"When my son went off to college two years ago, it dawned on me that the possibilities of him returning to the community we have grown to love are minimal," Moran said. "There is no family sustainable employment."
Mobilizing Latinx voters
Moran's campaign has made a special effort to reach Latinx voters: distributing signs in Spanish; knocking on doors in heavily Latinx areas, and even releasing a Spanish-language jingle written by a supporter.
Historically, voter-turnout levels in Reading have been low. For Michael Toledo, chief executive officer and president of local Latinx advocacy group Centro Hispano Daniel Torres, that's somewhat surprising, given the places many Reading residents come from.
"We know that in places like Puerto Rico, the Dominican Republic, and elsewhere, voter engagement is very high," Toledo said. "So the question became: What's the drop-off?"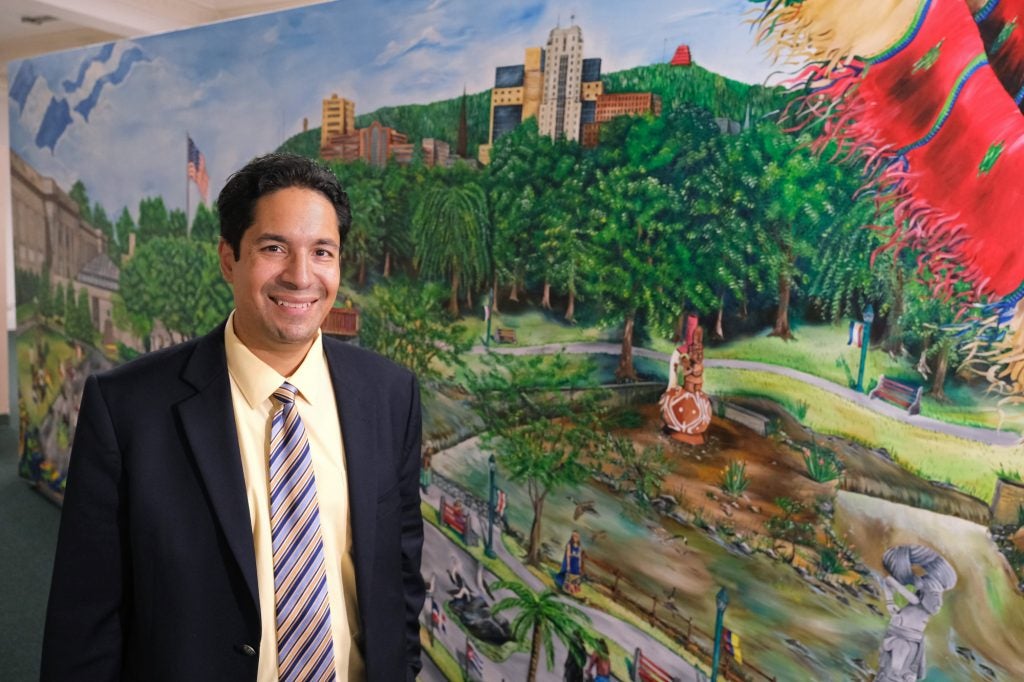 Toledo said his group heard a few different answers to that question. Some Latinx people said they did not believe their political voices would make a difference in the United States. Others, Toledo said, prioritized political involvement in their countries of origin over voting in local elections. 
This year, Centro Hispano Daniel Torres helped host Reading's first bilingual mayoral forum. About 100 people attended — a decent turnout for a local debate. But thousands more watched the event on Facebook Live. 
Toledo said it is too soon to know whether these efforts will ultimately encourage more Latinx voters to go to the polls. The event didn't seem to spur voters to this year's mayoral primary: About 17% fewer voters cast ballots compared to the previous mayoral primary in 2015. 
'It's an evolution, I suppose'
Kevin Murphy, president of the Berks County Community Foundation, sees the rise of Latinx politicians as a natural step for the community as they have become more socially and economically woven into the fabric of the Reading area. 
"We have a population that came originally with very high rates of poverty," Murphy said. "But as second and third generations move up the economic ladder, they begin to integrate themselves into the political life of the community as well." 
Berks County voters may also choose to elect the county's first Latinx commissioner Tuesday, Republican candidate Michael Rivera. 
At times, Murphy said, integration has caused tension for the area's older, whiter voters. He pointed to a 2003 Reading primary election in which the U.S. Department of Justice stepped in to make sure Latinx voters were provided translators and bilingual ballots. 
"There was a great uproar about how 'my grandparents learned to speak English,' and many of us had to point out that the Reading Eagle published in German for 100 years," said Murphy, referring to the local newspaper. "And even into the early 20th century, there were German-language ballots in rural parts of the county." 
Peter Cammarano has lived through much of the city's recent transformation. Born in Reading in 1957, he remembers a time when it was far more common to hear German than Spanish out in the streets of the city.
Cammarano owns Mike's Tavern, a Reading bar that reportedly inspired the setting of "Sweat," a 2017 Pulitzer Prize-winning play about Reading factory workers.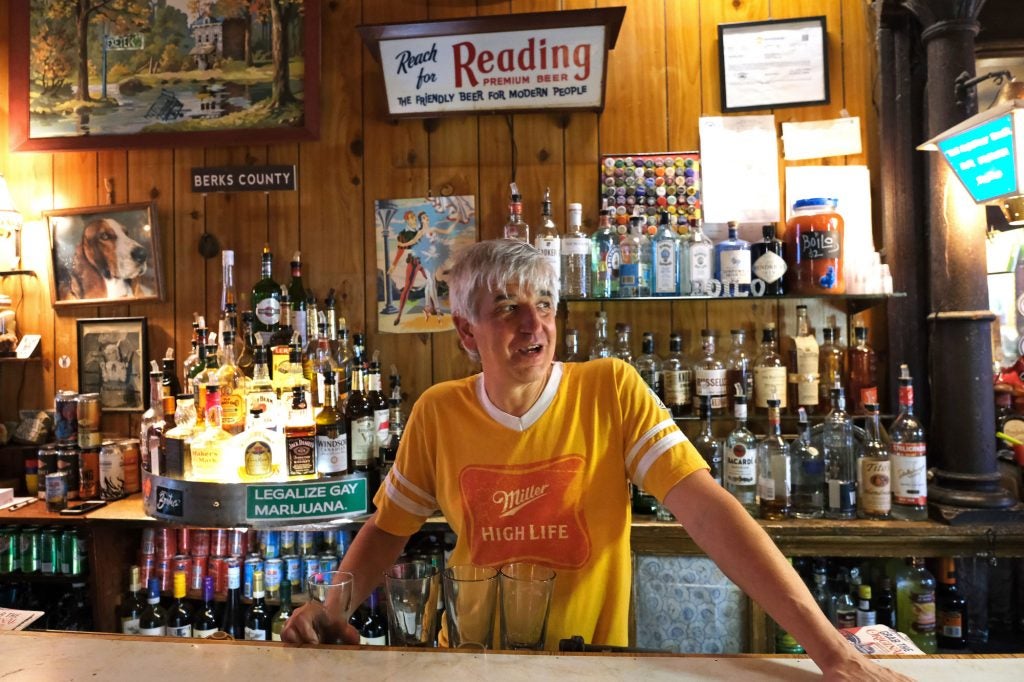 Sitting outside the bar, across the street from a steel manufacturer, Cammarano said he thinks Eddie Moran is a little inexperienced, but he's optimistic about him — and the symbolic change his election would represent.
"I remember what my dad used to tell me when his parents bought a big house in the middle of the city. They were like, 'Oh, look, the Italians are moving in,'" Cammarano said. "So now, what are we going to say? 'The Spanish are moving in?' It's an evolution, I suppose." 
Voters in Reading — and across the state — go to the polls Tuesday. 
WHYY is your source for fact-based, in-depth journalism and information. As a nonprofit organization, we rely on financial support from readers like you. Please give today.