Here is Gov. Murphy's plan for reopening N.J.
Murphy's six-point recovery plan included steps officials would have to take to slow the spread of COVID-19, minimize new outbreaks of the disease and reboot the economy.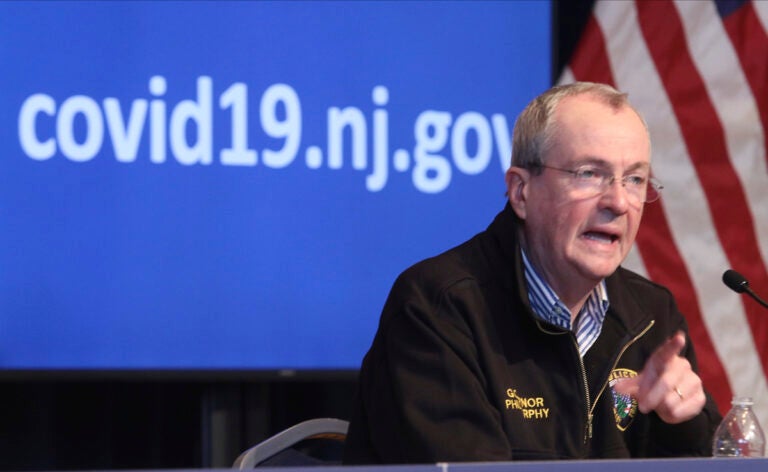 Are you on the front lines of the coronavirus? Help us report on the pandemic.
New Jersey Gov. Phil Murphy on Monday debuted to residents his plan for how the Garden State can begin to reopen after the country's second-worst outbreak of COVID-19 infections put an unprecedented strain on the state's government and crippled parts of its health care system.
Murphy said officials would move as quickly as possible to return life to normal in New Jersey — but only as long as they believed it was safe for residents.
"I want, by the way, nothing more than to see every Main Street up and down the state filled with shoppers and diners once again. I want our construction sites roaring with activities once again. I want to see the shore humming throughout the summer," Murphy said.
"We will move as quickly as we can, but as safely as we must," he said.
Murphy did not give a specific date for when the state would begin reopening but said it was probably "weeks … not months." He said he was thinking of New Jersey's reopening on a statewide basis but had not ruled out a regional approach.
He added that New Jersey's stay-at-home order, which took effect on March 21, would remain in place until the state achieved a major reduction in new coronavirus infections. Other social distancing measures like requiring face coverings and work-from-home directives would likely remain in place for some time as well, Murphy said.
He announced the New Jersey-specific plan even as he touted the state's role in a group of seven northeastern states — including New York and Pennsylvania — which have banded together to coordinate their recovery efforts. "We want to be largely in harmony, but we will never necessarily take every step exactly the same way at the same time," Murphy said.
The governor's six-point recovery plan included steps officials would have to take to slow the spread of COVID-19, minimize any new outbreaks of the disease, and reboot the economy safely in lieu of a vaccine or proven therapeutic drug.
The first part of New Jersey's plan is a sustained reduction in new COVID-19 cases, which Murphy said officials will have to see before they are comfortable returning to pre-pandemic life.
Next, the state will have to dramatically ramp up its testing capabilities and set up a massive and unprecedented contact tracing operation.
Murphy said the state is already working to double its testing capacity by the end of May and make tests available to any residents who need them, which could be at pharmacies or even take-home kits. He also said the state would have to "recruit and deploy an army" of as many as 7,000 contact tracers to identify new infections and track who those people had recently been in contact with.
The state would also ensure there are safe places for people diagnosed with COVID-19 to isolate, such as hotels emptied out for that purpose.
Only once public health was under control, Murphy said, would the state begin to restart its sputtering economy.
"Public health creates economic health. That is what will guide us. That's the order in which we must proceed," he said.
Murphy said he was forming a Governor's Restart and Recovery Commission of "economists, business leaders, labor leaders, and health care experts" to determine how and which businesses could come back online. He said he would announce the members of the commission on Tuesday.
The governor did not say which businesses would be able to reopen first and with what precautions, but he noted that essential businesses in low-risk categories would have priority. "I love going to concerts. Concerts are not going to be anytime soon, as an example," Murphy said.
The last part of Murphy's plan calls for the state to anticipate future surges of COVID-19 or any other yet-unknown diseases. He said the state will "fortify" its health care system, build its own stockpile of personal protective equipment and ventilators, and create a "playbook" that subsequent administrations could use in a future pandemic.
"I don't know when we'll be able to formally and finally start this journey. Hopefully, if we keep at it, it will be soon," Murphy said. "This is a plan for how we move forward — not if we move forward."
WHYY is your source for fact-based, in-depth journalism and information. As a nonprofit organization, we rely on financial support from readers like you. Please give today.