N.J. Health Commissioner: State leads the way on Ebola precautions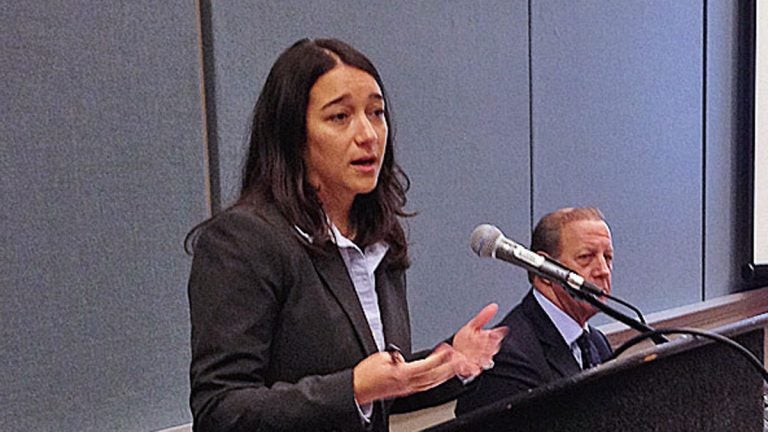 Less than a month after New Jersey's controversial handling of a Maine nurse who had treated Ebola patients attracted national attention, the state's top health official said she has confidence in the state's readiness for handling any future Ebola cases.
Health Commissioner Mary E. O'Dowd said New Jersey is "extraordinarily prepared and ahead of many other states" out of necessity, both because it has a large immigrant population from the affected West African region and because it is the home of Newark Liberty International Airport, one of five U.S. airports receiving travelers from the region.
In addition, the series of public health crises that the state faced in the last several years, including the H1N1 virus and Hurricanes Irene and Sandy, bolstered the state's preparedness, she said.
Also key was an early state decision to order $1 million worth of personal protection equipment to be used by hospital workers working with Ebola patients. This was a crucial step, considering that the two Dallas nurses who are the only two people who contracted Ebola in the United States may have contracted the virus while removing their protective gear or because their equipment was inadequate.
And while other states have struggled to get enough equipment to conduct training, roughly 300 New Jersey healthcare workers were trained by Rutgers University School of Public Health and, in turn, are training more workers at their own facilities, O'Dowd told local public health officials at the New Jersey State League of Municipalities annual conference in Atlantic City yesterday.
The number of people in the state who are being monitored for possible Ebola symptoms stood yesterday at 54 – well below the 100 monitored in late October. However, O'Dowd said it's too early to say that the drop represents a trend, since the number of daily arrivals from the Ebola-struck region – and therefore, the number who leave the 21-day monitoring window – varies widely from day to day.
For example, 34 people arrived in the state from the region on Monday, but none arrived on Tuesday, said O'Dowd, who noted that she receive a message every morning around 6 a.m. on the number of arrivals from West Africa over the previous day.
This monitoring affects those who may have been exposed to Ebola in Liberia, Sierra Leone, Guinea and Mali. These residents must meet with a local public health official for twice-daily temperature checks. Under a policy announced by Gov. Chris Christie at the peak of public fears about the virus, those who had direct contact with Ebola patients face quarantines. They must stay at home if they don't have symptoms and go into a hospital if they do have symptoms, which initially are similar to those for the flu.
In late October, Maine nurse Kaci Hickox criticized Christie when she was ordered quarantined for three days at a hospital in Newark. She argued that quarantining healthcare workers who don't have symptoms doesn't serve public health but could discourage people from volunteering to help in West Africa.
The Christie administration has emphasized that Hickox had a high temperature based on a forehead scanner reading, which led to the decision to quarantine her in a tent at University Hospital. But Hickox said she doubted the scanner's accuracy at the time, since her face was flushed after several hours of detention, including a three-hour period in which no one communicated with her.
After a more accurate oral thermometer found she had a normal temperature, and no other symptoms emerged over the following days, she was allowed to return to Maine. She then fought a successful legal battle with Maine Gov. Paul LePage over his attempt to quarantine her in her home. The Centers for Disease Control and Prevention has since recommended that those who had direct contact with Ebola patients be actively monitored by local health officials, but hasn't recommended that they be quarantined.
No Quarantines Since Late OctoberState health officials said a total of five people have been quarantined in the state – only one was a New Jersey resident. No quarantine orders have been issued since the end of October and no one is currently under quarantine.
O'Dowd added that some who were under quarantine have asked for and received police protection in the face of concerns in their communities. She recommended that local health officers talk with local police about the issue so they're prepared.
Along with ordering protective gear early, New Jersey was also among the first states to designate certain hospitals for a higher level of Ebola readiness: University Hospital, as well as Hackensack University Medical Center and Robert Wood Johnson University Hospital in New Brunswick. This has allowed these hospitals to quickly receive additional CDC training in Ebola response, she said.
But O'Dowd said other hospitals must remain vigilant.
"I will be clear here – every hospital has to be ready for a potential case to walk through their doors," O'Dowd said, noting that the state is working with those who it's monitoring so that it can respond quickly if they show symptoms.
"But we know that people sometimes can travel from state to state and may be visiting friends here," O'Dowd said. "We also don't have the ability to control every human being on the planet, and so therefore can't make them do what we suggest, so hospitals really need to be ready and able to prepare right now for a potential case walking through their door."
O'Dowd said the state also learned from what happened in Dallas that it's important to evaluate patients in hospital emergency departments for their travel histories, and to move quickly to isolate those who present a high risk of exposure.
While New Jersey is actively preparing for Ebola, the threat from enterovirus D68 has passed. The virus affected 29 residents and led to one death, O'Dowd said. She noted that six New Jersey children died from influenza in 2013, but the single death from enterovirus caused much more fear, perhaps because it was a new to the state.
"I know the fear factor among parents in particular was extraordinary," O'Dowd said, but she credited local health officials with providing appropriate information about enterovirus to residents and schools.
O'Dowd emphasized that providing factual information about Ebola can reduce public anxiety.
"We know that there is a lot of concern out in the community about this subject and we believe that education is a very powerful tool in order to inform individuals about the real risk of the disease, versus the concerns that may be without basis," she said.
Both towns that are monitoring residents and the state – which has health workers at the airport every day – have run up costly tabs in responding to Ebola. O'Dowd noted that President Barack Obama has recommended to Congress that it fund reimbursements for state and local Ebola-related expenses. She said she hopes that Obama makes New Jersey a priority due to its central role in the national response – including the fact that people from the rest of the country have been screened at Newark.
O'Dowd noted the one way to reduce public fears over virus outbreaks is to reduce this number of people with influenza through flu vaccinations. That's because many more severe viruses begin with flu-like symptoms. She anticipates that Ebola concerns will increase as the flu season progresses and residents call officials about their symptoms.
"As common as the flu is, this is not a common year," she said. "Flu is always one of those illnesses that I think people don't recognize is as serious as it is."
The state has set up a phone hot line to address questions and concerns about Ebola: (800) 962-1253.
_______________________________________________
NJ Spotlight, an independent online news service on issues critical to New Jersey, makes its in-depth reporting available to NewsWorks.