For Aliya Cantanch-Bradley, the fight for diversity and inclusion has been her life's work.
As a teenager, she organized a student walkout at Philadelphia's William Bodine School for International Affairs. A first for the school, the students were pushing to have the Black Student Union formally recognized by the administration.
"At an early age, I was shifting my focus to equity and finding our voice as a people in a sea of all that was transpiring around me," said Cantanch-Bradley.
She remembers wanting a space at school to address Black issues, but feeling like her voice wasn't valued. Her student advocacy opened her eyes to how she could create agency within herself and for her community.
"When I went to college … I knew that I had to dedicate my life in some way to help make things better for the next generation to come," she said.
Since then, Cantanch-Bradley has spent the past 21 years as an educator, devoted to serving students of color. For the past three years, she's been principal of North Philadelphia's Mary McLeod Bethune Elementary. The school has been lauded for its success recruiting and retaining teachers of color. There, 63% of teachers are Black and 27% are Black men — by far among the highest rates in the state for both.
For students at Bethune, these numbers could be life-altering. According to the National Bureau of Economic Research, Black students who have at least one Black teacher in elementary school are more likely to graduate from high school and more likely to enroll in college.
But compared to the rest of Pennsylvania, and even much of the rest of Philadelphia, Bethune's educator diversity is the exception, not the rule.
Statewide, according to a new analysis of state educator data by Keystone Crossroads and Research for Action, teachers of color in Pennsylvania make up only 6.3% of the workforce in 2020. Although there are slightly more people of color teaching now than in 2013, the rate of increase hasn't kept up with changing student demographics.
In fact, the gap between the proportion of students of color and teachers of color in Pennsylvania has widened over the past seven years, a gulf that's historically been among the worst in the nation.
In Philadelphia, which has most of the state's teachers of color, the proportionality gap is actually even wider than the state's and hasn't budged over the years.
Similar to trends that our previous reporting found, the new analysis shows that half of all public schools in the state have only white teachers. In more than a third of all districts, there are no teachers of color, including 10 entire counties.
Amid America's renewed attention to racial justice issues — which centered this summer largely on police brutality and workplace racism — educators say hiring and retaining teachers of color is a significant part of the larger conversation that can't be ignored.
"It's really important for Black and brown children to see themselves [reflected] in teaching staff," said Cantanch-Bradley. "In many schools when you start asking the question, 'When did you have your first Black teacher?' Many have never had one."
Finding a foundation
Cantanch-Bradley remembers her first year as a teacher — a time when there were very few formal mentorship programs in the city. She was assigned a coach, but it was a teacher colleague who had a very busy schedule of their own.
"I really did not get a lot of time with that person," Cantanch-Bradley recalls.
But her first year was spent at Hill-Freedman Academy, which she attended as a middle schooler.
"When I returned to teach, two of my teachers were still there," said Cantanch-Bradley.  "And I was able to learn under them for two years before they all retired at once. So I had Ms. Shuckleford, Ms. Jackson and they were very instrumental in helping me begin my journey."
The knowledge they imparted included how to deal with many of the personal and professional challenges early-career teachers contend with, such as classroom engagement and work-life balance. Cantanch-Bradley, a mother of four, said her mentors gave her the foundation to figure out "how to be a mother, a teacher, and a leader all at once."
Cantanch-Bradley's principal at the time was Diane Hathaway, a Black educator who she credits with pushing her to reach new heights in her career over the decade they spent working together.
"She made me go back and get my principal certification," Cantanch-Bradley recalls. "I didn't want to do it. I was so comfortable. I was leading things, I was running groups, I was writing curriculum for the school district … I had no aspiration to do other things at that time."
But Hathaway saw the potential in her that she couldn't see at the time.
"She kept pushing me. She said, 'You're bigger than just your classroom.'"
What happened to America's Black teachers?
While the issue of diverse teacher recruitment is often framed as a "shortage" issue, there was actually a systematic removal of Black teachers from the teaching corps in the advent of the 1964 Civil Rights Act, which called for wide-spread integration of schools across the nation.
Owen Thompson, a professor of economics at Williams College, said, as of 1960, 45% of southern Black Americans who had completed any post-secondary education reported "teacher" as their occupation. Now Black educators only make up 12% of teaching staff nationally. Thompson's research paper, "School Desegregation and Black Teacher Employment," examines the racial composition of teachers between 1964 and 1972 in over 780 southern school districts. He estimates that Black teacher employment levels in a typical district were reduced by almost 40% during that period as a direct consequence of wide scale school desegregation.
Prior to 1964, the general practice of staffing Black schools with Black teachers and white schools with white teachers was part of the larger southern, segregationist model. But as the Civil Rights Act mandates began to roll in, there was a huge fiscal incentive to start integrating student populations.
"If you weren't complying with the desegregation mandates, you could have federal funding terminated," Thompson said. "And it was not an idle threat."
But while student integration became compulsory, the Civil Rights Act lacked the power to integrate teaching staff, allowing southern school districts to limit white students' exposure to Black teachers.
"Once the school is integrated, and the Black and white students are sitting in the same classrooms, you can't employ large numbers of Black teachers without having, at least in some cases, Black teachers matched up with white students," Thompson said. "The only way to reduce pairings of Black teachers with white students is to reduce Black teacher employment in general, which is exactly what school districts did."
Over time, many Black teachers in the south lost their jobs. But this largely didn't happen through a process of overt firing. On the contrary, a strategy of non-hiring, in addition to an intentional weakening of state tenure laws and demotion of veteran teachers pushed Black educators out of the profession.
"From the perspective of the school district … every time a Black teacher quits, we're gonna hire a white replacement," Thompson said. "So we're not firing Black teachers in a really overt way. We've just tried to change the composition of new hires in such a way that over the course of a few years, the overall racial composition of our teaching staff [gets] a lot whiter."
'We run our leg of the race'
By the 1970s, a series of court rulings and enforcement policies created specific protections for Black teachers.
"But by then, most of the damage was done," Thompson said.
Cantanch-Bradley has been one of the many Black educators working in recent decades to undo that damage.
In 2018-19, the most recent year for student data, just 5.7% of Pennsylvania's teachers were people of color, compared to 35% of its students. Black educators accounted for the majority of teachers of color, making up 3.7% of the total teaching staff  — compared to a statewide student body that's 14.5% Black. 1% of teachers were Hispanic across the state, and 0.5% were Asian.
In Philadelphia, 31% of teachers were people of color compared to 86% of students.
Citywide, Black teachers made up 22.7% of the teaching staff, compared to 52.6% of students. Asian and Hispanic teachers were also underrepresented in the city.
That's in stark contrast to the Bethune School, where Cantanch-Bradley leads a staff that's 76% teachers of color. That difference has only come about with hard work and intentional strategizing that began in earnest under Cantanch-Bradley's predecessor.
At the district level, Superintendent William Hite set a goal last year of tripling the number of Black male educators by 2025. But without formal recruitment mandates and guidelines, much of the drive to recruit teachers of color has to come from individual school administrators.
"When I came to Bethune, the principal started a very clear and transparent recruitment of Black male educators," said Cantanch-Bradley. "So when she went to recruitment fairs and talked to people, she was looking for Black male educators…I look at administrators like, we run our leg of the race, we pass the baton, and then it's for the next person to take the vision further."
Cantanch-Bradley said finding and recruiting teachers of color requires looking beyond the traditional teacher fairs. Since coming to Bethune, she has partnered up with LaSalle and Temple University to recruit teachers from their education departments. These early-career educators complete their student teaching at Bethune, developing a pipeline of diverse teachers.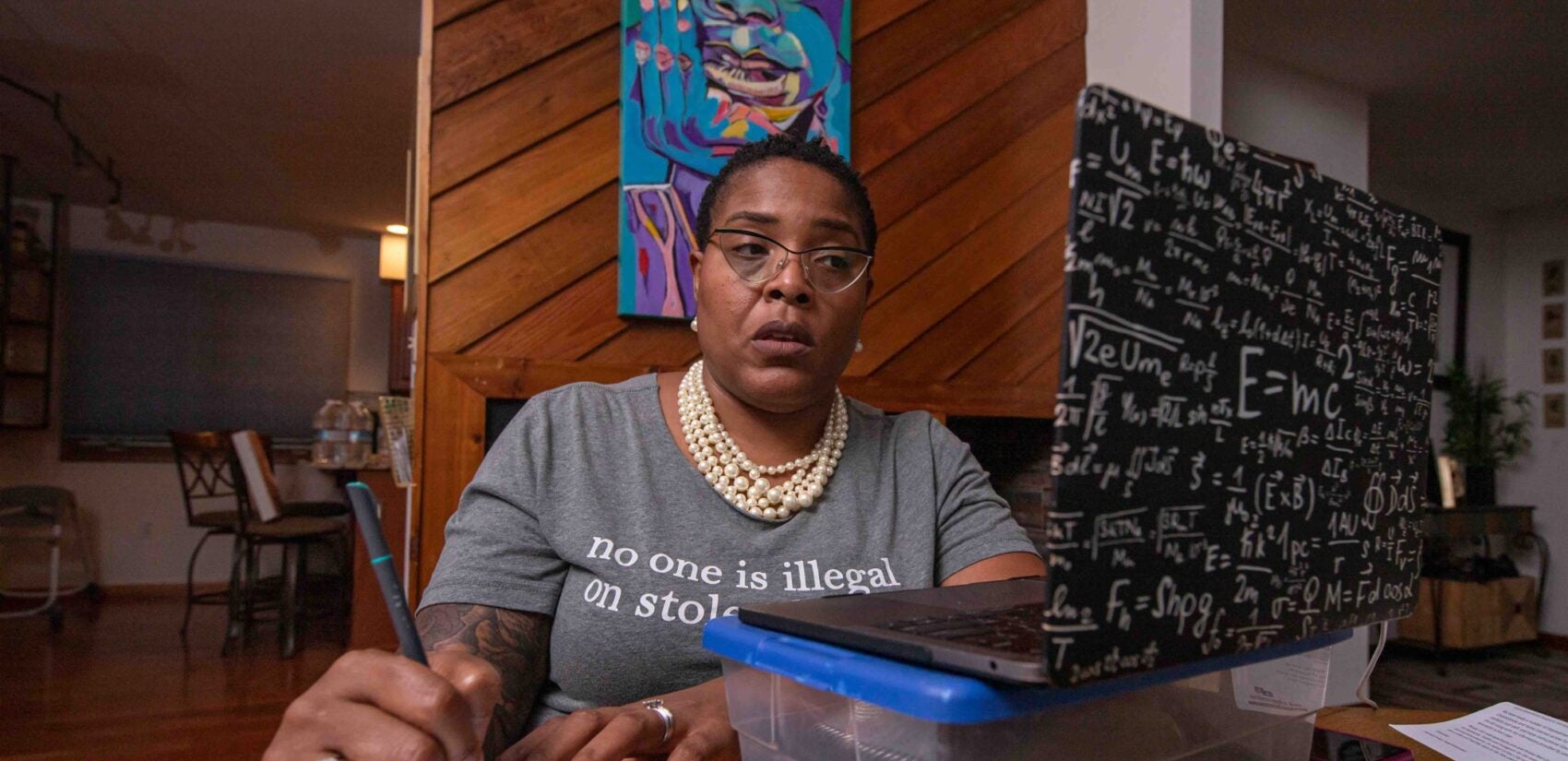 'Because you're destined'
Outside of these formal recruitment mechanisms, Black teachers and principals depend on personal networks to drive recruitment.
Crystal Edwards, 47, principal at North Philadelphia's William D. Kelley Elementary, has made it a personal mission to recruit more teachers of color to serve a predominantly Black school with 99% students of color.
"I had to go out and search for teachers and not go through the mass-herding of who was online," she said, "going to some of our historical Black colleges and universities and [getting] those teachers in."
Edwards said she doesn't think there's necessarily a shortage of Black teachers, but that many administrators are not putting in the effort to look in the right places. Teachers of color make up 83% of the staff in her school, of which 74% are Black.
"That's why it's important for me as an educational leader to go out and handpick those people who are going to stand in front of marginalized children and say, 'I see you, because you're important, because you're destined.'"
Reynalda Kilpatrick-Ray, 42, teaches 5th and 6th grade reading at Mastery Charter's Mann Elementary in West Philadelphia. 2020 marked her 20th year as a teacher. But looking back to the beginning of her professional journey, she had zero plans to become a teacher.
"I studied liberal arts in college," said Kilpatrick. "I focused on music, dance and drama … I was a singer, I [wrote] multiple plays. And then I tore my ACL so dancing and performing kinda took a backstage."
While trying to recover from her injury and figure out next steps, a Black principal at the elementary school Kilpatrick attended as a child in her North Philadelphia neighborhood reached out to her.
"The principal said… 'You have a college degree, your mom's a teacher and you used to always help out with Sunday school. Would you like to come teach? I don't have a teacher  for the 6th grade.' After that first day, I fell in love. I had my mom's support, I had my school's support … and 20 years later I am still teaching 6th grade."
Kilpatrick's journey to teaching exemplifies the experiences of many Black teachers, who came to education through the informal recruitment of other Black educators, and who had deep personal relationships with Black teachers early in their life. For Kilpatrick, that key relationship was with her mother, who had been a teacher at that point for more than three decades.
Kilpatrick said those kinds of personal relationships are still driving much of Black teacher recruitment today.
"We do a big drive from January through March where it's like, 'Hey, you work here. Do you love working here? Do you know someone who would love working here?'" said Kilpatrick. "So we're able to reach out through our own personal networks."
'You don't need remediation, honey. You're ESL'
But the question of recruitment must also anticipate the greater challenge of retention: How do districts create school cultures that inspire educators of color to seek out the profession and stay for the long haul?
Early-career mentorship is crucial. Ask Kilpatrick what made her first year as a teacher so fruitful, and she'll say it was her mom.
"My support made me coffee and breakfast every morning," Kilpatrick said with a hearty laugh. "My mother was actually my mentor teacher my first year of teaching. But whatever support is in place, it needs to be done in a way that's not evaluative."
Traditional teacher-mentor programs often include reporting back to an administrator about a teacher's progress. Kilpatrick said this creates more stress for teachers of color and the standards for evaluation are not always culturally inclusive.
"We know that the metrics don't always match … our cultural competencies," Kilpatrick said. "The things that we see as normative and as culturally appropriate don't always fit Eurocentric views."
It is normal practice within school districts to evaluate teacher effectiveness based on  student test scores. And according to research, the growing emphasis on testing within classrooms is one of the most common reasons Black educators leave the profession.
But for the Black educators that stay, it's been proven that they do improve short and long-term outcomes for students of color, reducing dropout rates, increasing college acceptance and, in some cases, boosting standardized test scores.
Another hurdle for teachers of color can be working in schools without a strong culture of understanding.
Kilpatrick lived through that experience as one of two Black teachers at a school in the Philadelphia suburbs in the mid-2000s.
She was a remediation teacher, and said students of color were disproportionately represented in her class.
"I'm working with the kids and I'm like, 'You don't need remediation, honey. You're ESL, you need ESL support.' Or …'You read just fine. You're not drawing some of the inferences some of your classmates are drawing because you don't have the context that they do.'"
She also said working in a predominantly white school setting created a culture where Black teachers had to take on extra roles meeting the needs of students of color, and were often used to discipline students who were misbehaving.
This ultimately pushed Kilpatrick to leave the school altogether and return to Philadelphia.
Things are changing in the suburbs, though. A review of seven years worth of state data shows that the teaching force in the Philadelphia suburbs has diversified. In 2013-14, 37% of schools in the Philly suburbs had only white teachers. Last school year, that number dropped to 27% of schools.
Still, in 2019-20, about half of all suburban schools did not have any Black teachers, a rate that's budged only slightly over seven years.
'Love the people'
For Black teachers in the suburbs, the experience can be especially isolating and stressful because there's likely a dearth of Black mentors to provide support.
But those feelings can occur in the city as well.
Quira Parker, 27, is one of the many Black educators who didn't have a sound foundation at the beginning of her career. During her first year, she was placed at Dimner Beeber Middle School in Overbrook as a teaching assistant through City Year. She remembers the stress and anxiety of helping to run a 40-person class.
"It was not ideal," Parker recalled. "So after that first year, I just didn't want to teach anymore."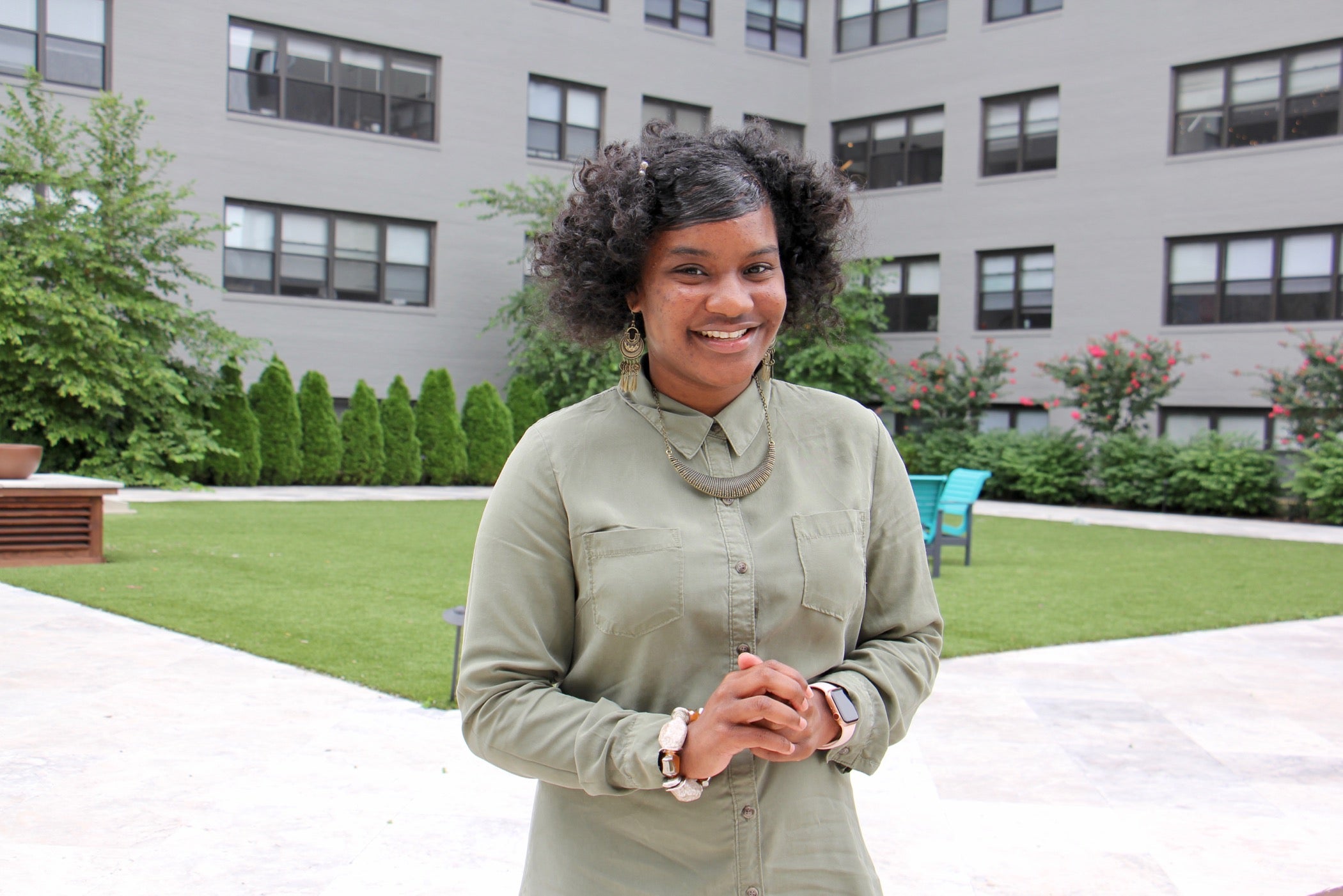 Parker, who didn't have a Black teacher until she attended college, felt as though she had hit a dead end. Then, her sorority sister encouraged her to apply to a position at Mastery Charter Schools. Energized and ready to fulfill her middle school dream of becoming an English teacher, she enrolled in the Relay Graduate School of Education. Shortly after, her Mastery application was accepted.
This time, she had the support, attention and power of a teaching residency program at her back.
"Relay is the only reason I am as effective as I am today," Parker said. "With the program, you're paired with a mentor teacher, someone that's going to give you the tools, the tricks, [to] build your toolkit so you are a successful teacher."
To Sharif El-Mekki, who leads the Center for Black Educator Development, these training and certification programs are key. He said the state's overall teacher diversity numbers will only see substantial change when Pennsylvania colleges that train teachers get better at recruiting and aiding higher-ed students of color.
"How do they support people of color who come?" asked El-Mekki. "Is it, 'You're here, the door is open?' Or is it, 'OK we recognize the legacies of racism in our institutions and this is how we're going to support you if you come to our school.' It's two different mindsets and I'm not confident that we've done the best job across the state."
As more people of color do make it through these programs into the profession, Bethune Principal Cantanch-Bradley said a retention strategy must start with building a healthy, satisfying school culture.
"As a school we do … happy hours with our teachers and various other schools," said Cantanch-Bradley. "We support things within the Bethune catchment area community… If we do that, then [we] hopefully have happy folks and when you have happy folks they tell other folks."
Cantanch-Bradley believes that content, effective teachers are those who feel connected to the student body and the larger community.
"My attitude towards my teachers is that they're leaders," said Cantanch-Bradley. "My job is to make sure that everyone feels empowered and liberated to create pockets of opportunity for our children. You have to love the people that you're serving."
—
Data analysis for this story provided by Research for Action.
Get more Pennsylvania stories that matter
WHYY is your source for fact-based, in-depth journalism and information. As a nonprofit organization, we rely on financial support from readers like you. Please give today.