Hailed as hero in war and Senate, John McCain accepts Liberty Medal from Joe Biden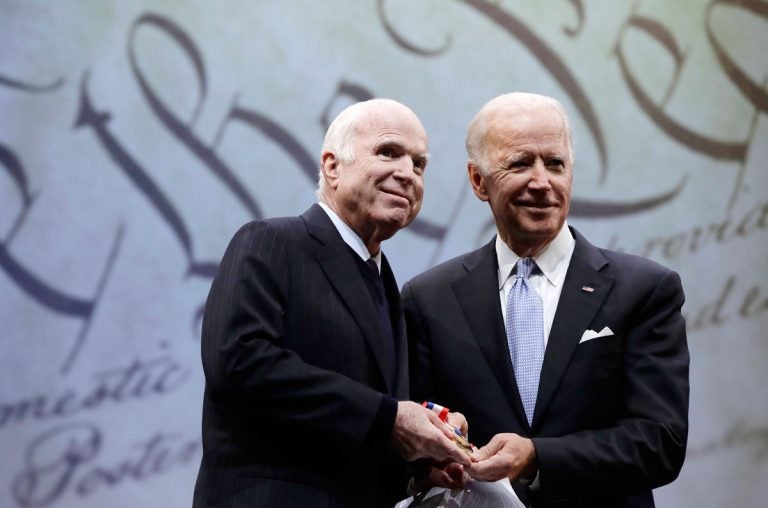 The 80-minute Liberty Medal ceremony on the front lawn of the National Constitution Center in Philadelphia honored U.S. Sen. John McCain, chiefly by remembering two incidents of his life almost exactly 50 years apart.
In 1967, as a Navy pilot, he was shot down in Vietnam, subsequently beaten and tortured as a prisoner of war for six years. At one point, he refused freedom in order to uphold a military code dictating that prisoners be released in the order they were captured.
This summer, just days after learning he has brain cancer, McCain took to the Senate floor as a senior statesman and excoriated his fellow lawmakers for their staunchly partisan behavior.
At the Liberty Medal ceremony, McCain was praised as both a war hero and a hero of bipartisanship.
"Today, new populist forces and social media technologies are Balkanizing citizens into filter bubbles and echo chambers," said Jeffrey Rosen, CEO of the National Constitution Center. "The result is polarizing our media and elected officials and threatening values of thoughtful deliberation and public reason in precisely the way the framers feared."
To drive home the merits of crossing the aisle, the Constitution Center bestowed its Liberty Medal on the Republican senator from Arizona and asked former Vice President Joe Biden, a Democrat, to present it.
In a 20-minute speech, by far the evening's longest, Biden described the lengthy and close relationship he and McCain have enjoyed for more than two decades, most of that time when Biden served in the Senate.
"John and I used to — during debates in the '90s — go over and sit with one another," recalled Biden. "We both were chastised by the leadership in both our caucuses: Why were we talking with one another and showing such friendship in the middle of debates? This was after the [former Speaker of the House Newt] Gingrich revolution in the '90s. They didn't want us sitting together."
McCain and Biden hugged, then Biden handed McCain the Liberty Medal.
In his speech that followed, McCain was self-effacing.
"I'm the luckiest guy on earth," he said. "I have served America's cause, the cause of security and freedom and justice, all of my adult life. I haven't always served it well. I haven't even always appreciated what I was serving.
"Among the compensations of old age is the acuity of hindsight," continued McCain, 81. "I see now that I was part of something important that drew my along in its wake. I was — knowingly or no — along for the ride as America made the future better than the past."
Beneath his humility and good-natured jabs at Biden, McCain kept his powder dry for a veiled attack on the current White House.
"To fear the world we have organized and led for three-quarters of a century, to abandon the ideals we have advanced around the globe, to refuse the obligations of international leadership and our duty to remain the last best hope of Earth, for the sake of some half-baked, spurious nationalism cooked up by people who would rather find scapegoats than solve problems is as unpatriotic as an attachment to any other tired dogma of the past that Americans consigned to the ash heap of history," said McCain.
"We live in a land of ideals, not blood and soil."
It's rare for the Liberty Medal to be given to a sitting American politician. For 29 years, the annual ceremony has honored an individual or entity embodying the principles of American democracy. Past recipients include Steven Spielberg, Malala Yousafzai (Nobel Prize winner and activist for educating girls and women), the Dalai Lama and Muhammad Ali. Last year, it was given to U.S. Rep. John Lewis, the civil rights leader.