Why Philly's sustainability czar published a magazine about neighborhood life instead of another boring report on climate change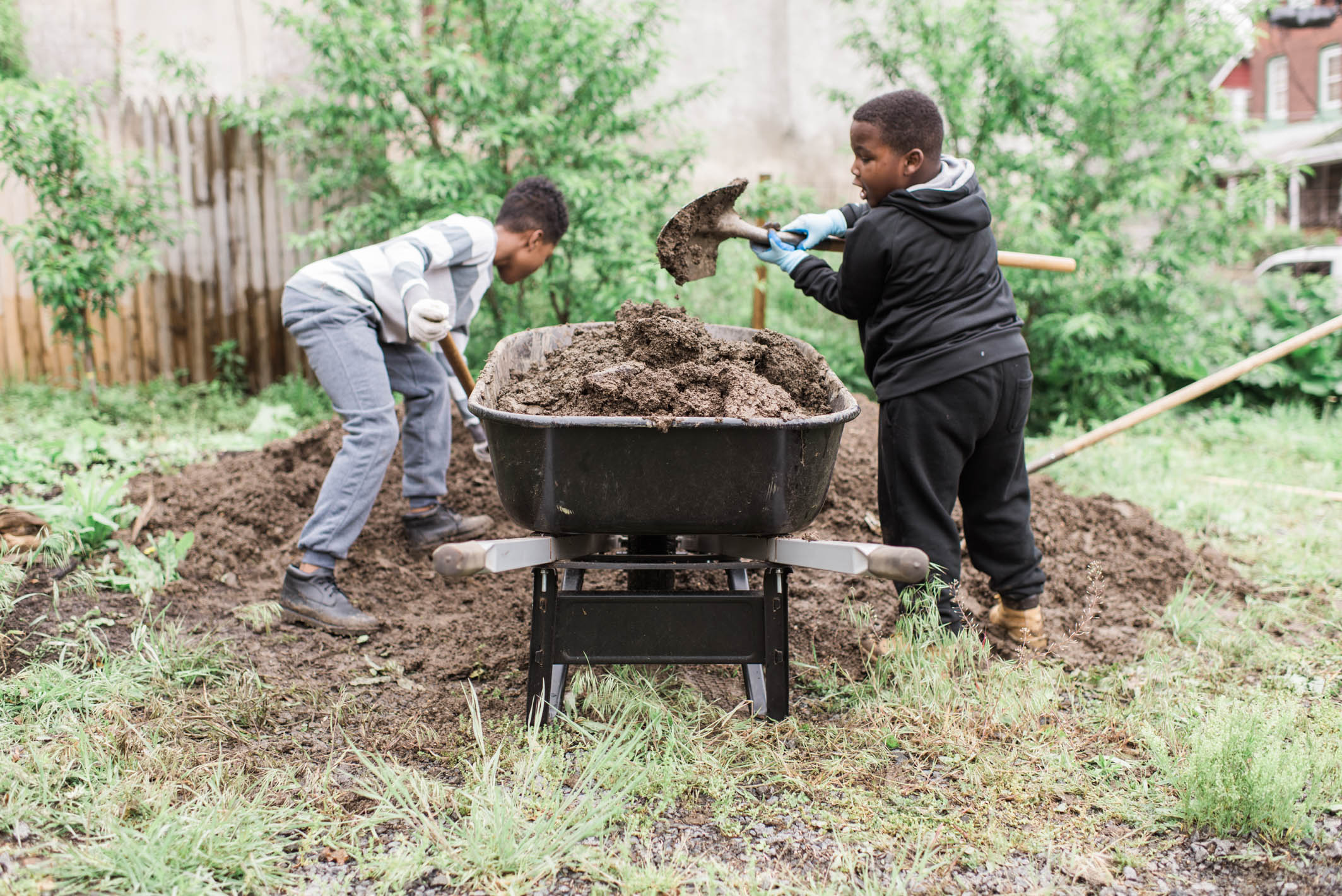 Words, not numbers, quanitify the impact of 14 months of work on Philadelphia's Greenworks sustainability agenda.
Instead of the usual chart-heavy PDF loaded with statistics and metrics, the city has released a colorful magazine explaining the past year in the life of the Office of Sustainability — and more to the point, the communities it works with. Printed on recycled paper manufactured using renewable biogas energy, the annual report released on Thursday includes a photo essay about Philly Free Streets, feature stories about community-driven programs such as Feed the Barrel and Neighborhood Bike Work and interviews and tips from residents and sustainability leaders — 95 percent of them people of color. There are even quizzes. The magazine also works as an action guide, with ideas for residents to replicate and useful graphics for people to cut and hang in their refrigerators for daily reference.
An update of the initiatives proposed in 2016 will be released separately, and metrics will be uploaded to the Greenworks Dashboard in March, said Christine Knapp, the city's sustainability director.
"We wanted to have some recognition on the work that we're doing but in a way that wasn't just a bunch of numbers," Knapp said. "We wanted to be able to tell the stories in a more engaging way, and so this is our way of luring people into the work — by giving them something attractive, and digestible, and useful to their life."
Metrics, she said, can be manipulated and they don't always represent the reality.
"We don't think it's valuable to have to track 200 different things to tell people that our work is valuable, so we've definitely stepped off of having to do all of that," Knapp said. "Numbers don't tell you the full story."
Talking to residents rather than experts has been Knapp's trademark since joining Mayor Jim Kenney's administration in 2016. The goal of Greenworks is not only to make the city more sustainable, but to make it more equitable, which means reaching all of the city's people, especially those who haven't always been at the table for environmental conversations.
Richard Johnson leads the Philadelphia chapter of the Climate & Urban Systems Partnership (CUSP), a regional group of educators and scientists exploring ways to educate residents about climate change. He says the local hub — 250 members from 80 organizations — is happy with the city's engagement work this year, and really excited about Greenworks' new approach. "A story is so much powerful than the metrics," he said.
Engaging people with climate change is more complex than just telling them what it means and why it's happening. People need to understand what it means to them and what they can do about it, he said.
"So it's important to show people that the community is already engaged on the issue, and that there are things already happening that they can participate in — so that they feel that they have a built in support group," Johnson said.
The Greenworks magazine doesn't review progress on each of the sustainability goals set by the city in 2016, but it does highlight some important milestones, including the completion of the Zero Waste and Litter Plan to reduce the city's waste by 90 percent by 2035, and the release of the Municipal Energy Master Plan which set energy efficiency policies for city-owned facilities and established carbon reduction goals.
Not noted in the magazine is the fact that Knapp's office also accomplished some things that weren't promised in the original Greenworks. That's the case of the Clean Energy Vision draft plan, published this fall, which sets a roadmap to reach Mayor Jim Kenney's goal to reduce city-wide carbon pollution by 80 percent by 2050.
"In doing the municipal master plan, the city realized they needed a broader city-wide vision on clean energy, and they produced a lot of material and ideas, that are good for starting the conversation," said Matt Walker, community outreach coordinator for the Clean Air Council. "The rubber will hit the road when we can all sort of have the conversation about how to most effectively and efficiently implement these ideas."
Walker appreciates the work done by the city in planning a transition to clean energy, but thinks the office should provide a timeline to implement the policies and programs with higher priority. He also think some of the goals should be even more ambitious and specific.
"I think it's interesting that they want to start a conversation around Philadelphia Energy Solutions refinery, but I think what really needs to happen there is a serious conversation with Air Management Services about enforcement of the Clean Air Act and other environmental laws," Walker said. "And if the conversation is going to be started, there has to be a serious goal to really improve air quality in the area around the refinery."
(Office of Sustainability)

(Sofia Guernica)

(Sofia Guernica)
One of the goals that went unaccomplished this year is a complete Transportation Master Plan centered on the impact on climate change and health. Sarah Clark Stuart, executive director of the Bicycle Coalition of Greater Philadelphia, says the plan is "sorely needed," and so are some of the bike lanes improvement promised in the original Greenworks.
"Sixteen miles of bike lanes were added in 2016, but no figure yet has been announced for 2017," Clark Stuart wrote in an email. "Even with the addition of more miles of bike lanes, the maintenance of many bicycle facilities has not kept up with the need to keep the bikeway network in good condition. Spruce and Pine is highlighted [in Greenworks] even though it is in poor condition and was the site of fatal crash that killed a bicyclist just 2 months ago."
Knapp counts the Office of Transportation and Infrastructure Systems Vision Zero Three-Year Action Plan published last year as a success in their work making Philadelphia's roads safer. The Greenworks year in review highlights the Chestnut Street Transportation Project, which includes a protected bicycle lane in West Philadelphia, as well as the Route for Change Program which plans to improve Roosevelt Boulevard in North Philadelphia, and the Wissahickon Gateway Project, which includes waterfront trails.
One big project still in the works is an Equity Index that will identify communities with less investment. Knapp hoped to complete the index in 2017, but funding to support its creation didn't come until the fall so it will be a priority for 2018.
Nonetheless, Jamie Gauthier, executive director of Fairmount Park Conservancy, said that Greenworks' explicit intention to be more inclusive was felt on the ground. She uses TreePhilly, the city's program that gives trees to residents, as an example of meeting people where they are. "It creates a lot of really good ambassadors for trees and city's sustainability goals," Gauthier said. She also believes Greenworks 2.0, as she calls the plan presented in 2016 (Greenworks was presented in 2009 by Mayor Michael Nutter), was more successful than the one before because of its more engaging, accessible format.
"If you can't involve Philadelphia's residents, then we're not going to get where we're trying to go," Gauthier said. "It can't be a conversation that's happening just among sustainability experts and advocates."
Gauthier — who's been working with Philadelphia's Parks and Recreation and the Water Department on improvements to the edge of West Fairmount Park — appreciates Knapp office's job coordinating private and public partners to get the work done.
"Greenworks is sort of a cheerleader for all of us to reach the city's sustainability goals," Gauthier said.
WHYY is your source for fact-based, in-depth journalism and information. As a nonprofit organization, we rely on financial support from readers like you. Please give today.