Going back to the office can be a pain in the neck. Tweaking your workstation can help
Working from home meant adjusting for aches and stiffness. Now, the body has to reacclimate. Here are tips for a comfortable transition.
Listen
1:34
Shehzeen Ahmed didn't notice the pain until a few months after she started working from home in March 2020. She had taken over her dining room table in New Jersey as a makeshift office, and the pain crept up on her slowly. It started in her neck, then spread to her shoulders and back. Eventually, she had to start rotating her whole body to look at something to the side, because she couldn't turn her head.
"Some days, I would be like, 'Wow, I am stiff,'" said Ahmed. "And then, when it didn't go away, I was like OK, this is an actual problem that I need to take care of, not something that I can just take some over-the-counter pain relief and hope it goes away the next day."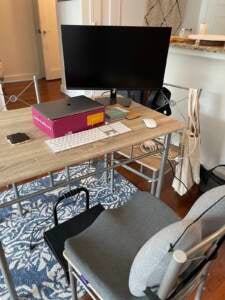 Dr. Kavita Trivedi, associate medical director of the multidisciplinary Spine Center at the University of Texas, saw lots of patients with aches and pains like Ahmed's over the last year and a half.
Many people did, after all, have to improvise their living spaces to accommodate the demands of their jobs.
Now that workers are returning to their offices, she said, their pain could get worse.
"We're starting off in a different state than we were before. We are a little bit quote-unquote 'weaker,'" Trivedi said. "We're not doing our regular stretches, our core exercises, overall general health things, which can definitely make us a little more vulnerable when we do sit at an office chair for eight to 10 hours and not move."
The pain doesn't have to follow you back to the office, she said. A few changes can help the transition.
Creating an optimal workstation is important, she said. That includes:
Making sure the top of your computer monitor is at eye level. You should not be looking down to view the screen.
Positioning the keyboard and mouse so your hands are in a neutral position.
Adjusting your chair and sitting position so that chair ends at the thigh about an inch or two before the bend of the knee.
Keeping your feet flat on the floor. They shouldn't dangle or be too low. Using a footstool that raises your feet can also take some pressure off the low back area.
Placing a lumbar roll, or even a rolled-up towel, behind the low back area to give yourself a little bit of extra lumbar support.
If you spend a lot of time on the phone, use a headset or the speaker function, so you're not holding the phone for long periods, Trivedi said. And good light is crucial to prevent eye strain. (Lighting and temperature in an office are often out of the individual worker's control. ​Consider using a space heater or a desk lamp to help with that, she said.)
But most importantly, Trivedi said, you need to move around. Sitting in one position for long periods of time — in an office or at home — is bad for the spine. She suggested setting an hourly alarm as a reminder to get up from that sitting position, stretch, walk around, or do some other task for at least five minutes.
"A lot of it is using the resources that you have to the fullest," said Trivedi. "It's not expensive. Bringing that monitor up to your eye level — you don't have to get an adjustable desk to do that. Just stick a book under it, right? If you can't get a headset, put your phone on speaker."
At home, Ahmed found relief by putting a box underneath her laptop, using a footstool, and buying butt and back cushions for the dining chair at her out-of-office workstation.
Her company doesn't plan to return to regular in-person work until 2022 and will likely implement a hybrid model. When they do, Ahmed said, she'll be more mindful of the ergonomics of her workstation, and she plans to bring some of her at-home adjustments with her to the office when she returns.
She's looking forward to sitting in a true office chair, and she hopes the commute, and working from multiple workstations each week, will improve her situation.
"I won't be sitting in the same chair every day of the week. So my body won't have to be, you know, subject to the same thing every day," she said. "And I think by breaking it up, maybe that will help."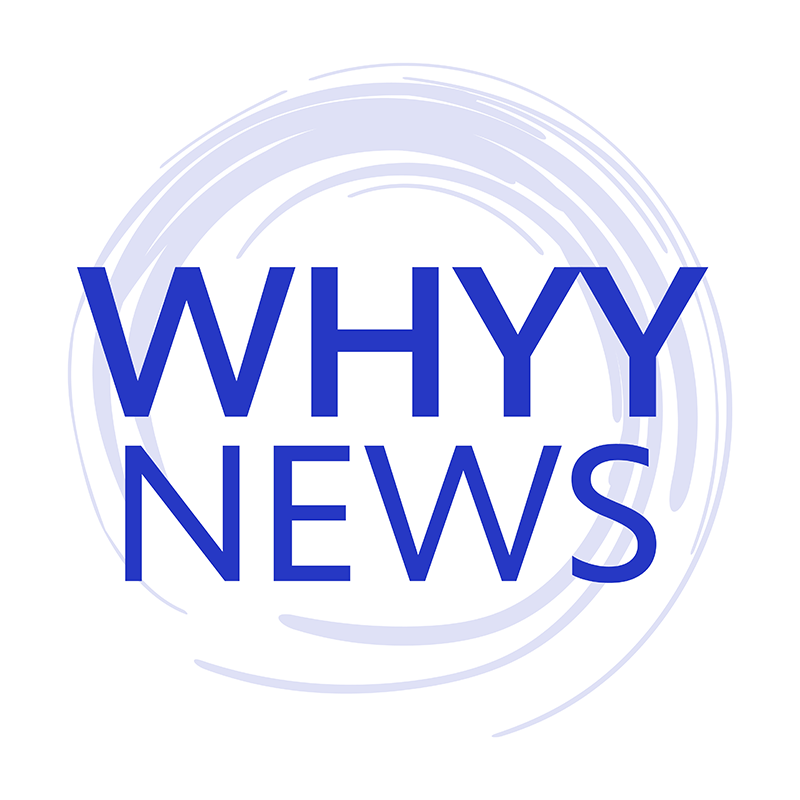 Get daily updates from WHYY News!
WHYY is your source for fact-based, in-depth journalism and information. As a nonprofit organization, we rely on financial support from readers like you. Please give today.